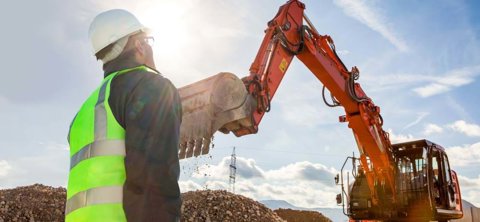 Man Who Lost Leg in Accident at Work Awarded Compensation
Posted on: 2 mins read

Our Serious Injury Solicitors helped a man whose leg had to be amputated after an accident at work get vital care and support, including home adaptations and a prosthetic leg.
Antoni*, a Polish man living and working in the UK, was at work clearing timber and putting it in a skip when an excavator on the site suddenly reversed in his direction.
The excavator hit Antoni and ran over his leg, leaving him with serious crush injuries. They were so severe that he had to have an above the knee amputation.
Over the next few months and years, Antoni had to have several operations and skin grafts on his residual leg, and he endured frequent pain and phantom pain symptoms.
He was provided with a prosthesis, but because his residual leg was very short, so he found it very difficult to get used to using it.
The whole experience was extremely traumatic for Antoni and he found it hard to process everything he had gone through.
How Did the Accident Affect His Life?
The accident had a profound impact on Antoni's life both at work and at home.
Antoni had enjoyed a very active lifestyle before he lost his leg, regularly playing sports such as basketball and football.
He also enjoyed lengthy cycle rides, swimming and would go running with his wife several times a week. But following the amputation, this was no longer possible.
Antoni had also been doing well at work before the accident, and after gaining professional qualifications, had hopes of setting up his own business. Again, his accident dashed these hopes, and he was no longer able to work and earn an income.
John had also planned to move out of his current home and buy a property with his wife, but this plan had to be abandoned.
To add to his difficulties, his home wasn't suitable for an amputee, so he and his wife temporarily moved back to Poland to be with his family.
How We Helped
Antoni contacted our expert Serious Injury Solicitors and we felt he had a strong claim for compensation.
We took on his case and carried out an investigation into what happened, before approaching his former employer.
Our investigation was aided by the involvement of Polish-speaking members of our team, as they were able to translate key documents into Antoni's first language and speak to him in Polish as the claim progressed.
Although Antoni's former employer admitted they were partly at fault, they insisted that he should bear some responsibility for the accident too.
He denied this and we pushed for the company to accept full liability for what happened, as they should have known he was working in the area and put adequate safety measures in place.
For example, they could have installed cameras or offside front mirrors on the excavator, to make sure that the operator could see all around them, and also had somebody on site to supervise the driving of the excavator.
The Outcome
We successfully negotiated a compensation settlement that reflected Antoni's situation following the loss of his leg.
For example, Antoni will have to live on an adapted ground floor for the rest of his life, so the payout means he can move to more suitable accommodation.
It also means that if he moves house again in the future, he'll have the money to pay for any suitable adaptations that may be needed.
The compensation also enables Antoni to access the psychological treatment he needs and physiotherapy to help him get used to using a new prosthetic leg.
*not his real name
Get in touch, today!
Fill in the form below to get in touch with one of our dedicated team members, or call our team today on: 0808 239 3227