Child Law Solicitors
For initial legal advice contact our Law Society Accredited Children Law Solicitors.

We're rated
'Excellent'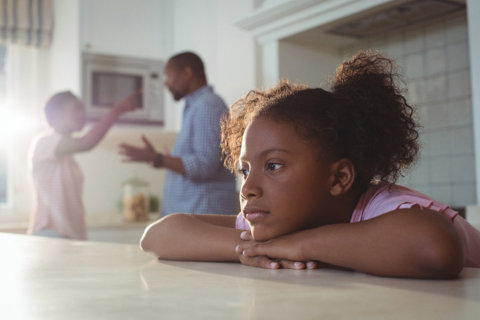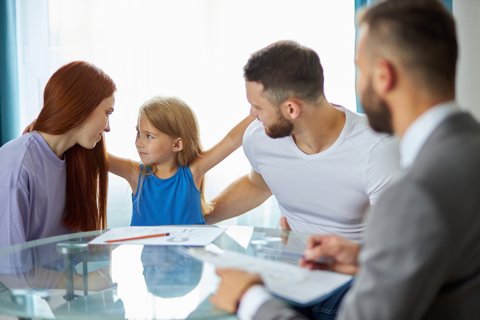 If you are a mother, father or grandparent, or if you have a close connection to a child, perhaps as a result of being their stepparent or older sibling, our Child Law Solicitors can help you by making sure you know your legal rights, the children's rights and what your options are.
Your key aims paired with the child's best interests will always be at the forefront of our advice and the legal services we provide, whether that's helping you reach an agreement, applying for a Child Court Order, or representing you in the Family Court.
You can choose from various options for appointments, including telephone and video calls - whatever suits you best.
For initial legal advice get in touch with our Family Law and Divorce Solicitors
Child Law Solicitors for Divorce and Separation
If you're going through a divorce or civil partnership breakdown or you're not married, our goal is to get you the best possible outcome for you and your children.
If you're a grandparent struggling to see your grandchildren, a family member under the age of 16 or if you've been left looking after them, talk to us and we can help to formalise the arrangement or get help from the Court to allow you to see them.
Likewise, if you aren't biologically related but you've been living with a child, but your family has fallen apart, there are powers available to a Court to preserve your relationship with them, if it's considered to be in their best interests.
Child Law Advice and Legal Services
One of our specialist Family and Child Law Solicitors can help you with any of these issues:
When you split up with your partner, whether you were married or not, it's important to know that you have regular access to your children and remain in their lives. There are a number of different ways you can agree on child contact and having access to your children. You can do this informally with a Parenting Agreement which we can help you to prepare or you can apply for a Child Arrangement Order. In some cases, these can be made by agreement without going to Court, as long as you both agree or if you can't come to an agreement with your former partner, you can ask the Family Court to decide.
You'll both have to come to an agreement about who will have custody of your children after you separate. When you can't reach an agreement, directly or through a Solicitor or Mediation, you can go to Court and ask a Judge to decide for you and the outcome may not be what you want, but it will be enforceable by the Court. That's why you're better off reaching agreement with your ex.
When a child is taken without the other parent's permission, this may be child abduction. Sometimes, children are taken out of the country or not returned after an agreed holiday. The law around child abduction is complicated and quick action is required. If you've been accused of child abduction or you are worried that your child will be abducted, or already has been, you should get specialist legal advice and support as soon as possible.
This is where one parent has turned their child against their other parent – it can be done on purpose or unintentionally, but the outcome is still the same. Dealing with this issue as early as possible can help to get a better outcome, so get specialist legal advice quickly.
If you're not married and you're the father, you may not have Parental Responsibility. If you don't, you should get it. But if the Court agrees a Child Arrangement Order for your children to live with you, you will automatically be granted Parental Responsibility. The mother of a child automatically has Parental Responsibility. If you are a father and you were married when the child was born, or your name is on the birth certificate, you will automatically have Parental Responsibility.
There are some situations where you may not have Parental Responsibility and you want it. You could be a father, who's not married and not named on your child's birth certificate, or you could be grandparents looking after your grandchildren full time. Our Child Law Solicitors can help you to get Parental Responsibility if you need it so you can continue or start to have input into your children's or young family member's lives.
You'll both need to decide how you will each support your child after separation, and you can do this by agreeing an amount of Child Maintenance. One parent usually pays, and the other person usually receives Child Maintenance, unless you have shared residence. If you can't reach an agreement, then there's a formula which is used to work out how much should be paid, and a number of ways to secure payments, which our team can advise you on.
This includes moving within the UK and outside of it. It's a big decision that affects everyone involved. There can be many reasons why you want to move away with your child such as a new partner, a new job opportunity or returning to be near your family and support network, and we can help you if you're the one who wants to relocate or if you're the parent who will be left behind.
If you are going through the adoption process and you need legal representation as a fee-paying client, we can do that for you. You will need to go to Court to get your Adoption Order and we can advise you at every stage of the process.
Why Choose Simpson Millar?
Different Types of Child Arrangement Orders
For initial legal advice on Court Orders for children please get in touch.
Previously called a Residence Order or Contact Order, a Child Arrangement Order is a Court Order which sets out the details about where your child will live and with whom, along with any other details that need to be specified. You can make a Child Arrangement Order when you both agree on the details. A Judge in Family Court will review it and as long as making the order is considered better for the child than not making it, they will approve it. The Court operates a "No Order Principle" meaning that it will only intervene if it is best for the children involved. Having a Child Arrangement Order in place means that you both know what's agreed and you have to stick to it.
This Court Order is used when an agreement can't be reached about a certain issue. This could be changing a child's name, taking them out of the UK for a holiday, what medical treatment they can receive, what religion they should practice or where they should go to school. The Family Court will decide for you both on the outcome, considering the best interests of the child, first and foremost. For more information see Specific Issue Order.
A Prohibited Steps Order is a Court Order used to stop your ex-partner from doing something you don't want them to do. For example, you could stop your ex from taking your child on holiday if you are concerned that they may not come back or from moving them to a new school without your consent.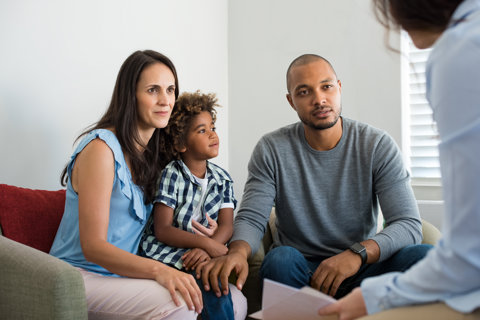 Family Mediation
Before you get to the point of going to Court, you will have to go through Mediation first.
Mediation is there to try to resolve the issues you are facing, such as where your child will live, child maintenance and your finances, without having to go to Court. This often makes the process less expensive and less stressful for everyone involved. 
There are some circumstances when you can avoid Mediation, for example if your ex-partner has been violent towards you, so ask us if you're not sure and we can explain the whole process.
Going to Family Court
Once you've been through Mediation, if you still can't agree your last option is to go to Court and ask a Judge to decide for you. We can represent you in Court.
A Family Court Judge will make the decision based on a number of things. These are:
Your child's feelings and wishes – more weight will be given to these the older your child is
Your ability to meet your child's needs
Your ex-partner's ability to meet your child's needs
Any potential risks or harm
The age, sex and background of your child
The best interests of your child.
At the centre of every decision the Court makes is the best interests of the child.
For more information see Different Types of Court Orders for Children.
Paying For Your Children Law Case
Our Family Law and Divorce Solicitors charge an hourly rate fee depending on the experience of the person that is dealing with the case.
We're completely open and transparent when it comes to our Solicitor fees, so you won't ever be caught out by surprise legal costs. We'll let you know exactly how much it will cost before we begin any work.
FAQs about Child Law
A Child Arrangement Order that that sets out who the child lives with will last until the child is 18 years old (or until a date specified by the Court). 
A Child Arrangement Order that sets out contact with a person will usually last until the child is 16 years old, unless there are exceptional circumstances when it could last until your child is 18 years old. 
There is no 'right' to contact with your child, but the law does say that it's in the best interests of the child to have contact with both of their parents unless the it would be harmful to the child's welfare.
Your child's wishes and feelings are taken into account, but this depends on their age and other factors. If your ex-partner won't agree to let you see your child, the Court can make a Child Arrangement Order. If you have not had contact with your child for a long time, the Court will probably order a gradual build-up of contact over a period of time. 
Not really, because each situation is different. The amount of contact you are given will depend on many different factors including whether there's been a long break in contact, how old your child is, their wishes and feelings and any concerns raised that might impact the arrangements.
A common arrangement is for the child to live with one parent and have contact with the other parent on alternate weekends, with additional after school visits and telephone contact. One of our Family Solicitors can advise you based on your circumstances and discuss the likely outcome.
If you think your child is at risk of harm, you should contact the police and your local social services. We can also help by making an emergency application to the Court at very short notice, if this is appropriate. Speak to our specialist Child Abduction Solicitors.
This is a complicated topic. A mother automatically has Parental Responsibility. A father has Parental Responsibility if he's either married to the child's mother when the child is born or listed on the birth certificate. Both parents will keep Parental Responsibility even if they divorce.
Unmarried fathers can get Parental Responsibility by either:
Registering the birth jointly with the mother from 1 December 2003
Getting a Parental Responsibility agreement with the mother
Getting a Parental Responsibility Order from the Court
If you don't automatically have Parental Responsibility, you can apply for it. We can help you to make that application as it can be quite a complicated process.
Cafcass stands for Children and Family Court Advisory and Support Service. They are there to make sure a child's voice is heard and it is at the heart of the Family Court process so that any decisions are made in the child's best interests.
The Court asks Cafcass Advisors to work with families who are going through the Family Court. The Advisors then tell the Judge what they think is in the best interests of the child.
Court proceedings are dealt with in a relatively informal way by the Judges. The focus is finding the best arrangements for your child taking into account all of the circumstances. Many people find that it's not as scary as they thought it would be.
Child Law cases are usually conducted privately, with no access to members of the public. In some circumstances the press has a right of access, but this is very rare in practice.
Get in touch, today!
Fill in the form below to get in touch with one of our dedicated team members, or call our team today on: 0808 239 3465