Shoulder Injury Claims
For free legal advice call our Personal Injury Solicitors and we will help you. Ask if we can deal with your claim on a No Win, No Fee basis.

We're rated
'Excellent'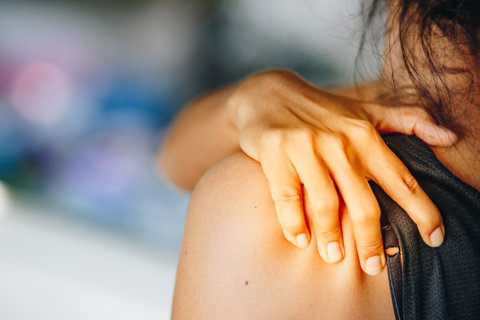 If you've had a shoulder injury, it can be life changing for you and your loved ones. Long term medical problems can leave you with a disability, meaning you're unable to go to work, or to return to the career you had previously. You might be experiencing financial difficulties that impact your lifestyle and your ability to support your family.
If you believe the accident that caused your shoulder injury wasn't your fault, you might be able to make a claim if it has impacted your life. If you think someone else was fully or partially responsible, our Personal Injury Solicitors could help you to get compensation. We have years of experience getting thousands of pounds of compensation for people with shoulder injuries.
We offer a Free Claims Assessment if you get in touch, and we can tell you if we think you have a claim. We'll listen so we can understand more about your accident, your injuries and the impact they've had on your life.
What Could I Claim Compensation For?
Compensation could account for both the pain and suffering you've endured, as well as any knock-on effects your injuries have had on your life. You might have been out of work for an extended period and could claim for your loss of income.
We could help you claim for:
Fractures
Dislocations
Frozen shoulder
Bursitis
Impingement
Sprains
Soft tissue injuries
Rotator cuff injuries
Brachial plexus injuries
Erb's Palsy.
If your injuries have been especially severe, you might need to make changes to your home or get rehabilitation, physiotherapy and other specialist care. Our nationally accredited lawyers can get you access to medical experts and the best rehabilitation to help you, where possible, get back to the quality of life you had before your injuries.
Why Choose Simpson Millar?
Here are some of the reasons why you should choose Simpson Millar to help with your injury claim.
How the Claim Process Works
You get in touch with us

Contact our team of specialist Personal Injury Lawyers. We'll listen and find out about your injuries and circumstances with our no-obligation Free Claims Assessment.

We'll contact the other party

If we think you've got a chance of securing compensation, we'll get in touch with the other party, to see if they will admit liability for your accident and shoulder injury. This could be your workplace or another firm or supplier. It might be a local authority or business if your accident happened in a public place, or the other party in a road accident.

We'll gather evidence

We'll start to collect evidence to prove that your injury was caused by someone else's negligence. Evidence could include things like CCTV footage, photos, witness statements or equipment maintenance logbooks if it happened in your workplace. Try and have as much detail as you can when you get in touch with us.

You'll get a medical assessment

We'll send you to an independent medical expert, who will examine your injury and assess how it has affected your life. We intervene early if we think you would benefit from rehabilitation. This relieves stress for you, getting you on the road to recovery quickly, while we deal with the legal side of things.

We'll work out the compensation amount

Based on your medical assessment, we'll work out how much compensation you're owed and take this to the other party.

We'll settle your claim

Most claims are settled out of Court. If the other party does not accept liability, then the claim may have to go to Court. We'll keep you informed and provide expert advice throughout the whole process.
FAQs about Shoulder Injury Claims
If your shoulder injury has had a impact on your life and someone else was at fault, you may be entitled to compensation if your injury is the result of one of the following:
Your workplace – you may have obtained your injury at work due to inadequate training, faulty equipment, or an unsafe working environment. If you think your employer hasn't met their legal responsibilities and duty of care, you could make a claim for compensation.
A road traffic accident – your injury might be the result of a road traffic accident if you were a driver, passenger, pedestrian, cyclist etc. If you believe someone else was responsible for your accident, you may be able to claim compensation to help you recover and rebuild your life.
Medical negligence – your injury may be the result of medical negligence, such as surgical errors. If the medical care you received fell below typical standards and caused your shoulder injury, you can get in touch with our specialist Medical Negligence team.
The exact amount of compensation you might get will vary based on a number of factors, and we'll keep you updated about this throughout the process. It will depend on the severity of your injuries, and to what extent they've impacted your life. We'll also take into account any specialist care or rehabilitation you might need. Over the years, our Personal Injury lawyers have recovered thousands of pounds for people with shoulder injuries.
You have 3 years from the day you were injured to make a claim from the date you were injured.
The works differently if the injured person is a child. If they're under 18, they cannot make a claim themselves. An adult can claim on behalf of them until they're 18, at which point the claimant has 3 years.
We will handle your claim on a No Win, No Fee basis. This means that if we don't win your case, you won't need to pay us a penny. However, we believe in open communication and complete transparency when it comes to billing our clients, so you will always be aware of what the final bill could be at the end of the process.
How We've Helped Others Get Compensation
We've helped recover thousands for people over the years, from accidents at work, road traffic accidents and medical negligence. Here are just a few examples:
Get in touch, today!
Fill in the form below to get in touch with one of our dedicated team members, or call our team today on: 0808 239 3227