Careers at Simpson Millar
See all current vacancies by clicking below.

We're rated
'Excellent'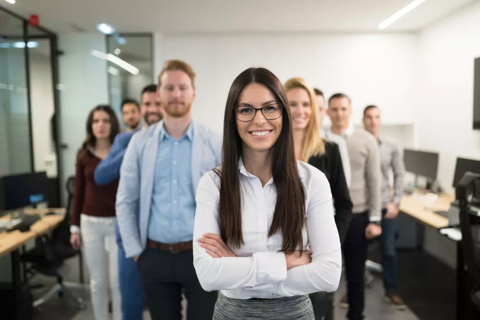 When you join us at Simpson Millar, you can expect to enjoy a fulfilling and rewarding career with a successful national law firm that cares for its colleagues.
We are an open and accessible business which has moved with the times – but we're still really proud of our 180 year heritage.
We offer flexible and remote working to our colleagues, making sure that the focus is always on YOU as one of the team and that you have the best work-life balance possible.
We're currently working through our strategy to grow our business, and as a part of this, we're looking for forward-thinking, innovative and talented people to join our team.
We are delighted to have been recognised by The Times as one of the Top 200 Law Firms in the UK and as you'd expect, you'll be working with professionals that excel in everything they do.
Have a look at the jobs we're recruiting for now.
Working With Us
At Simpson Millar, we're committed to being the Open Lawyers and that includes building an inclusive, supportive, and rewarding working environment.
We believe in supporting our colleagues in their career growth and listening to what they have to say. We are always looking for ways to improve the way we work and our colleagues can share their views on what's working well and what could be improved every month.
We give our people a chance for promotion every year and make sure our colleagues know their worth by offering annual salary reviews and bonus schemes. 
"Given the fast-paced and diverse nature of what we do, working at Simpson Millar means that no two days are ever the same."

Helen Sutton

Director of HR
Benefits
There are some excellent benefits you'll get from working with Simpson Millar. Read more about each of them below.
We value our employees as individuals, and we have a flexible working policy which reflects this. Our colleagues have flexibility around where and when they work, ensuring a great work/life balance.
We have a rewards and benefits scheme, offering hundreds of discounts on everything from your everyday shop to your next holiday, all exclusive to Simpson Millar colleagues.
Simpson Millar offer a generous basic holiday entitlement and all of our colleagues can choose to buy and sell holiday days in any one year with our buy and sell scheme.
We offer a competitive salary and carry out annual salary reviews at all levels and we pay above National Living Wage to everyone.
We think it's important for our employees to plan for the future and we encourage them to save for retirement. We offer a competitive pension with the option to increase your contributions.
We recognise the hard work and dedication of our colleagues and think they should be rewarded for it. We offer a bonus scheme that is open to everyone each year.
We offer lots of health and wellbeing benefits to our staff.
If you use a display screen, you can get a free eye test and we have an Employee Assistance Programme in place if you need support through any of life's issues or problems.
We also offer Life Assurance that covers four times your basic salary, giving your family peace of mind if the worst happens.
We arrange a variety of wellbeing initiatives, such as mindfulness workshops, health checks and flu jab vouchers for our colleagues and we have a number of Mental Health First Aiders in the business who are there to offer help and support as soon as you need it.
We offer industry-leading  maternity, paternity and adoption leave package, which goes way beyond the statutory entitlement.
We offer a variety of extra incentives, including a £50 voucher for those going on maternity and adoption leave, and enhanced pay for when you return to work.
Take advantage of our brilliant legal expertise and enjoy up to 10% discount on a range of legal services.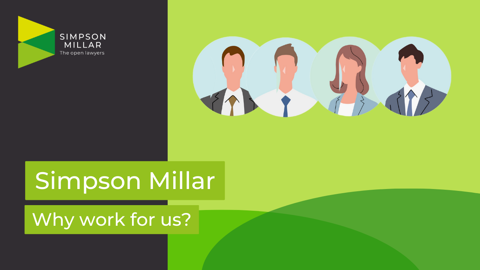 Simpson Millar Benefits
Watch our short video about some of the key benefits of working with Simpson Millar.
Our Culture
Our culture is formed on the foundations of our Values. They are Creative, Helpful, Inclusive, and Responsible.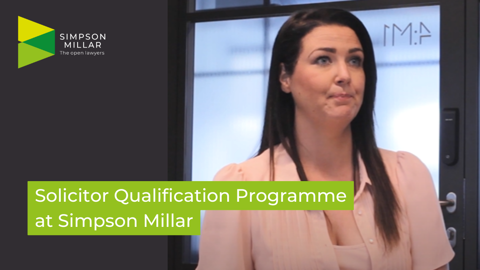 Our Solicitor Qualification Programme
The head of our Solicitor Qualification Programme talks through the process and options people have to get qualified through a number of avenues with Simpson Millar. Opening up routes into law and helping people who may have traditionally thought this would not have been an option.
Our Work in the Community
In our communities, responsible means helping those that are facing a significant challenge in their lives. As such, we're proud to support a number of charities from across the UK.
Here a just a few examples of the community work we do: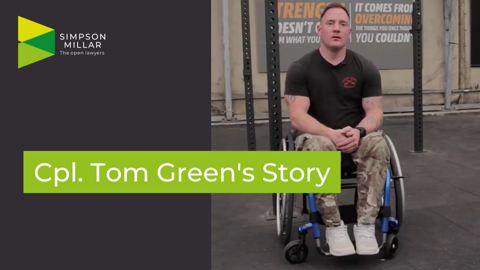 Why We Do What We Do
Corporal Tom Green suffered a spinal cord injury when he was taking part in a charity bike ride last year. Supporting our clients to start to rebuild their lives after a serious injury is why we do what we do.
Have a question for the people team at Simpson Millar?
Fill in the details and someone will get back to you shortly