Tattoo Compensation Claims
For free legal advice, call our leading Personal Injury Solicitors and we will help you. Ask if we can deal with your claim on a No Win, No Fee basis.

We're rated
'Excellent'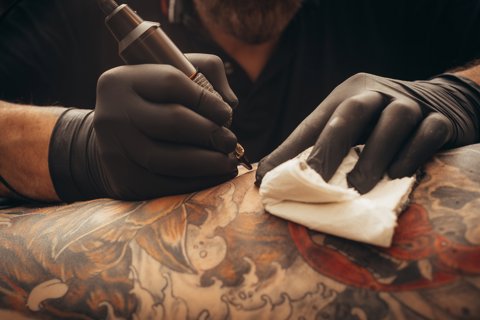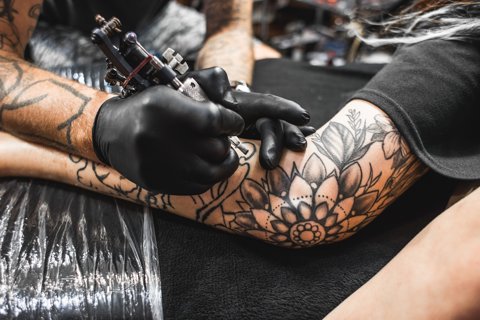 Most tattoo artists are responsible and take great pride in their work. There are cases however when people get a tattoo or have one removed where things don't go as expected. Many of us have heard horror stories about tattoos going wrong, or not turning out the way we'd hoped, however the outcome can be a lot more serious if you have developed an infection or injury after getting a tattoo, or having one removed.
Tattoo artists and professionals have a duty of care towards you to ensure their equipment, studio and procedures are safe so that you do not develop any serious complications, skin conditions or diseases following your tattoo. If they are found to have breached this duty of care, meaning you suffered avoidable harm, our specialist Personal Injury lawyers could help you claim thousands of pounds in compensation.
We would always recommend that, before having a procedure, you choose a reputable tattoo studio and check to make sure that the tattoo artist has public liability insurance, as we can only help you make a claim for compensation if the tattoo artist was insured.
Although tattoos are becoming more popular than ever, tattoo procedures pose many dangers as the needle comes into contact with the deeper layers of your skin and bloodstream. As with any cosmetic procedure, there are also risks associated with laser tattoo removals, such as scarring, burning and discolouration, however, the practitioner has a duty of care to take the correct safety precautions to avoid harm.
Our Personal Injury solicitors could help you claim compensation for:
Allergic reactions from tattoo pigment dyes, if you were not asked about an allergy before the procedure;
Skin infections from tattoo equipment that was not sterilised e.g. MRSA or dermatitis;
Bloodborne diseases such as Hepatitis from unsterilised needles;
Abscesses;
Scarring;
Burns, blisters or skin discolouration from tattoo removal procedures;
Slips, trips and falls in a tattoo studio, which cause serious injury.
If you suffered a serious injury or infection after your tattoo procedure, you may have had to take time off work, so compensation could help you recover lost earnings. You could also claim back the cost of any further procedures you had to undergo, including any travel or medical expenses.
We place our trust in the hands of tattoo artists, so you shouldn't have to go through unnecessary pain, or a suffer with a condition which could leave you with physical scarring for life. To see if you could make a claim, get in touch with our Personal Injury team for a Free Case Assessment. We could even deal with your claim on a No Win, No Fee basis – just ask us for details.
What is the Duty of Care of a Tattoo Artist?
Tattoo artists should provide you with safety advice so you can heal effectively from your tattoo, and it's very important that you follow this to reduce the risk of infections, as tattoos are essentially an open wound. However, during the procedure, tattoo artists and removal practitioners also have a duty of care to keep you safe from harm including:
Checking for any pre-existing health conditions or allergies that may affect you and informing you of these risks before you consent to the procedure;
Keeping equipment and needles clean and sterilizing them to prevent infections or the transferal of diseases;
Using a new sterile needle on every new customer;
Cleaning the studio and environment before the tattoo procedure begins;
Washing their hands before tattooing you;
Wearing a fresh pair of latex gloves throughout the process;
Swabbing the area of skin being tattooed with disinfectant;
Covering new tattoos with a sterile gauze or bandage;
Ensure contaminated waste is properly disposed of;
Giving you advice on how to take care of your new tattoo during the healing period.
If a tattoo artist was negligent in their duty of care in some way, causing you unnecessary pain and suffering that could have been avoided, we could help you claim compensation if they were insured.
Sometimes it's difficult to prove who was responsible if an infection, particularly if you did not follow the aftercare instructions properly, but our lawyers will conduct a thorough investigation to ensure you get the compensation you deserve if someone else was at fault. Call our Personal Injury solicitors today – we'll find out about your situation and let you know the next steps.
Why Choose Simpson Millar?
How the Tattoo Injury Claim Process Works
Here is what you can expect from the claims process once you get in touch with us.
We'll contact the responsible tattoo artist or company

If you're eligible to make a claim, we'll get in touch with the other party e.g. the tattoo studio, and ask them to admit liability for your tattoo-related injury.

We'll gather evidence

We'll start to collect evidence to prove that your injury happened because of someone else's actions or negligence. This might include CCTV footage from the studio, photos of your infected tattoo, witness statements or health and safety logbooks from the tattoo parlour.

You'll get a medical assessment

We'll send you to an independent medical expert, who will assess your symptoms or injury and find out about how it has affected your life. If you require urgent care or intervention e.g. from severe skin conditions, sometimes the other party can send you compensation in installments before your claim is settled – read more about early interim payments.

We'll work out the compensation amount

Based on your medical assessment, we'll work out how much compensation you're owed and take this to the other party.

We'll settle your claim

Most Personal Injury claims are settled without needing to go to Court. If your case does go to Court, we'll keep you informed and provide expert advice throughout the whole process.
FAQs about Tattoo Injury/Infection Claims
In some cases, our Personal Injury lawyers can handle your claim on a No Win, No Fee basis. This means that you don't pay anything upfront, and if we don't win your case, you won't need to pay us. You'll always be aware of what the final bill could be at the end of the process so there will be no hidden costs.
For more information, get in touch with our team today and, if we think you have a claim, we can discuss your financial options with you.
The exact amount of compensation you could get will depend on your situation – but we could help you secure thousands of pounds after a negligent tattoo procedure.
Compensation is split between general damages and special damages. General damages will take into account the pain and suffering you have experienced, and any loss of amenity. Special damages will usually make up the larger part of your compensation, because they will take into account:
Exactly how your injury or illness has affected your life;
Any loss of earnings or expenses you've incurred e.g. the cost of tattoo removal/laser treatment, travel to appointments or prescriptions;
Specialist care you may need now and in the future e.g. expert dermatology or laser surgery.
The time limit for making a tattoo infection/injury claim can vary, so we'd recommend that you get in touch as soon as possible to give us the best chance of investigating your case fully so that we can secure the best compensation possible.
Usually, you will have 3 years from the day your infection or injury was diagnosed to make a claim.
If you were injured or developed an illness because of negligent treatment in a tattoo procedure, we would recommend you take the following steps:
If you believe poor hygiene practices in the tattoo studio led to your injury/illness, contact the local council. The council has the legal right to respond your complaint, and investigate the tattoo shop, shutting it down if necessary. This can form a strong basis for your tattoo compensation claim.
Get any infection seen by a doctor as soon as possible so that you can get full medical report;
Keeping receipts for the tattoo procedure itself, and any costs you've incurred as a result of further complications e.g. travel to appointments or further procedures like laser surgery;
Take photos of your tattoo if it becomes infected so that you can demonstrate how it worsened over time.
In the UK, it is illegal for anyone under the age of 18 to get a tattoo, even with parental consent. Tattoo artists are legally responsible for ensuring the person they are tattooing is over the age of 18. It is also worth noting that in order for you to make a claim, the tattoo artist must have public liability insurance.
In the unfortunate circumstance that your child has illegally got a tattoo and has developed medical complications or skin infections as a result of negligent procedures, it's possible to claim on behalf of them if they are under 18.
Once they are 18, they can make a claim for themselves – they have until their 21st birthday to do this.
If the other party in your claim admit responsibility, we could ask them to make early interim payments to you if you need urgent care or financial support, for example if you've been out of work for a long period of time.
This means that part of your compensation can be paid to you in installments before your case is settled, while we work hard to negotiate your final settlement.
At Simpson Millar, we pride ourselves on being open and transparent so we would never take on your case if we didn't think there was a good chance of you being able to make a successful claim.
Our Personal Injury lawyers have a strong track record in thoroughly investigating claims and gathering a strong bank of evidence to negotiate the best settlement for each individual.
If the other party does not accept responsibility for your tattoo infection/injury, we may need to start court proceedings. Most claims are settled before they make it to this point, but if this happens we will support you throughout.
Get in touch, today!
Fill in the form below to get in touch with one of our dedicated team members, or call our team today on: 0808 239 3227