Railway Worker Accident Claims
For free legal advice call our Personal Injury Solicitors and we will help you. Ask if we can deal with your claim on a No Win, No Fee basis.

We're rated
'Excellent'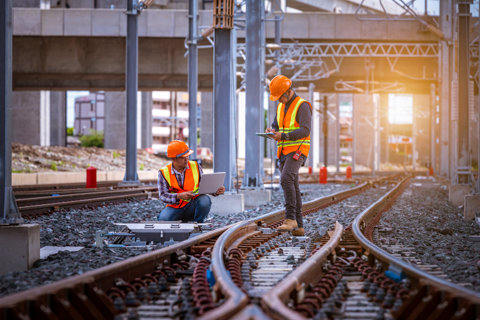 If you've been injured in a railway accident that wasn't your fault whilst working for a rail company or a contractor, you could be entitled to compensation.
The railway company or contractor you work for has a duty of care to protect you whilst you're working for them. If they breach this duty of care and you get injured as a result, they could be held accountable for negligence, and you could be entitled to claim compensation.
If you're a railway worker that's been involved in an accident at work that wasn't your fault, our team of specialist Accident at Work Solicitors are on hand to help secure compensation on a No-Win-No-Fee basis.
Like with any profession, your employer is responsible for your health, safety and wellbeing whilst you're under their care at work. Rail companies are no exception. They have a duty of care to make sure that the environment their employees are working in is safe.
This involves making sure that:
Tools, machinery and equipment aren't faulty;
You are provided with full protective work equipment for the task
vehicles, carriages, tracks, overhead power lines, tunnels and bridges are maintained;
Any live wires are turned off and tested before any work commences
health and safety protocols are in place and followed;
proper training is provided where needed.
All tasks are properly risk assessed and planned
All employees and contractors working on a project are given a full safety briefing at the start of each task
Duty of Care
Often on any project work in the railway industry there are multiple contractors and sub-contractors involved who may all owe a duty of care to you.  Accidents do commonly happen in the railway industry as a result of negligence of several different contractors involved in a project.  We will work with you to quickly identify who all the potential parties are in your accident to ensure your claim is directed to the correct parties as quickly as possible.
If they fail in their duty of care and you get injured as a result, contact our team of Accident at Work Solicitors. If your injury was sustained within the last three years, we could help you secure the compensation you need to overcome your injury and recover any financial losses that you might have suffered following your accident. 
Why Choose Simpson Millar?
At Simpson Millar we want to help you. We are proud of our track record and the comments from our clients which is at the end of the day why we do the work we do.
What Type of Injuries can Rail Workers Claim for?
Although train crashes and derailments don't happen that often, when they do, they usually result in serious, life-changing injuries or even death in some cases.
But regardless of where you work on the railway or what job you're doing; railways are dangerous places to work. Aside from the big, catastrophic accidents, rail workers can also be exposed to all sorts of hazards if their railway employers and contractors don't take the care to maintain a safe working environment for them: Accidents happen, and railway workers get injured more than you might think.
Here are a few examples of the types of accidents and injuries rail workers could claim compensation for:
Slips and trips at the station and on the platform
Electrocution from overhead line and live wires and tracks
Electrocution from faulty equipment
Being injured by faulty equipment
Being injured whilst servicing lifts and escalators and travellators in the station
Vibration injuries from using power tools
Lifting Accidents
Falls
Being struck by a moving object
Being hit by a train or tram
Accident from signal failure
We've seen so many train drivers suffer from serious brain and head injuries after being involved in serious crashes, derailments, or brake failure, usually because the machinery they were using was either faulty or not maintained properly, or because staff weren't given adequate training to help them react in an emergency.
Some railway workers spend a significant amount of time around electrical power lines and hot metal surfaces particularly Overhead Linesmen and Track Workers. If their employers don't have health and safety protocols in place to reduce their exposure to explosions, hose ruptures, engine fires and chemical solvent spillage, they could suffer from severe burns or electrocutions which can give them severe tissue damage or even result in cardiac arrest.
A lot of railway workers do a lot of heavy lifting and repetitive movements in their day-to-day jobs. If they're not given adequate equipment or ergonomic solutions to help reduce the physical impact of this movement, it can lead to repetitive strain injuries, ligament and tendon damage, or long-term back, neck and joint problems.
Because railway yards are in constant motion with heavy cargo, equipment, freight cars and trains coming in and out, railway workers particularly track workers are at risk of being accidentally crushed if there aren't warnings or safety protocols in place.  This can result in fracture injuries and other soft tissue injuries. 
Much of the construction and maintenance work on the Railway is carried out at height particularly when working on bridges and overhead lines and workers are particularly at risk from falling from height or being struck by an object which causes them to fall from height resulting in fractures, neck back and head injuries.
People that work on the railways can sometimes see terrible things like horrific train collisions, near misses, or suicides, for example. This can leave them with severe mental health issues, like depression or PTSD, which can go from bad to worse if their employer fails to support them through their ordeal. 
What is the Claims Process?
Free Claims Assessment

Once you've been in touch, we will conduct a free, no-obligation consultation with you to talk through what happened and establish if you have a strong compensation case.

No Win, No Fee

If we take your case on, we'll handle it on a No Win No Fee basis. This means you won't have to pay us any legal fees upfront. If we lose your case, you won't pay us a penny. If we win, you'll only have to pay us a percentage of your compensation, which will come directly out of the final compensation amount.

Contacting Your Employer

First, we'll contact your employer and their insurance company. By law, they should have employers' liability insurance to cover them for claims like this.

Gathering Evidence

Then, we'll start to gather evidence to support your case. This is where things like photographs, receipts and any witness contact details will come in handy.

Medical Examination

Next, we'll send you for a medical examination with an independent medical professional. They'll assess your injuries and determine the impact they've had on your health, mental wellbeing, work-life and private life. This will enable us to work out how much compensation you deserve.  

Accepting Responsibility

We'll then get back in touch with your employer. If they accept responsibility for your injuries, we could ask the Court for an interim payment. If it's accepted, you'll get an advance on the compensation you're owed to help pay for any medical treatment or bills, or cover you for any loss of earnings.

Settling Your Claim

If your employer doesn't accept liability for your injuries, then we might have to go to Court. Don't worry though, if this does happen, we'll be there with you, every step of the way.
How Simpson Millar can Help you with Your Railway Worker Accident Claim
Your number one priority is recovering from your injury.
But as soon as you feel able to get in touch with our team of experienced Accident at Work Solicitors. We've had years of experience with dealing with train operators, so we know how to secure the compensation you deserve if your employer has failed their duty of care and you've suffered an injury as a result.
There are some parts to the accident investigation and claims process which are very specific to the Railway Industry which is why it is important that you select a solicitor who specializes in acting for claims in the Railway Industry as they will know the steps to take.
Any accident involving the Railways or at a Railway Station will be reported to the British Transport Police who will attend to investigate and take statements and photographs and seize any relevant evidence.
The Office or Rail and Road are the regulatory body who regulate health and safety for the rail network in Britain and they also regulate the health and safety for the London Underground, light rail, trams and the heritage sector. The Office of Rail and Road may be called in to investigate breaches of health and safety regulations leading to your accident which can lead to them issuing an improvement notice to the parties they consider have failed in their duties and also, they can bring prosecutions.  Their investigation reports only become available once the investigation is complete.  We will always apply for this as a matter of course.
Where there are several parties who might be responsible for your accident there is a Claims Handling Agreement, known as CAHA in place between certain of the Insurers for the main parties and contractors involved in the railway industry to ensure that as an innocent victim of a negligent act in the railway industry, your rehabilitation and immediate needs are still addressed whilst any liability investigations are still ongoing. 
FAQs About Railway Accidents
It's never easy claiming against your employer. But if you've been injured as a result of their negligence, then you deserve to be compensated.
To make a claim, try and do as much of the following as you can, so you can make your case for compensation stronger:
Get medical treatment for your injuries, and ask for copies of your medical records, x-rays and discharge forms etc…
Take photos or video footage of your injuries and the place where the accident happened.
If anyone saw the accident, take down their contact details so they can be contacted for a witness statement to support your claim.
If you've had to pay for travel, childcare or medical treatment as a result of the injury you've sustained, keep hold of all the receipts or invoices as evidence.
Similarly, if you've been unable to work because of your injuries, then keep copies of any paperwork that relates to this.
Contact a Personal Injury Solicitor who is experienced in handling Accident at Work claims.
We will do everything in our power to make sure that your claim is successful and that it's processed as quickly as possible. We know that receiving compensation for your injuries could be life-changing for you. It could:
reimburse you for any medical fees or the cost of in-home care;
help make up for any loss of earnings if you've been unable to work
make up for any reduced earning potential in the future;
compensate you for the pain and mental trauma you've suffered;
help you pay for ongoing treatment for physiological injuries such as PTSD or depression or physical injuries
Get in touch, today!
Fill in the form below to get in touch with one of our dedicated team members, or call our team today on: 0808 258 0024