Road Traffic Accident Abroad Claims
For free legal advice call our Holiday Accident Claims Solicitors and we will help you. Ask if we can deal with your claim on a No Win, No Fee basis.

We're rated
'Excellent'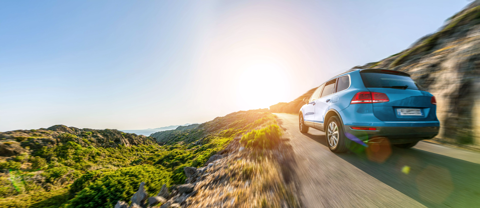 A road traffic accident can be a very scary experience and this can be even more stressful if the accident happens while you're abroad, because of language barriers and different local laws.
Whether you were the one injured in the accident or it happened to a loved one, we can help you. Our Holiday Accident Claims Solicitors are experts in handling compensation claims for British travellers who have been injured in road accidents abroad.
If your accident happened outside of the UK, but the person responsible for the accident lived in England and Wales at the time of your accident, you can claim compensation through the Courts in England or Wales. This will make the whole process much easier for you.
Why Choose Simpson Millar?
Steps To Take If You Have a Road Accident Abroad
If you've been badly injured in a road traffic accident overseas, you'll obviously receive medical treatment for your injuries. Once you're in a position to, you should:
Alert Authorities

Call the police or another relevant local authority and ask for a copy of their accident report, if possible

Write Down Accident Details

Note down all details of the accident, including date, time, location, circumstances, name, address and phone number of the other party, and the vehicle registration number. Some countries use the 'European Accident Statement', also known as a 'Constat Amiable'. This is for both parties to record the details of the accident and sign. If you're given one, make sure you get a copy

Ensure There Are No Language Barriers

Ask for a language interpreter if you need one

Take Photographs

If it's safe and if you can, take photographs of the accident scene and damage to the vehicles involved

Notify Your Insurance

Notify your insurance company and get legal advice as soon as you can – we're regularly instructed by people who've been injured in a car accident are receiving medical treatment abroad. We can help you at that early stage too.

Contact a Specialist Personal Injury Team

Get a Free initial consultation from our team who will be able to advise you if you have a claim and if we can act for you on a No Win, No Fee basis.
FAQs about Road Traffic Accidents Abroad
We understand that something as serious as a car accident abroad can not only leave you with a physical injury but can have a long-lasting effect on your everyday life and mental wellbeing. Our Holiday Accident Claims Solicitors will work hard to get you the help you need to get your life back on track.
Yes. If your road accident happened in the EU or EEA, or both you and the other driver live in England or Wales, you can still make a claim in England or Wales.
Since the introduction of the 4th and 5th EU Motor Insurance Directives and the Rome II Convention, making a claim for a road traffic accident in the EU or EEA is as simple as making a claim for a road traffic accident in the UK. The laws of the country where your accident happened will apply. If both drivers live in England or Wales, English law will probably apply.
The 4th and 5th EU Motor Insurance Directives also made it compulsory for EU insurers to appoint UK representatives to handle compensation claims involving UK travellers injured in road traffic accidents through no fault of their own.
The time limits for making a claim vary between countries. If you've been injured in a road accident overseas, it's important to make a claim as soon as possible. Our Holiday Accident Claims Solicitors can give you specialist legal advice and tell you about the time limits in that country so you know if you have time to make a claim.
You can claim for a road traffic accident involving vehicles such as:
Bicycles
Cars, taxis and jeeps
Caravans or mobile homes
Coaches and minibuses
Trucks and Vans
Mopeds and motorbikes
You could also claim if you were on foot and were hit or knocked down by a vehicle.
Injuries caused by road accidents abroad can vary from being minor to life changing, and in the worst case, fatal. Whatever the situation, it's important that you get the support you need as quickly as possible.
Some of the things you could claim for include:
Pain and suffering
Lack of enjoyment of your holiday
Personal expenses, including travel insurance excess and medical fees
Loss of earnings if you can't work because of your injuries

Future loss of earnings, pensions and other expenses
Care and rehabilitation
Damage to your vehicle
The amount you can claim for these losses, and their value, will depend on the law of the country where the accident took place.
Get in touch, today!
Fill in the form below to get in touch with one of our dedicated team members, or call our team today on: 0808 239 7911