Sexual Abuse and Rape Claims
Call our Abuse Claims Solicitors for free initial legal advice. You might be eligible for Legal Aid or a No Win, No Fee agreement.

We're rated
'Excellent'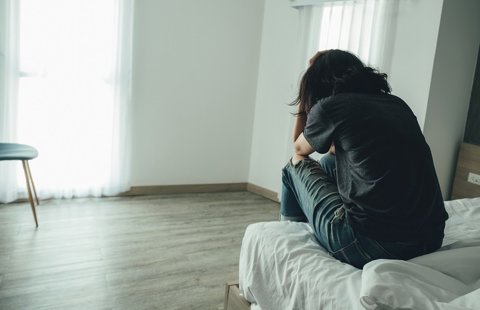 No one should have to go through something as traumatic as sexual abuse. If you're a survivor of abuse, it can be extremely difficult to come to terms with and no amount of money will make up for what you've been through. We can also provide you with details of support organisations and survivors groups who may be able to offer support.
Taking legal action against your abuser or those responsible for your abuse can help you to find the closure you need to start to rebuild your life. In addition, our team are specialists in bringing Criminal Injuries Claims and can provide you with the support you need to make a claim.
Our empathetic and compassionate Abuse Team have years of experience in representing survivors of sexual abuse and rape, helping them to get the closure and justice they need to move forward.
If you'd like advice about making a claim for sexual abuse or rape, please get in touch for a free, confidential chat about your situation. 
What is Sexual Abuse?
Sexual abuse is any unwanted sexual act or activity. It includes rape, assault, sexual harassment, inappropriate touching and being watched or photographed naked without consent.
No matter who the abuser is or where or when it happened, if it happened without your consent, it is abuse.
By law, you cannot consent to sexual activity if you are:
Under the influence of alcohol or drugs
Under the age of 16
Why Choose Simpson Millar?
Opening up about sexual abuse can be very difficult and the idea of taking legal action can feel daunting. Using a specialist Abuse Solicitor allows someone else to fight for you.
As well as helping you make a sexual abuse claim, we can introduce you to specialist support and survivor groups suited to your situation, so you've got long-term support in place.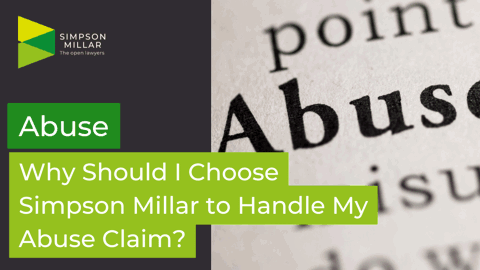 See why you would choose the team at Simpson Millar to help you.
At Simpson Millar we want to help you. We are proud of our track record and the comments from our clients which is at the end of the day why we do the work we do.
What is the Claims Process?
Getting in touch

We'll listen to you with complete confidentiality and offer you our advice and support. If you haven't already reported your abuse to the police, we might tell you to contact them as a criminal conviction will strongly back your case.

Investigations

Your Sexual Abuse Solicitor will gather evidence to support your case, such as medical records, proof of where you went to school or details of any children's homes you lived in.

Bringing a claim

Most sexual abuse claims settle out of Court, and we'll do everything we can to settle your case before going to Court. We'll send a letter to the responsible party (an individual or an institution) setting out the details of your claim. They will then have a set amount of time to respond to your claim, detailing whether they accept or deny responsibility, known as liability.

Settling your claim

Very few cases of this nature go to Court although not all cases are successful. If your case does go to Court, you may need to give evidence to a Judge, but this only happens in very limited circumstances. We understand that going to Court can feel worrying, stressful and upsetting. But if it reaches this stage, your Abuse Solicitor will be with you every step of the way.
FAQs about Sexual Abuse and Rape Claims
We can help you bring a claim against an individual abuser or an institution or organisation such as:
This is not a limited list and we consider all potential defendants when assessing cases.
If your abuse took place a long time ago, and you're not sure if your abuser is still alive or the organisation still exists, don't let this put you off coming forward.
We could still help you make a claim for historic abuse.
While the Court does have some time limits in place for sexual abuse and rape claims, they can make exceptions for these cases, as they understand that there are many reasons why people don't come forward.
If your abuse took place some time ago, don't let this put you off from coming forward and making a claim. We've helped many survivors of historic sexual abuse successfully claim compensation and we can help you too.
Get in touch, today!
Fill in the form below to get in touch with one of our dedicated team members, or call our team today on: 0808 239 1287