Leg Injury Claims
If you've suffered a serious leg injury that wasn't your fault, we could help you make a No Win, No Fee claim for compensation. Call us on 0808 239 3227.

We're rated
'Excellent'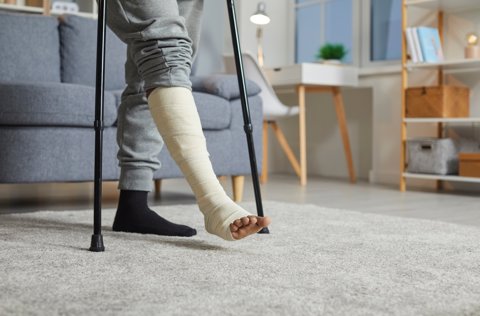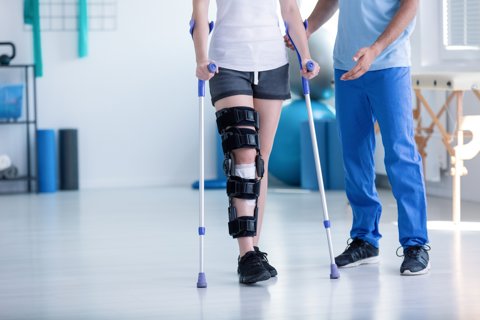 Leg injuries can vary from soft tissue injuries to broken bones, and can severely impact your quality of life, leading to extreme pain, nerve damage or even the need for an amputation. You might have had to take time off work and be unable to exercise, drive or even walk. We know this can have a serious impact on your physical and mental health, which is why our Personal Injury team are here to help you claim compensation.
You may have sustained a leg injury in an accident at work or in a public place, a road traffic accident, or even due to medical negligence. If the injury happened because of someone else's actions or negligence, you shouldn't have to suffer the consequences. Get in touch with our Personal Injury Solicitors to see if you could make a No Win, No Fee claim.
We have some of the UK's best Personal Injury lawyers, who have years of experience successfully securing compensation for leg injuries such as:
Fractures and broken bones including tibia, fibula, ankle, feet or toes – these can range from stress fractures (minor cracks, which cause a lot of discomfort), to compound fractures (which are usually caused by high impact accidents);
Full or partial amputations of your leg, or both legs;
A leg injury that required an amputation, whether this was above or below the knee;
Multiple injuries, including injuries to your hips, knees, ankles, or feet;
Serious wounds and lacerations;
Injuries that lead to scarring, nerve damage or even paralysis;
Soft tissue injuries such as tendon or ligament damage e.g. hamstrings.
Dislocations;
Burn injuries;
Leg injuries that lead to other conditions such as arthritis, bursitis, tendonitis, PTSD, Chronic Pain or Complex Regional Pain Syndrome (CRPS).
How Much Compensation Could I Receive for a Leg Injury?
Compensation is split between general damages and special damages. General damages will take into account the nature of your injury, how severe it is and how it has affected your quality of life. 
We base general damages on the Judicial College Guidelines which are reviewed annually – you can see these below. It's important to remember these are guidelines, and the exact figure will depend on your personal circumstances, as injuries impact everyone differently.
Judicial College Guidelines
16th Edition for leg injuries

Scale

Amputation of both legs

£240,790 to £282,010

Below-knee amputation of both legs

£201,490 to £270,100

Above-knee amputation of one leg

£104,830 to £137,470

Below-knee amputation of one leg

£97,980 to £132,990

Severe leg injuries (e.g. extensive degloving)

£96,250 to £135,920

Very serious injuries (leading to permanent mobility problems)

£54,830 to £87,890

Serious injuries (e.g. serious fractures requiring prolonged treatment)

£39,200 to £54,830

Moderate injuries (e.g. multiple fractures to a single limb)

£27,760 to £39,200

Simple fractures or soft tissue injuries

£9,110 to £27,760 (depending on severity)
Special damages are unique to your circumstances and any financial costs you've incurred as a result of your injury. The total amount of compensation you could receive for your leg injury will depend on:
How severe your injury is;
Who was responsible;
Whether you've lost income from time off work, or incurred any costs e.g. by travelling to appointments/surgery
Any support or rehabilitation you may need now or in future – we know early intervention can be vital with leg injuries, so we can ask the responsible party to send you compensation in early installments (interim payments) to help you pay for this before your case is even settled.
Get in touch for a Free Case Assessment, where we'll listen to your situation and tell you if we think you have a claim. Our job is to put you first, make the legal process smooth and straightforward, and help you live the best quality of life you can after your injury.
Could I Claim Compensation for a Leg Injury?
To make a claim for compensation for a leg injury, we must be able to prove that the injury was at least partly someone else's fault. This means it's possible to secure compensation even if you were somewhat responsible – get in touch today to see how we could help. We have a track record of helping people who have sustained leg injuries in the following scenarios:
In the workplace
Our Personal Injury solicitors could help you claim compensation if you had an accident at work or in the military that led to a leg injury, e.g:
A crush because of shelves/objects falling on you;
A fall from height;
The loss (or partial loss) of your leg in machinery.
Your employer has a legal duty of care to keep you safe at work and prevent accidents happening.  This means that, even if you think you were partly responsible for your injury, you could have a chance of claiming compensation if your employer failed to:
Ensure you have the correct training on tasks and the use of machinery, for example if you work in a factory or warehouse;
Monitor the environment to ensure any hazards or faulty equipment/tools are dealt with;
Provide you with protective equipment and clothing to reduce the likelihood of injury.
Why Choose Simpson Millar?
How the Leg Injury Claim Process Works
Here is what you can expect from the claims process once you get in touch.
We'll contact the responsible person/organisation

If you're eligible to make a claim, we'll get in touch with the other party, to ask them to admit liability for your leg injury. This might be your workplace, another supplier of equipment, or a healthcare organisation. If you sustained an injury in a public place, it might be a local authority or business.

We'll gather evidence

We'll start to collect evidence to prove that your injury happened because of someone else's actions or negligence. This might include CCTV footage, photos, witness statements or logbooks if it happened in your workplace.

You'll get a medical assessment

We'll send you to an independent medical expert, who will assess your leg injury and find out about how it has affected your life. We try to intervene early if we think you'd benefit from rehabilitation. Sometimes the other party can send you compensation in installments before your claim is settled – read more about early interim payments.

We'll work out the compensation amount

Based on your medical assessment, we'll work out how much compensation you're owed and take this to the other party.

We'll settle your claim

Most Personal Injury claims are settled without needing to go to Court. If your case does go to Court, we'll keep you informed and provide expert advice throughout the whole process.
How We've Helped Others Claim Compensation for Leg Injuries
We've helped many people claim compensation after sustaining leg injuries that were not their fault. Here are just a few examples:
FAQs about Leg Injury Claims
We could handle your claim on a No Win, No Fee basis. This means that you don't pay anything upfront, and if we don't win your case, you won't need to pay us. You'll always be aware of what the final bill could be at the end of the process so there will be no hidden costs.
The exact amount of compensation you could get will depend on:
The severity of your injuries, and to what extent they've impacted your life;
Who was responsible for your injury;
Any loss of earnings or expenses you've incurred e.g. travel to appointments or prescriptions;
Long-term specialist care or rehabilitation you might need.
Our Personal Injury lawyers have recovered thousands of pounds for people with leg injuries, so get in touch to see what you might be entitled to.
You've got 3 years from the day you were injured to make a claim for compensation.
If you developed a complication or condition as a result of your leg injury, you will usually have 3 years from the day this was diagnosed.
We'd advise you get in touch with us as soon as you can so we can advise you on your claim, because the time limits can vary slightly.
Our specialist Personal Injury lawyers will help you gather evidence to secure as much compensation as possible for you. You don't need to have all the details when you get in touch, but you can help us investigate your claim by:
keeping medical records e.g. scan results;
keeping receipts for any costs you've incurred e.g. travel to appointments;
taking photos of your injury and how it develops over time;
gathering witness details from anyone who saw your accident happen.
Yes, it is possible to make a claim on behalf of a child. If they're under 18, you could make a claim on behalf of them at any point until they turn 18.
Once they are 18, they can make a claim for themselves  – they have until their 21st birthday to do this.
You can also claim compensation on behalf of someone who is unable to make legal decisions for themselves – for example, you may have a family member with dementia or learning difficulties who has sustained a leg injury. There is usually no time limit in these instances – our Court of Protection team can help if you're unsure whether the person has the 'mental capacity' to make decisions.
Sadly, some leg injuries and accidents can be fatal for some people. We know this can be an extremely difficult time for your family, and claiming compensation may not be your first thought. While compensation can never reverse what has happened to your loved one, our Personal Injury lawyers are here to help if you would like to make a claim for compensation.
This will depend on who was responsible for your leg injury. For example:
Healthcare organisations (both the NHS and private), have specific budgets set aside for medical negligence claims, so you wouldn't be claiming against them directly;
Drivers should be legally covered by their Road Insurance for accident claims;
Your workplace and many businesses are often covered by their own insurance company, so any compensation would come from the insurers.
If the other party in your claim admit responsibility, we could ask them to make early interim payments to you, to help you recover from your leg injury quicker. This means that part of your compensation can be paid to you in installments before your case is settled. We could arrange for these payments early, so that any urgent rehabilitation or care you need is not delayed, while we work hard to negotiate your compensation.
We know that le injuries can have a huge impact on other areas of your life. You can claim for any travel costs you've incurred, or for any ongoing support and rehabilitation you might need. This could include physiotherapy or adaptations to your home or car.
Compensation can help you in many ways that you may not have considered, so our Personal Injury lawyers will take all factors into account to see how your leg injury has affected your life, so you can access the help you need. For example:
You might have multiple injuries from an accident, or be dealing with psychological effects such as Post Traumatic Stress Disorder. The loss of leg and serious injuries can be both physically and emotionally challenging. You might be struggling to come to terms with the your inability to carry out daily tasks after your injury or even the aftermath of an amputation. Our Personal Injury team are here to support you as much as possible, and we can secure compensation to help you access therapy if you feel you would benefit from it.
Your leg injury could affect your ability to walk, exercise, drive or even stand properly, so we can help you access specialist rehabilitation, so you can live the best quality of life you can after your leg injury.
Compensation could help you access care and assistance for your whole life if you need it, helping you access walking aids, a wheelchair, adapted shoes or a prosthetic leg, depending on your needs. You could arrange to have extra help around the house, or adaptations in your home, such as rails, straps and grips, to help you do daily tasks more easily.
You could buy a new automatic car if you're suffering with a long-term leg injury, to stop you from needing to use the clutch.
You might be worried about returning to work and how your leg injury could affect your ability to perform your job, particularly if you can no longer stand or walk for a long period of time. Not only will compensation account for any income you've lost, you could even study a new course if you need a complete career change because of your leg injury.
Our Personal Injury lawyers and Industrial Disease teams have a strong track record in achieving the best compensation possible for people, taking their exact circumstances into account to negotiate the best settlement.
If the other party does not accept responsibility for your leg injury, we may need to start court proceedings. Most claims are settled before they make it to this point - we always try and negotiate a settlement for you without the case needing to go to Court, but if this happens we will support you throughout.
Get in touch, today!
Fill in the form below to get in touch with one of our dedicated team members, or call our team today on: 0808 239 3227