Forklift Truck Injury Claims
For free, initial legal advice call our Leading Personal Injury Solicitors and we will help you. We will deal with your claim on a No Win, No Fee basis.

We're rated
'Excellent'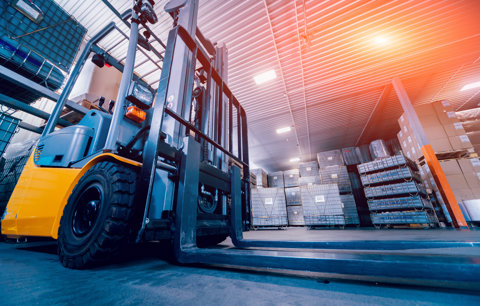 If you've been involved in a forklift truck accident and you believe your employer was fully or partially responsible, you could be entitled to compensation if your life has been significantly affected.
Injuries from forklift trucks are unfortunately becoming more common in the workplace. According to figures from the British Safety Council, there are around 1,300 serious forklift accidents each year.
There are ways you and your employer can prevent forklift truck injuries. Unfortunately, it may be too late for you if you're already suffering from significant injuries such as:
Crush injuries;
Degloving injuries;
This list is not exhaustive, so if you have an injury that has caused you serious financial or medical issues, get in touch with our Personal Injury Lawyers today. We can let you know for Free if you have a claim.
Does your employer have a Duty of Care in Forklift Accidents?
Your employer has a duty of care to you and must take reasonable measures to prevent you and your colleagues from being injured in a workplace accident. This includes maintaining equipment and disposing of defective equipment and tools. They must conduct risk assessments, give health and safety training, and provide the correct clothing and signage.
If you think that your employer was negligent in some way, it's possible the injury wasn't your fault. If they failed to put in place the correct safety procedures, they could be responsible for your injuries and the impact they've had on your life. Your employer should be covered under their Employer Liability insurance policy. 
Our Personal Injury Solicitors can offer you a Free Claims Assessment, with expert guidance to get you the best compensation possible.
Why Choose Simpson Millar?
At Simpson Millar we want to help you. We are proud of our track record and the comments from our clients, which is at the end of the day why we do the work we do.
How the Claims Process Works
You get in touch with us

Contact our team of specialist accident at work claims solicitors. We'll listen and find out about your injuries and circumstances and with our no-obligation Free Claims Assessment.

We'll contact your employer

If we believe that you have a strong chance of securing compensation for your injury, we'll get in touch with your employer and their insurance provider.

We'll gather evidence

We'll start to collect evidence to prove that your injury was caused by your employer's negligence. Evidence could include things like CCTV footage, photos, witness statements or equipment maintenance logbooks.

You'll get a medical assessment

We'll send you to an independent medical expert, who will examine your injury and assess how it has affected your life now and in the future.

We'll work out the compensation amount

Based on the medical assessment, we'll work out how much compensation you're owed and take this to your employer.

We'll agree how much compensation you will receive?

Most personal injury claims are settled out of Court. If your employer doesn't accept liability, then the claim may have to go to Court. We'll keep you informed and provide expert advice throughout the whole process.
FAQs about Forklift Injury Claims
Serious injuries resulting from forklift truck accidents can be hugely disruptive to your life. You shouldn't have to suffer physically, emotionally or financially for an accident that wasn't your fault.
You could be entitled to compensation for the pain and suffering you've endured, as well as any knock-on effects your injuries have had on your life. You might have been out of work for an extended period and could claim for your loss of income. As leaders in our field, we've recovered millions of pounds for people who have suffered with workplace injuries.
If your injuries have been especially severe, you might need to make changes to your home or get rehabilitation and specialist care. Our nationally accredited lawyers can get you access to medical experts and the best rehabilitation to help you, where possible, get back to the quality of life you had before your injuries.
There are many reasons why forklift accidents can happen at work. Some of the most common include:
User error – this could be failing to notice another person, object or vehicle nearby and colliding with them;
Insufficient training and supervision;
Lack of marked or designated traffic routes;
Uneven surfaces;
Overloaded pallets and unsecured loads;
Poor maintenance of equipment.
If any of these accidents have caused injuries that have seriously impaired your life, potentially causing long-term medical problems, or leaving you with a disability and/or financial difficulties, you could be entitled to compensation.
You have three years from the date of the incident to claim compensation. Therefore, it's always best to speak to our Personal Injury Solicitors who specialise in Accident at Work claims as soon as possible.
We could handle your claim on a No Win, No Fee basis. This means that if we don't win your case, you won't need to pay us a penny. However, we believe in open communication and complete transparency when it comes to billing our clients, so you will always be aware of what the final bill could be at the end of the process.
The amount of compensation you could get depends on a number of factors. Our lawyers can provide an estimation once you get in touch, and will assess this throughout your claim and keep you informed. The amount awarded will usually be based on several factors including:
The severity of your injury or illness;
The cost of treatment and loss of earnings;
The impact on your life.
In some cases, there may be more than one business involved in your injury. For example, an accident may happen when one firm is accepting or unloading a delivery brought in by a supplier. If the supplier or courier failed to securely load each pallet and this resulted in an accident, it may be necessary to pursue a claim against several organisations.
If you suffer such an injury, make sure to find out the details of the company that delivered the item, report the accident to your employer and make sure your employer reports the accident to the other firm.
Get in touch, today!
Fill in the form below to get in touch with one of our dedicated team members, or call our team today on: 0808 258 0024