Burn Injury Claims
For free legal advice call our Serious Injury Solicitors and we will help you. Ask if we can deal with your claim on a No Win, No Fee basis.

We're rated
'Excellent'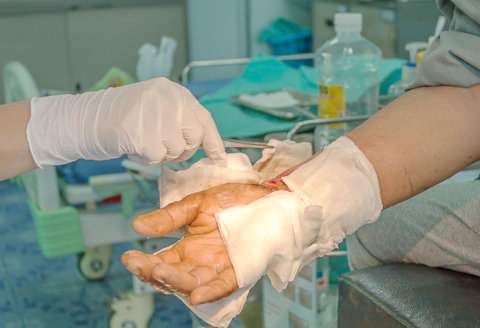 Helping people who have suffered a burn injury
If you have suffered a burn injury, our Personal Injury Solicitors can help. We've supported many other people who have sustained burned injuries to get the treatment, care and support they need and we can help you too.
We offer a Free Claims Assessment and if we can help, we will fight to get you access to the right support and compensation. We usually deal with Burn Injury Claims on a No Win, No Fee basis, so you only pay our legal fees if your claim is successful.
Burns can be life-changing so we'll concentrate on building your claim and getting you the compensation, care, support and rehabilitation you need and deserve whilst you focus on your recovery.
If you have suffered burn injuries through no fault of your own, we aim to get you justice and compensation for your injuries.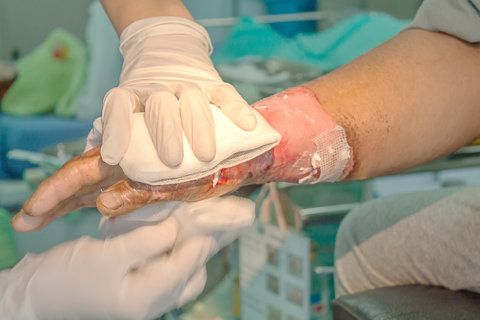 Types of Burn Injury Claims
We've helped clients who have suffered burns by:
Gas explosions
Fireworks
Home barbecues or patio heaters
Cement and concrete burns
Chemical burns
Acid attacks
Electrocution injuries
Giant Hogweed or Japanese Knotweed burns
Our friendly team of Serious Injury Solicitors work sensitively with you to get the best possible results, so call us for a Free Claims Assessment today.
Why Choose Simpson Millar?
At Simpson Millar we want to help you. We are proud of our track record and the comments from our clients which is at the end of the day why we do the work we do.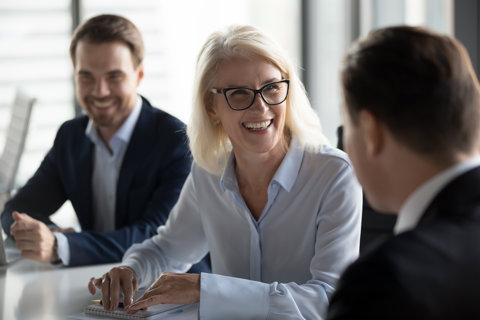 Major Trauma Unit - Your Lawyers For Life
Our Major Trauma Unit is here for anyone who has suffered serious, life changing injuries.
A specialist, experienced lawyer will help and support you every step of the way from the beginning of your claim, right through to the end.
Because we have a wide range of expertise in the firm, we can help you to deal with any legal issues that arise because of your injury such as making sure you have a personal injury trust in place, any employment law issues or making or reviewing a Will.
What is the Claims Process?
Free Assessment of Your Enquiry

We offer a free claims assessment, so we can talk with you about how you sustained your burn injury, who you think was at fault, and whether you have a good chance of claiming compensation.

Medical Experts

After taking on your case, our Serious Injury Solicitors will contact an independent medical specialist to assess your burns, so we can establish the full impact of your injury.

The expert will prepare a medical report for us, which is very important in helping us accurately value how much compensation to claim.

Collecting Evidence

We'll carry out a thorough investigation to prove liability (fault), gathering evidence such as photos, CCTV footage, witness statements and police reports.

Admitting Responsibility

We'll contact the other party with details of our claim and ask them to accept responsibility for your injuries.

If they do admit responsibility, we can start negotiating for a suitable compensation settlement, and if you have immediate financial or medical needs, we can ask for an interim payment of compensation, so you get the support you need before the case settles.

Going To Court

Even if they deny responsibility and a Trial date has to be arranged, we'll continue negotiating to try to settle out of Court.

Most claims of this nature don't get this far, so it's unlikely you'll have to go to Court.

Settlement of Your Claim

Once the settlement has been agreed, we'll make sure the compensation is paid to you as quickly as possible.
FAQs about Burn Injury Claims
If we can prove that your burns injuries are because of someone else's negligence, then you could make a claim for compensation. Any compensation you are awarded can help you to pay for specialist burns treatments so you can start to rebuild your life after your accident.
Serious burn injuries compensation claims usually result in high awards of damages, depending on things like:
The percentage of burns to your body
Whether the burns are full thickness, partial burns or superficial burns
If you need any surgery and the extent of that surgery
Any physical disabilities caused by the burns
The psychological impact on you
The Judicial College Guidelines is used to value personal injury claims. It says that if your burns cover more than 40% of your body, your compensation payment is likely to be more than £93,380.
This is just the payment made for what's called General Damages – this includes compensation for your pain, suffering and loss of physical or mental ability to do the things you used to.
On top of this payment, you will also be awarded compensation for what's called Special Damages. Special Damages are made up compensation for any lost earning, any ongoing treatment and rehabilitation you may need for the rest of your life.
You have 3 years from the date of your accident to make a compensation claim for a burn injury. It's best to get early, specialist legal advice from a Personal Injury Solicitor so all the details of the accident are clear and evidence and witnesses are available.
If you're claiming for a child, you can claim on their behalf until their 18th birthday. Once they turn 18, they have until their 21st birthday to make a claim.
When you suffer burn injuries, it's really important that you can get the very best treatment from specialists, along with access to any specialist prosthetics. These include:
Plastic and Cosmetic Surgeons and Clinicians who can advise on appropriate treatment and surgery to improve the appearance of scarring and camouflage creams
Nursing Care Experts on management of the burns and tissue viability
Physiotherapists
Occupational Therapists
Psychological Therapist
Prosthetic Specialist who can advise on specially made prosthetic covers to cover any visible parts of burns
By making a personal injury claim, you could get access to specialist treatment, not available on the NHS so you could get a better outcome from your injuries. We'll do all we can to get you interim payments so you can deal with any urgent financial issues or start to pay for your treatment.
Get in touch, today!
Fill in the form below to get in touch with one of our dedicated team members, or call our team today on: 0808 239 3227