Factory and Warehouse Claims
For free legal advice call our Personal Injury Solicitors and we will help you. Ask if we can deal with your claim on a No Win, No Fee basis.

We're rated
'Excellent'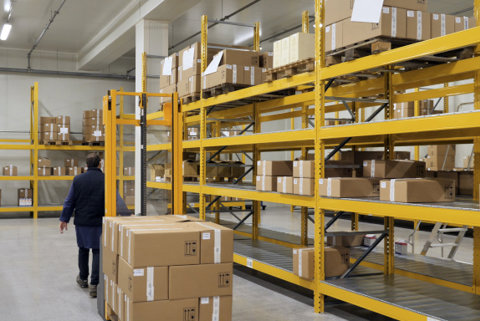 If you're a factory or warehouse employee that's been left injured or ill because your employer was negligent, our team of Employer Liability Solicitors could help you claim compensation on a No Win, No Fee basis.
Factories and warehouses can be hazardous places to work. But if you've suffered from an injury or developed an illness because your employer has failed to provide a safe environment for you to work in, you could be entitled to compensation.  
Contact our Personal Injury Solicitors who specialise in Accident at work Claims today for a free consultation to see how we can help you.
What is a Factory or Warehouse Claim? 
Whether you work in a factory or a warehouse, your employer has a legal obligation to keep you safe in your place of work.
They have a duty of care to make sure that they:
provide you with appropriate training and protective equipment for your job role and any machinery you use;
implement health and safety regulations;
regularly check machinery and protective equipment to make sure that it's safe to use;
consistently check processes to make sure they're safe for workers;
conduct regular risk assessments to identify potential hazards;
mark out safe walkways and routes for forklift trucks and pedestrians
eliminate hazards, or at least provide adequate warning to workers;
take action if an employee has been negligent and is a risk to other employees.
If they fail in their duty of care, and you become injured or ill as a result, you may be eligible to make a claim against them.
FAQs about Accident at Work Claims
You can claim for a factory or warehouse accident resulting in injury, death or illness if another employee caused your injury, or if your employer failed to give you proper training or has put you at unnecessary risk whilst you were under their care at work.
The types of injuries or illnesses that you might be able to secure compensation for, include things like:
Heavy lifting injuries
For example, if your job involves lifting or moving heavy objects and you aren't given the tools, equipment or training to help you do this safely and as a result, you sustain an injury, you might be entitled to compensation.
Slips, trips and falls
For example, factory and warehouse floors can often be wet, uneven, or cluttered with debris. If your employer fails to put proper signage out to alert you of these hazards and you trip, slip or fall, you could be able to claim.
Injuries from falling objects
For example, if you were injured because something fell on top of you because it wasn't stored in the factory or warehouse properly, you might be entitled to make a claim.  
Roll Cage Injuries
Roll cages are a common cause of accidents in warehouse including accidents happening from overloaded roll cages, roll cages with faulty wheels and unsecured loads.
Pallet Injuries
Accidents can happen from pallets which have not been stacked safely or are not suitable for the goods being stored on it or are damaged and can cause serious injury if they fall on you.
Falls from ladders
Goods are often stored in high racks in warehouses and a common cause of accidents to warehouse workers is falls from a ladder if the ladder has not been properly footed or is unstable.
Being struck by a Forklift Truck or a Pallet Truck
Forklift trucks can move about quickly in factories and warehouses and the forklift truck driver's view can sometimes be obscured.  Being hit or crushed by a forklift truck is a common injury to warehouse and factory workers.
Injuries after getting your hand trapped in machinery
It is common in factories for machines and lines to jam.  Serious injuries can occur if you get your hand or fingers trapped in the machinery which can result in finger amputation, cuts and crush injuries.  For example, if you're not given the proper training or safety equipment for using certain machinery, and you get injured as a result, we might be able to help you make a claim.  Your employer can be at fault also if a guard was not fitted to the machine or a stop control was not easily accessible.
Mistakes by a fellow worker
Sometimes mistakes do happen by a fellow worker and can arise for example sometimes through a lack of communication such as another worker switching machinery on when you are trying to clear or repair a jam on the line.
Conditions caused by repetitive use of machinery  
For example, sometimes using loud machinery or using the same machine repetitively can bring on life-changing, permanent conditions like Hand Arm Vibration Syndrome (HAVS) or tinnitus. If we can prove that your condition was brought on by your employer's failure to take appropriate steps to prevent you from developing this life-changing condition, then you could be eligible for compensation.    
Why Should You Make a Factory or Warehouse Claim?
If you've been injured or are suffering from an illness because your employer failed to protect you whilst at work, you might be able to secure compensation.
Depending on the severity of your injury or illness, you might find that you're unable to do your job properly anymore. You might find that your injury or illness is affecting future employment opportunities, or you might find that your personal life has been severely affected.
It's, therefore, important that you're compensated for the damage caused by your employer's negligence. 
You could use this compensation to help you recover any lost earnings, pay for ongoing medical treatment, or fund any rehabilitation that you might need.
You only have three years after the incident to claim compensation. Therefore, it's always best to speak to our Personal Injury Solicitors who specialise in Accident at work Claims as soon as possible.
It's impossible to say how much compensation you'll get for your warehouse or factory accident or illness. The amount awarded will usually be based on several factors including:
the severity of your injury or illness;
the cost of treatment and loss of earnings;
the impact on your life.
We will handle your claim on a No Win, No Fee basis. This means that if we don't win your case, you won't need to pay us a penny. If we do win your case, you'll need to pay for our legal expertise. However, we believe in open communication and complete transparency when it comes to billing our clients, so you will always be aware of what the final bill could be at the end of the process. Nothing will ever come as a shock to you.
Factory or Warehouse Claim Process
Speak to a Personal Injury Solicitor

The first thing to do if you want to make a claim is to speak to one of our Personal Injury Solicitors who specialise in Accident at work Claims.

We'll Contact Your Employer

We'll talk through your situation in a free, no-obligation consultation. If we think you have a strong case, we'll contact your employer and their insurance company. Your employer is legally obligated to have Employer's Liability insurance to cover them for factory and warehouse claims, and any compensation you receive will come from this policy.

We'll Gather Evidence

Next, we'll gather evidence such as photos, witness reports and medical records to support your case.

We'll Send You to an Independent Medical Specialist

We'll then send you to an independent medical specialist. They will assess your injury or sickness and create a report detailing what impact it's having on your life.

We Will Establish How Much Compensation You Are Owed

We Will Use This Report to Establish How Much Compensation You Are Owed

We Could Ask for an Interim Payment

If your employer admits full or partial responsibility for your injury or illness, we could ask for an Interim Payment. This will release a portion of your compensation to you whilst the claim is being settled. This could help you pay for any immediate medical treatment you might need.

We May Have to go to Court

If your employer doesn't accept liability, then we may have to go to Court. If this happens, we'll be there to support you, every step of the way.
Get in touch, today!
Fill in the form below to get in touch with one of our dedicated team members, or call our team today on: 0808 258 0024