Eye Injury Claims
For free legal advice call our Personal Injury Solicitors and we will help you. Ask if we can deal with your claim on a No Win, No Fee basis.

We're rated
'Excellent'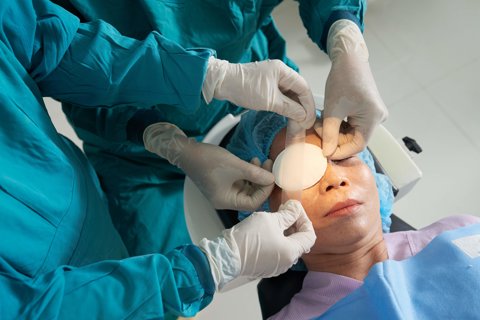 Being able to see is something many of us take for granted, however when something happens to affect that, it can be very distressing and often very painful and potentially be life changing, serious injury.  It can impact your ability to work and look after your family. 
You could claim compensation if the injury happened as a result of somebody else's fault whether it  occurred as a result of an accident at work or, as a result of a road traffic accident, as a result of medical negligence, sporting injuries,  negligent laser surgery or an accident whilst working in the armed forces.
We often sadly see people sustaining an eye injury or impairment to their vision as a result of an accident at work, military claim, medical negligence, road traffic accident, industrial disease in the following types of situation:
Being struck by an object or shattered glass entering the eye
A splash burn from hot oil or cooking to the eye
An infection caused by exposure gas, dust or sand
A chemical injury or burn caused by exposure to chemicals or a chemical splash or corrosive substance to the eye
Negligent Laser Surgery
Failure to diagnose – such as a detached retina or acute angle closure glaucoma
Trauma to the eye as a result of a road traffic accident or fall in an accident at work or an accident in a public place
Being the victim of an assault or a violent crime
Being shot in the eye in a military accident are as a victim of an assault
A blow to the eye in a sporting injury
A strain to the eye cause by excessive lifting
Many of these accidents are avoidable and in many of these situations there are laws in place to protect you to prevent or minimize the risk of you being injured. If your accident  happens in the workplace, your employer has a responsibility to protect you from such injuries. If it happens in a public place, then you may be able to make a claim against whoever is responsible such as the local council or the owner or occupier of the land you were injured on.
Our Personal Injury Solicitors are experts in dealing with these claims and can help you get access to support, medical treatment and rehabilitation. We will also work hard to get you the compensation you deserve.
Contact our Personal Injury Solicitors and ask if we can deal with your claim on a No Win, No Fee basis.
Why Choose Simpson Millar?
At Simpson Millar we want to help you. We are proud of our track record and the comments from our clients which is at the end of the day why we do the work we do.
What is the Claims Process?
Speak to a Personal Injury Solicitor

This is the first thing to do if you want to make a claim. Our team has specialist knowledge to help you every step of the way. We will assess if we think you have a successful claim.

We Will Contact the Relevant Company

If we think you have a strong case, we will contact the company responsible and their insurers. They are legally obligated to have Employers Liability and Public Liability insurance to cover them for any accident claims.

We Will Gather Evidence

Next, we will gather evidence such as photos, witness reports and medical records to support your case.

We Will Send You to an Independent Medical Specialist

They will assess your injury and create a report detailing what impact it's having on your life.

We Will Establish How Much Compensation You Are Owed

We Will Use This Report to Establish How Much Compensation You Are Owed

We May Ask for an Interim Payment

If the insurance company admits full or partial liability for your injury, we could ask for an Interim Payment. This would release a portion of your compensation to you while your claim is being settled. This could help pay for any immediate medical attention you may need

We May Have to Go to Court

If the insurance company doesn't accept liability, then we may have to go to Court. If this happens, we will be there to support you throughout the process.
FAQs about Eye Injury Claims
Full or partial blindness.
Blurred Vision
Double Vision
Floating spots
Detached retina.
Deterioration of your sight due to environmental reasons.
Damage to the Cornea / Corneal Abrasion
Loss of an eye.
Blunt force trauma (where your eye makes contact with a blunt surface)
Fracture to the eye socket / orbital fracture
Bleeding in the eye
Changes to the cosmetic appearance to the eye after an accident – including drooping eye lid, drooping eye, twitching to the eye
Strabismus – where one eye may looked crossed
A black eye / bruised eye
Damage to the Optic Nerve
Damage to the Trigeminal Nerve
Increased sensitivity to light
Pain in the Eye
Uveitis
Sympathetic Opthalmia – a disorder which occurs in the uninjured eye after a penetrating injury to the other eye. It can occur as early as 1 week after the eye injury in the other eye or as late as 30 years after the eye injury in the other eye which is why it is important to seek specialist expert advice as you may be able to claim for that risk
When we make a claim for an eye injury on your behalf, we will consider not only compensation for your pain and suffering, but also address how the injury will affect you throughout the rest of your life, addressing any extra needs you may have as a result. Things like adapting a property to suit your new needs, ongoing medical treatment, compensation for loss of earnings or enjoyment of everyday activities are all things we will consider.
In many eye injuries if a medical expert advises that your symptom are likely to be permanent you can be entitled to claim for life long care and treatment for things such as:
Cosmetic / Oculoplastic Eye Surgery
Private eye appointment checkups with an Opthalmologist
Regular check ups with an Optician / Optometrist
The cost of annual and replacement prescription glasses or contact lenses
The cost of eye drops and ointments
The cost of annual UV sunglasses or reactor light glasses
Any aids or adapations to help you at home or in the workplace with your vision
CBT Treatment or Counselling to help you come to terms with your visual impairment
In many cases accidents at work happen because of a lack of health and safety precautions. These are things like
Defective machinery
Missing safety goggles
Lack of face shields
A lack of training
Incorrect storage or handling of toxic chemicals
If your claim is successful, it is likely that your compensation will be paid by the insurance company of the company responsible. This would be from either their public liability or employers' liability policies. It is important to know that if you make a claim, you must do so within 3 years of the injury occurring.
Get in touch, today!
Fill in the form below to get in touch with one of our dedicated team members, or call our team today on: 0808 239 3227