Football Injury Claims
Our leading Personal Injury lawyers could help you secure compensation so you can access rehabilitation. We may be able to deal with your claim on a No Win, No Fee basis.

We're rated
'Excellent'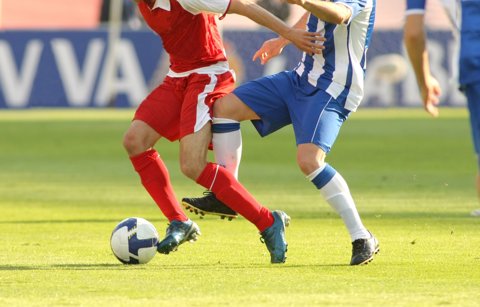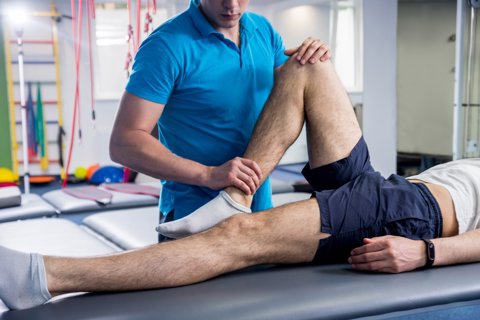 It's quite common to get injured playing football, whether you play for fun or professionally. Sometimes these injuries are inevitable and are no one's fault, but if you've sustained injuries because of someone's reckless or intentional behaviour, or poor pitch conditions, our Personal Injury lawyers could help you secure compensation.
Some football injuries can be serious and life-changing, requiring special rehabilitation to help you recover, get back to playing, and live the best quality of life you can. We know your fitness may be very important to you, whether football is your main hobby or your career. Our lawyers are here to achieve the maximum compensation for you that can get you on the road to recovery as soon as possible.
We offer some claims on a No Win, No Fee basis and we can discuss the best funding options for you. We've achieved thousands of pounds for footballers suffering with a range of football and other sports injuries, including:
Torn ligaments;
Ankle injuries including sprains, strains and achilles tendon injuries;
Knee injuries e.g. fractured patella;
Ligament injuries e.g. cruciate ligament;
Head/Brain injuries, including concussion;
Serious wounds and lacerations;
Scarring from boot studs, shards of glass or other hazards.
Dealing with scarring, serious injuries and having to take time off football or work can be emotionally challenging. Our lawyers will listen, put you first and work hard so that any psychological impacts will be recognised as part of your claim.
We have helped people who have suffered an injuries in a wide range of settings, for example:
From faulty equipment, lighting or poor pitch conditions;
Assaults from other players or spectators (as part of a Criminal Injury claim);
From dangerous conditions in stadiums as a spectator;
Poor refereeing decisions or lack of control/discipline;
Bad tackles (those with violent/reckless behaviour);
Injuries during training because of poor safety procedures;
Failure to treat head injuries/concussion after a tackle or injury occurs;
Injuries your child suffered at school or a sports club, for example from hazards, insufficient training or supervision, or inadequate coach or teacher-to-pupil ratio;
Abuse in football, even if you experienced it years ago as a child.
Sometimes it's difficult to know what your legal rights are around a football injury, and who can be legally responsible, but we can help you with this. Many sports regulatory bodies like the FA (Football Association) have specific rules about the governance of the game and code of conduct for players, which can help us prove that another player broke rules or was reckless if they injured you.
Every case is different so our lawyers will use their expertise to see how you could claim the maximum compensation.
We offer Free Case Assessments, so you can discuss this with our highly trained team and we can let you know whether you'd be eligible to make a claim.
How do I make a Football Injury Claim for Compensation?
Get in touch with our Personal Injury lawyers today or request a callback. We'll find out what happened and how your injuries are affecting you now, to see if we can take your claim forward.
You don't need to know all the details when you get in touch, but having the following types of evidence can help us prove your case and work towards the maximum compensation for you:
Photos or videos of the accident scene or tackle;
CCTV footage
Photos of stud marks, glass shards or indentations to show where the injury happened;
Photos of your injuries, and how they developed over time;
Medical records e.g. x-ray scans;
Details of other players or referees who may have witnessed the incident.
Our specialist lawyers will investigate your situation thoroughly – the exact amount of compensation you could get will depend on:
Who is responsible;
Any loss of earnings you've had;
The pain and suffering you've experienced;
Money you have spent travelling to appointments or scans;
Aids and adaptations you may need to help with your injuries;
Rehabilitation, physiotherapy and other types of support you might need now and in the future.
If the other party admits responsibility for your injuries, we could ask them for early interim payments which can help you access rehabilitation or recover any lost earnings sooner, before your case is settled.
Why Choose Simpson Millar for your Football Injury Claim?
How the Football Injury Claim Process works
You get in touch with us

Contact our team of specialist Personal Injury Lawyers. We'll listen and find out about your football injuries and circumstances with our no-obligation Free Claims Assessment.

We'll contact the other party

If we think you've got a chance of securing compensation, we'll get in touch with the other party, to see if they will admit liability for your football injury. This might be another player, the owner of a stadium or a sports club.

We'll gather evidence

We'll start to collect evidence to prove that your injury was caused by someone else's reckless actions, behaviour negligence. Evidence could include things like CCTV/video footage, photos, witness statements or x-rays and medical records. You could try to collect this when you get in touch with us to help us strengthen your claim, but our experts will help you gather this too.

You'll get a medical assessment

We'll send you to an independent medical expert, who will examine your injury and assess how it has affected your life and your ability to play football. People with football injuries often benefit from early rehabilitation, so we will prioritise this. If the other party admit responsibility, we can ask them for early interim payments to help start your recovery sooner, before we've even settled your claim.

We'll work out the compensation amount

Based on your medical assessment, we'll work out how much compensation you're owed and take this to the other party.

We'll settle your claim

Most claims are settled out of Court. If the other party does not accept liability, then the claim may have to go to Court. We'll keep you informed and provide expert advice throughout the whole process.
FAQs about Football Injury Claims
We offer some claims on a No Win, No Fee basis which can ease financial stress for you because you won't pay any fees if we don't win your case. This will depend on your situation – in some cases we might advise you to make a Criminal Injuries claim, for example against an amateur player who intentionally assaulted you. You may be making a claim against a sports club or other organisation on the other hand. Get in touch with us today to discuss your situation and we can advise you on your best financial option.
We would always advise you to get in touch as soon as possible after the incident so that:
We can help you access rehabilitation and support for your injuries as soon as possible;
Any evidence or witness statements are as fresh as they can be;
You can reduce the amount of unnecessary upfront expenses after your injury e.g. travel and prescription costs or loss of income.
However, generally you have 3 years from the date of the incident to start your claim for compensation.
Yes, you could make a claim on behalf of your child if they're under 18. Children can suffer football injuries in a range of settings, including clubs and schools. Once your child turns 18, they can make a claim for themselves – they will have until their 21st birthday to do this.
Our lawyers can also help you set up a Personal Injury trust for your child.
You could also make a claim on behalf of someone who is mentally impaired in any way, and may not be able to make legal decisions for themselves. For example, you may have a child with learning difficulties, or a family member with an injury so severe that it impacts their ability to make decisions.
Fatal football injuries are rare, but they sadly can happen. While we know compensation will never reverse what has happened, if you've had a family member who has passed away as a result of a football injury, we are here to listen to your situation and see how we can help.
It is still possible to achieve compensation for football injuries that you might be partially at fault for. We would advise you to get in touch to see what your options are, as we've been able to secure significant amounts of compensation for people with injuries, even if they were found to be responsible in some way. For example, you may have initiated a tackle which resulted in you sustaining an injury, but the pitch conditions were slippy and dangerous, meaning you were more at risk of falling in the first place.
The law around this can be tricky – you can have a 'legitimate tackle' in football, and some injuries are unavoidable, but we have some of the UK's best Personal Injury lawyers who will investigate the situation fully, put you first and work hard to achieve the compensation you deserve.
Get in touch, today!
Fill in the form below to get in touch with one of our dedicated team members, or call our team today on: 0808 239 3227