Suing an Individual Abuser
For free legal advice call our Abuse Claims Solicitors and we will help you. Ask us about Legal Aid or if we can deal with your claim on a No Win, No Fee basis

We're rated
'Excellent'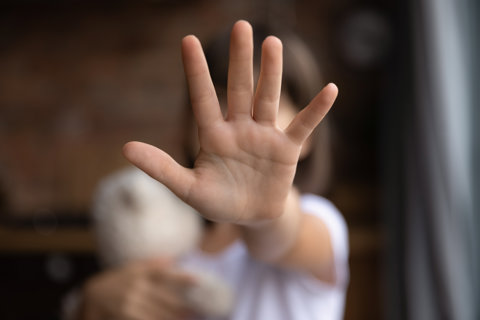 You have a right to seek compensation directly from the individual or individuals who abused you.
Contact us for free legal advice and we'll be happy to help you. Ask us about Legal Aid or if we can deal with your claim on a No Win, No Fee basis.
For more than 30 years, we've been representing abuse victims and helping them claim their legal rights, fighting tirelessly for our clients to help them achieve the right outcomes.
Once you decide to come forward, you should first report your abuser to the police. The police will investigate your claim to see if they can bring criminal proceedings against your abuser. Criminal action may be taken against your abuser, but it may not. Making a civil or criminal injuries claim may be your only way to access the justice you deserve, so even if you're not sure about making a claim, it's worth talking to an Abuse Solicitor.
In order to bring a claim directly against your abuser they will need to have sufficient assets (i.e. savings, income or property) to pay for your compensation and legal fees. It may also be possible to bring a claim against your abuser's employer if the abuse was carried out in the course of their employment.
Our dedicated Solicitors understand that suing someone for abuse takes lots of courage. That's why our compassionate and understanding team aim to make the process as stress-free and straightforward as possible. When you're ready to talk, we're ready to listen and will be happy to explain how we could help you.
How Much Compensation Can I Claim?
The amount of compensation you receive will depend on your individual circumstances, but will be decided by looking at:
The abuse you suffered
The period of time you suffered the abuse
How the abuse has affected your life
Whether you've suffered financially because of the abuse
What type of extra support and treatment you may need in the future
Our Abuse Claims Solicitors will make sure any compensation settlement genuinely reflects the seriousness of what's happened to you in line with current law and guidelines that apply to your case.
Why Choose Simpson Millar?
At Simpson Millar we want to help you. We are proud of our track record and the comments from our clients which is at the end of the day why we do the work we do.
What's the Claims Process?
Assessment of your case

We'll complete a free assessment of your case. This involves considering the details of what happened to you. Don't worry, you won't need to go into all the details, but we'll guide you with some simple questions so we can quickly tell you if we can take on your case.

Allocation of a specialist Abuse Solicitor

If you choose us, we'll allocate you a specialist Abuse Solicitor who will thoroughly investigate what's happened and gather all the evidence they can to support your claim. We will carry out enquiries concerning the abuser assets before then making a decision as to whether pursuing them as an individual is worthwhile. If it is, we will gather all the evidence available to support your claim before then approaching the abuser with details of your claim to start the legal process for making a civil claim.

Assessment by an independent medical expert

We'll often arrange for you to see an independent medical expert who will assess the impact of the abuse on your life. They'll prepare a report outlining the harm you have suffered.

Supporting you in and out of Court

Most abuse claims settle out of Court, but don't worry, we'll be there to support you even if your claim does go to Court.
How Much Will It Cost to Make a Claim?
We often offer a no win, no fee agreement in cases involving an individual abuser. You could be eligible for Legal Aid, depending on your financial circumstances. If you have a Legal Expenses Insurance policy, you could use this to pay for your legal costs. This is usually an add-on policy to a home or motor insurance policy. Your final option is to pay your legal costs yourself. We'll discuss the best option for you during the assessment of your case.
You could also consider making a Criminal Injuries Compensation Scheme claim.
If an individual has subjected you to physical or sexual abuse, you might not feel ready to talk about it for many years. However, speaking to a Solicitor with experience of helping abuse victims can help with the recovery process.
Even if the abuse you experienced occurred many years ago, it's still worth contacting us to see if you have a claim. And if you do want to take legal action, we can guide you through reporting your abuser to the police.
Although the compensation is rarely a driving factor, if your claim is successful, you will be awarded compensation for the abuse you suffered. No one should experience abuse. Compensation could help you access treatment, such as therapy, to help you process what's happened to you.
We can provide you with details of support organisations and survivors groups who are specialists in providing support to abuse survivors.
With our help, you can take the first steps towards a better future.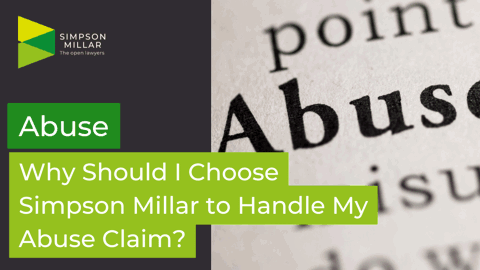 What Types of Claims Can You Bring?
If you have experienced abuse our solicitors can advise you on your legal claims which you are able to bring. This video tells you what types of claims are open to people in these circumstances.
FAQs about Suing an Individual Abuser
The law surrounding abuse compensation claims is extremely complex so its vital you speak to a Solicitor that specialises in abuse cases.
Even if a claim does not go to Court, evidence will need to be gathered to your case including a medical report from an independent consultant psychologist or psychiatrist. A solicitor with expertise in abuse claims will be able to guide you through all of the steps to help you get the best outcome.
Simpson Millar is a member of the Association of Child Abuse Lawyers (ACAL) and we subscribe to its code of conduct. That means we'll deal with your case in the way you'd expect it to be handled, with sensitivity and skill.
The first step is to determine how the claim is funded, many claims can be dealt with on a No Win, No Fee basis, we can then start to obtain as much evidence as possible to help prove the claim and assess its value.
If it's then appropriate to begin Court proceedings, a formal legal claim begins in Court. In most abuse cases, there's no need to go to a final trial and many compensation claims can be settled out of Court.
If it does proceed to trial, the person bringing the case may have to give evidence as a witness, but if this does happen, your Solicitor and a Barrister will provide advice and support at every stage.
The exact amount of compensation depends on many factors such as how much has the abuse affected your life? How much money have you lost or likely to lose as a consequence of the abuse? Will you need extra support in the future? 
 
That's why in most cases we ask a medical expert to prepare a report detailing the harm inflicted, so we can value your claim and give you a good idea of how much compensation you can expect to receive.
Rest assured; we'll do all we can to get you the maximum amount of compensation available to you.
Bringing legal action can't wipe away the suffering you or a loved one has experienced, but there are lots of other reasons why it's worth claiming compensation:
For many, it's the only recognition that what happened to them was wrong
Legal action helps survivors accept that what happened to them wasn't their fault
Solicitors can aid the survivor's recovery process, as the first people to hear and validate their experiences
Compensation can help survivors get appropriate treatment, such as counselling, and rebuild their lives
Speaking out on abuse can encourage Parliament to change the law
Bringing legal action can ensure other people don't have to suffer in the same way as you
Compensation can recover money you would have received if not for the abuse
There are generally four options for paying for legal costs:
Public Funding (Legal Aid)
No Win, No Fee arrangements
Legal Expenses Insurance
Private Funding
Solicitors make charges based on an hourly rate. The overall cost of your case will depend on how much work is required, and a complex case will cost more than a straightforward case.
Most child abuse cases are complex, as they can involve investigations of records and events dating back many years. This can make child abuse cases very expensive to bring to Court.
Abuse cases will also usually include fees from experts including Psychiatrists, Doctors, Barristers and sometimes other specialists.
Public Funding (Legal Aid) is currently available for child abuse claims where the person bringing the claim is financially eligible and where the case has legal merit.
If a person doesn't qualify for Legal Aid, the Solicitor will consider whether it's appropriate to enter into a Conditional Fee Agreement (CFA) or what is often called a No Win, No Fee agreement. It's essential that you fully understand the terms of the agreement before committing to it, so you know exactly what expenses you could have to pay. 
When entering into a No Win, No Fee agreement, it may also be a good idea to take out an After the Event insurance policy in case you end up having to pay the opponent's costs.
Finally, you have the option of paying the Solicitor privately as the case proceeds.
Get in touch, today!
Fill in the form below to get in touch with one of our dedicated team members, or call our team today on: 0808 239 1287