Electric Scooter Accident Claims
For initial advice call our Road Traffic Accident Solicitors and we will help you.

We're rated
'Excellent'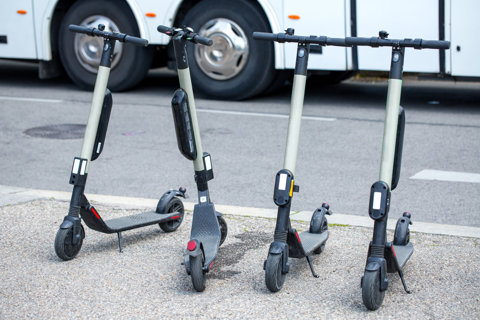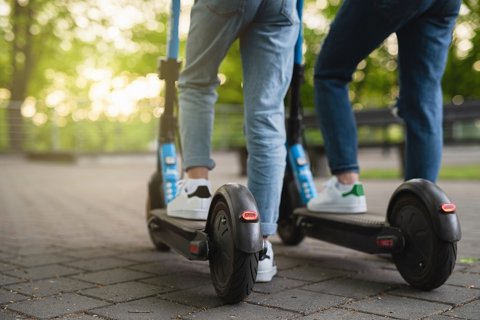 If you've had an accident on an electric scooter, our team of Road Traffic Accident Lawyers could claim compensation for you.
Electric scooters, or e-scooters, are an environmentally efficient and cheap mode of transport that can reach speeds of up to 40mph. But with no seatbelt, no windscreen, no metal bodywork and just one brake to protect you, if you have an accident on one of them, it could be serious.
Injuries resulting from e-scooter accidents can cause life-changing head or neck injuries, for instance.
If you've been injured in an accident involving an e-scooter and it wasn't your fault, you could be entitled to compensation. Get in touch with our team of Road Traffic Accident Solicitors for a free no-obligation consultation
Are Electric Scooters Dangerous?
Electric scooters were legalised for government-backed trials on certain public roads in the UK in 2020. But these seemingly harmless and environmentally friendly modes of transport can be incredibly dangerous.
The Law requires motorcyclists to wear a helmet whilst riding their motorbike to protect themselves whilst travelling at speed on roads or weaving in and out of traffic and pedestrians.
This is not the case for e-scooter drivers. Helmets are recommended but they're not a legal requirement. Because of this, many people don't wear helmets or protective clothing whilst riding them, but they still weave in and out of traffic and pedestrians, they're still vulnerable to potholes, oil spills and or debris on the road, and they can still travel at speeds of up to 40mph.
Plus, motorbikes have two sets of breaks to help them slow down or come to a stop when necessary. Electric scooters only have one, which makes stopping difficult.
What does the law say about e-scooters?
Because the Laws surrounding electric scooters are new, they can be quite confusing and there are many caveats and requirements about when, where and how they can be ridden on public roads.
The conditions for riding an e-scooter will vary from area to area, but generally:
you can only ride a privately owned electric scooter on private land;
if you rent an electric scooter, you must have a full provisional car, motorcycle or moped license;
rental e-scooters can only be ridden on roads only, not pavements;
you can't ride an e-scooter on a public road unless the e-scooter is rented and you're riding it in an area that's been approved for government trials.
Whether you were injured whilst riding the e-scooter, or you were injured after being hit by one, this level of complexity makes it hard for you to know if you can claim compensation or not. That's where Simpson Millar's Road Traffic Accident Solicitors can help.
"My son was involved in a serious RTA in December 2018 resulting in life-changing injuries. This turned out to be a very complicated and long-drawn-out affair, no doubt due to the insurance company. The case has finally been settled. The case was handled by Simpson Millar and their handling can only be described as excellent from start to finish. Cannot fault the handling of the case in any way."

Mrs Glyn

Client's monther

"The team was great regarding my claim. They were very sensitive, caring and knowledgeable in their approach. They were easy to communicate with and always replied to my queries and concerns in a timely fashion"

Legal 500 2023

Client
Meet some of our Road Traffic Accident Claims Team
How Simpson Millar can Help With Your E-Scooter Claim
Free Consultation

When you get in touch with us, we'll first conduct a free, no-obligation consultation with you. We'll talk through what happened, look at the legalities surrounding your case and establish if we think you're eligible for compensation or not.  

Starting Your Claim

If we think you have a strong case, we'll start the e-scooter accident claims process for you on a no-win-no-fee basis. We'll work hard to prepare your claim and get you the compensation you need to cover: any medical or rehabilitation treatment; the cost to replace or repair your e-scooter; loss of earnings that you've suffered as a result of the accident.

No Win, No Fee

If we don't win your case, you don't need to pay us anything. If we do win, you'll just need to pay a percentage of your compensation. This amount will be taken directly from your compensation sum, so you don't have to worry about paying us for anything upfront.

We want you to concentrate on your recovery, so get in touch and leave the legal worries to us.
FAQs about E-Scooter Accident Claims
Common injuries caused by electric scooters can range from broken bones and neck injuries to loss of limbs and life-altering head injuries. In some cases, they can even cause death.
Whether you've been hit by an e-scooter, or you were involved in an accident whilst riding one, the first thing you should do is report the accident to the Police.
If you can, and it's safe to do so, you should also try to do the following:
Write down contact details of any witnesses that might have seen the accident. Witness statements will add a lot of weight to your claim.
Take photographs or video footage of what might have caused the crash. Look for CCTV cameras too, as you can request the footage to help with your claim.
Seek medical attention straight away. Even if your injuries don't warrant an ambulance, a medical examination will rule out any internal injuries, and it will also make your claim stronger.
Once you've collected as much evidence as possible, speak to a Road Traffic Accident Solicitor to discuss your situation and start the claims process.
The amount of compensation you're likely to get depends on the severity of your injuries, who was at fault and the circumstances surrounding the accident.
To give you a rough idea about how much you could receive for an electric scooter claim, the compensation amounts below are based on data included in the Judicial College Guidelines.
Severe neck injuries with permanent symptoms: £36,240 - £118,240
Minor brain or head injuries: £1,880-£11,980
Shoulder injuries: £6,730 - £18,020
Moderate to severe knee injuries: £24,580- £90,290
Loss of a leg (below the knee): £83,590 - £124,800
Lesser to severe hip and pelvis injuries: £3,370-£122,860
For a more accurate calculation of how much compensation you could get, contact the Road Traffic Accident team.
Get in touch, today!
Fill in the form below to get in touch with one of our dedicated team members, or call our team today on: 0808 239 6443