Ankle Injury Claims
For free legal advice call our Personal Injury Solicitors and we will help you. Ask if we can deal with your claim on a No Win, No Fee basis.

We're rated
'Excellent'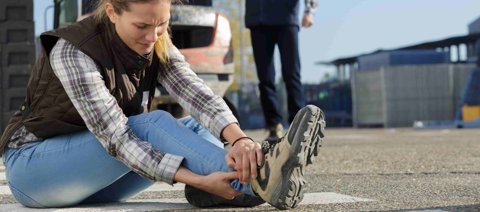 If you've injured your ankle because of someone else's actions or negligence, our nationally accredited Personal Injury Solicitors could help you make a claim for compensation on a No Win, No Fee basis.
Although your ankle is a small part of your body, the impact of injuring it can be extremely serious. You shouldn't have to suffer from the consequences if someone else was fully or partly responsible, whether you sustained your injury in a public place, at work, or in a road traffic accident.
Get in touch with our expert Personal Injury lawyers for a Free Case Assessment, where we'll listen to what happened and let you know if you could make a claim for compensation. We'll approach the party who was at fault and ask them to admit responsibility for the incident. As specialists, we will take all factors into consideration to investigate and secure you the compensation you deserve.
If you've had to take time off work, compensation can account for loss of income, easing financial stress. We'll also try to get you early rehabilitation and interim payments if you need them, before your claim has even settled. We could even get you access to private healthcare, over and above what the NHS can provide, working together with our connections in the healthcare industry to help you recover.
We have a track record in securing compensation for people with ankle injuries including:
How Much Compensation Could I Claim for an Ankle Injury?
We have achieved thousands of pounds in compensation for people with ankle injuries over the years – the exact amount you could get will depend on different factors and is broken up into two elements general damages (a scale of compensation for injuries which all solicitors used based on the injury and the severity.
General Compensation Amounts for Ankle Injuries
| | |
| --- | --- |
| Type of Ankle Injury | Estimated Compensation Amount |
| Severe ankle injuries that require lengthy recuperation with ongoing disability | £30,000 to £50,000 |
| Severe ankle injuries that require lengthy recuperation with complete or near complete recovery | £15,000 |
| Twisted or broken ankle with incomplete recovery | £7,500 |
| Twisted or broken ankle with full recovery | £3,500 |
Special Damages for Ankle Injuries
This part of your damages is in addition to the above but is individual to your circumstances. Our Personal Injury lawyers are leading experts and will investigate who is responsible for your injury and how it has affected your life, to secure the maximum amount of compensation.
The bones in your feet carry most of your weight, so ankle injuries can severely impact your life, resulting in factors that you could claim compensation for, such as:
Pain, swelling and stiffness;
Inability to exercise, walk, run, bear weight or even stand properly;
Inability to drive;
Inability to wear certain shoes.
It's important to get one of our experts on your side, as your ankle injury may have had many knock-on effects that we will take into account, including:
Time off work or even the need for a career change;
A loss of income, travel expenses, and other costs;
An impact on your ability to socialise, engage in hobbies or your day-to-day activities.
Compensation can also help you access any support and rehabilitation you might need now and in the future, such as orthotic devices (e.g. adapted shoes and insoles) and many other types of care, aids and adaptations.
Why Choose Simpson Millar?
Here are some of the reasons why you should choose Simpson Millar to help with your injury claim.
How the Ankle Injury Claim Process Works
We'll contact the other party

If we think you've got a chance of getting compensation, we'll get in touch with the other party, to ask them to admit liability for your accident and ankle injury. This might be your workplace, a local authority or business, or another person who caused a road traffic accident.

We'll gather evidence

We'll use our expertise to collect evidence to strengthen your care prove that your injury happened, or at least happened in part, because of someone else's actions or negligence. This might include CCTV footage, photos, witness statements or accident logbooks.

You'll have a medical assessment

We'll send you to an independent medical expert, who will assess your injury and find out about how it has affected your life. We try to intervene early if we think you'd benefit from rehabilitation. If the other party admit responsibility for your injury, we can ask them to send you early interim payments before your claim has settled.

We'll work out the compensation amount

Based on your medical assessment, we'll work out how much compensation you're owed and take this to the other party. We'll be open about this with you throughout so you'll always stay informed.

We'll settle your claim

If the other party does not accept liability, then the claim may have to go to Court. Luckily, this doesn't happen with most personal injury claims. If it does, we'll support you and provide expert advice throughout the whole process.
How We've Helped Others Claim Compensation for Injuries
We've helped recover thousands for people with arm injuries over the years. Here are just a few examples:
FAQs about Ankle Injury Compensation
We could handle your claim on a No Win, No Fee basis. This means that if we don't win your case, you won't need to pay us a penny. However, we believe in open communication and complete transparency when it comes to billing our clients, so you will always be aware of what the final bill could be at the end of the process.
If the other party admit liability, we could ask them to make early interim payments if you need urgent support and rehabilitation.
You have 3 years from the day you were injured to make a claim for compensation.
This is different if the injured person is a child. If they're under 18, they cannot make a claim themselves. An adult can claim on behalf of them until they're 18, at which point the claimant has 3 years.
You may be entitled to compensation if your injury is the result of one of the following:
Yes, you might have multiple injuries from an accident, or be dealing with psychological effects such as Post Traumatic Stress Disorder. Our Lawyers are specialists in helping people with multiple injuries and we will assess the overall impact of all your injuries so that you can achieve the maximum compensation.
We know that ankle injuries can have a huge impact on other areas of your life. You can claim for any travel costs you've incurred, or for any ongoing support and rehabilitation you might need. This could include physiotherapy or adaptations to your home or car.
We aim to get compensation that will help you live the best quality of life you can after your ankle injury. We may be able to secure specialist rehabilitation for you, and care and assistance for your whole life if you need it.
You might need a cast, an air boot, ankle support, surgery or an external fixator from a serious fracture. If it's very severe, your foot or leg may even require amputation. Compensation could cover financial losses you have already incurred and can help you get a sense of justice for the way in which your injury has affected your life.
There are many types of aids and adaptations, as well as different types of support you can get if you've suffered an ankle injury. Compensation can help you with:
Personal hygiene/care e.g. getting to bathroom, getting in and out of bath/shower – special adaptations may be required if your injury is permanent;
Your house may require adjustment if your injury is permanent e.g. ramp access or adjustments to living accommodation;
Cooking – adjustments for knee-height worktops or cooking appliances;
Cleaning and domestic chores – care and assistance and special adaptations;
Driving – if your injury affects your ability to drive, you may be entitled to claim for a driving assessment, special adaptions to your vehicle, or for the additional cost of buying an automatic car if this is recommended to you;
Mobility adjustments and aids e.g. a mobility scooter, wheelchair or walking stick;
Workplace adjustments/adaptations;
Footwear adjustments e.g. specially made shoes or orthotic devices, for life if necessary;
Different clothing to adapt to or accommodate a plaster cast or air boot;                       
Treatment charges or painkillers;
Compensation for reduced or complete loss of earnings.
Our Personal Injury solicitors are experts on all the different types of support compensation could get you, and are highly trained on the impact that these injuries can have on your life, so get in touch today to see if you'd be eligible for a claim.
If you believe someone else was at least partially responsible for the accident that led to your ankle injury, whether this was due to their direct actions, or lack of action (negligence), it's still important to get in touch and speak to one of our specialist lawyers. With our Free Claims Assessment and years of experience, we'll be able to tell you fairly quickly whether we think you have grounds for a claim.
If you were partly at fault for your injury, e.g. because of your actions on the road, or your failure to wear the footwear you were provided at work, this might reduce the amount of compensation you'll be entitled to. We'll find out everything we can about your circumstances and keep you up to date throughout.
Get in touch, today!
Fill in the form below to get in touch with one of our dedicated team members, or call our team today on: 0808 239 3227