Serious Injury Claims
For free legal advice call our Serious Injury Solicitors and we will help you. Ask if we can deal with your claim on a No Win, No Fee basis.

We're rated
'Excellent'
Serious injuries are usually life changing for you and for your loved ones. They can cause long term medical problems, leave you with a disability and financial difficulties that impact whether you can still work and support your family.
If your life has been affected by a serious injury, our Serious Injury Solicitors can help you to get compensation to take care of your future care, get any adaptations and equipment you need and get rehabilitation and treatment to help you to recover from your injuries.
Our team of specialist Personal Injury Solicitors have years of experience of handling serious injury claims. We offer a free claims assessment and legal advice, so we understand more about your accident, your injuries and the impact on your life.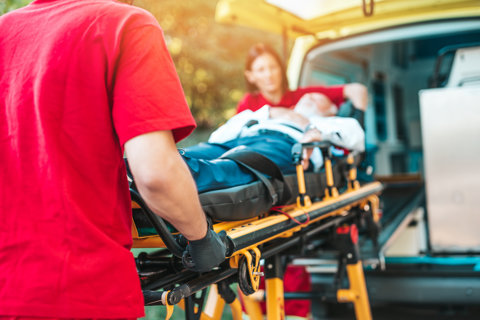 Major Trauma Unit - Your Lawyers For Life
Our Major Trauma Unit is here for anyone who has suffered serious, life changing injuries.
A specialist, experienced lawyer will help and support you every step of the way from the beginning of your claim, right through to the end.
Because we have a wide range of expertise in the firm, we can help you to deal with any legal issues that arise because of your injury such as making sure you have a personal injury trust in place, any employment law issues or making or reviewing a Will.
We help with serious injuries, such as:
If we take on your case, we'll work with independent medical experts to evidence how your injuries have affected your life and work to secure the compensation, private medical care, rehabilitation and ongoing care you need and deserve. We could deal with your claim on a No Win, No Fee basis. Please just ask us for details. Get in touch with our Serious Injury Solicitors for a free consultation and specialist legal advice, and we can talk about how we can help you.
Why Choose Simpson Millar?
At Simpson Millar we want to help you. We are proud of our track record and the comments from our clients which is at the end of the day why we do the work we do.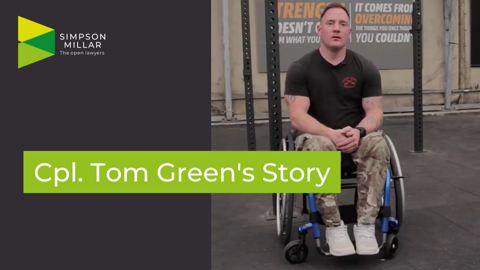 Our client Tom, talks about his accident and his recovery
Our client Cpl. Tom Green had a serious accident whilst taking part in a charity bike ride. He talks about his experiences as well as the team from Simpson Millar and how we were able to help.
The Serious Injury Claims Process
We'll make sure you understand exactly what will happen with your claim from start to finish, keeping you updated at every stage of the claims process. 
Free initial consultation

We offer a free initial consultation. A member of our Serious Injury team will talk to you about your accident, the effect it's had on your life and what we can do to help

Assigning a lead solicitor

A lead Solicitor will be assigned to your case and they will be your main point of contact

Contacting the other party

If we take on your case, we'll contact the other party or their insurance company and ask them to admit responsibility for your accident

Early interim payment

If the other side accepts full or partial responsibility, we can ask for an early Interim Payment of compensation before the case has settled. This can help you with any financial pressures and pay for urgently needed medical treatment or rehabilitation

Understanding your injury

We'll work with independent medical experts to understand the full impact of your injury on your life now and in the future. This will help us know what rehabilitation you need and how much compensation you should get.

Thorough investigation

We'll also carry out a thorough investigation and collect evidence to support your claim. This could include witness statements and photographs.

Getting your money

Once a suitable settlement for compensation has been agreed, we'll make sure you get the money as soon as possible.
What Our Clients Think of Us
"The service and help received from Adele Farnaby and your team has been amazing, second to none. I am truly grateful for all the time and effort you have put in to bring some closure to this issue. We are truly grateful to you all."

"Jason at Simpson Millar helped me a great deal, he made every step an easy one, communicated very easily and friendly and was a pleasure to deal with"
FAQs about Serious Injury Claims
We deal with most serious injury claims on a No Win, No Fee agreement, also known as a Conditional Fee Agreement. Please ask us for details.
You can claim compensation for the pain and suffering you've experienced and how your injury has affected your life in the short term. You can also claim compensation for the impact your injuries will have on you for the rest of your life. These are called Special Damages.
You can also claim General Damages. General Damages cover any financial losses you've had because of your serious injury. This could include:
Loss of earnings if you can't work
Treatment, therapy and rehabilitation costs
Medication and prescription costs
Travel expenses to medical appointments and rehabilitation
The cost of mobility aids, equipment and any home alterations you may need
Getting a ground level property if necessary
The cost of a support worker, sometimes called a buddy or enabler, can also be claimed to help you regain the quality of life you had before the accident.
You can also claim for the cost of a private healthcare professional who can organise and manage appointments on your behalf, as well as the cost of a privately funded financial deputy should you need help to manage a large compensation settlement at the end of the case.
The vast majority of the serious injury cases we deal with settle before going to Trial, so it's very unlikely.
The first and most important aspect of any serious injury case is to gather all of the evidence and experts' reports on what's happened to convince the other party's insurance company to pay the right amount of compensation.
Only in a very small number of cases is that not possible and we have to proceed to a Trial before a Judge.
Get in touch, today!
Fill in the form below to get in touch with one of our dedicated team members, or call our team today on: 0808 239 3227