Religious Abuse
For free legal advice call our Abuse Claims Solicitors and we will help you. Ask us about Legal Aid or if we can deal with your claim on a No Win, No Fee basis

We're rated
'Excellent'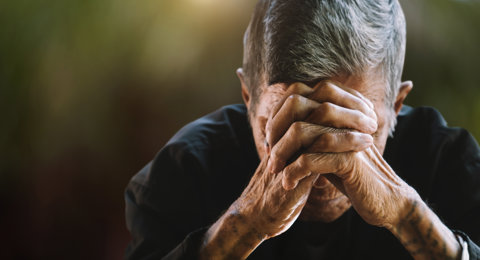 Helping people abused or neglected in religious organisations
If you've been abused by someone working or volunteering in a religious organisation, such as a church, mosque or synagogue, our specialist Abuse Claims Solicitors are here to listen and help you.
You may be worried about talking about your experience, but we'll listen carefully to you and treat you sensitively at all times. We want to make the abuse claims process as stress-free as possible for you.
Our expert Abuse Claims Solicitors can give you some initial free advice, where we'll need to understand more about what happened to you. We will listen to you and give you advice about whether you can bring a claim. We can provide you with details of support organisations and survivors groups who are specialists in providing support to abuse survivors.
We'll work with you to answer any questions you may have and guide you throughout the religious abuse claims process. Ask us about Legal Aid or if we can handle your claim on a No Win, No Fee basis.
Why Make a Claim for Religious Abuse?
Deciding to make a civil claim is your decision and you'll have your own reasons for making that decision, but here are some of the reasons our clients tell us they want to make a child abuse claim.
Making a claim for abuse can bring a similar sense of justice and closure as a criminal prosecution. This can be particularly important if the individual who abused you has escaped criminal proceedings. You may want recognition from the religious institution that what happened to you was wrong. Making a compensation claim can help you to get that recognition.
Child abuse can happen in religious institutions anywhere an abuser can be alone with their victim, although this is not always the case. It's vital that the right safeguarding checks are carried out on people in positions of trust.
Claims for sexual abuse can encourage religious organisations to address the issues they have with abuse and to put processes in place to deal with cases of abuse more effectively. This should hopefully reduce the likelihood of similar crimes happening in future.
Although the compensation is rarely a driving factor, if your claim is successful, you will be awarded compensation for the abuse you suffered. No one should experience abuse, let alone from someone in a position of power, who you trusted. Compensation could help you access treatment, such as therapy, to help you process what's happened to you. If you've struggled to work through your lifetime because of the abuse you suffered, you could be compensated for your lost earnings.
Why Choose Simpson Millar?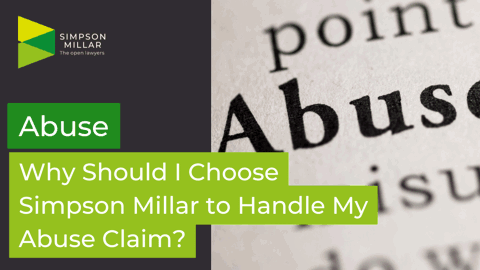 See why you would choose the team at Simpson Millar to help you.
Watch our video about why you should choose a specialist solicitor to help with your claim. At Simpson Millar we want to help you. We are proud of our track record and the comments from our clients which is at the end of the day why we do the work we do.
What is the Claims Process?
Free Assessment of Your Enquiry

We'll complete a free assessment of your case. This involves considering the details of what happened to you. Don't worry, you won't need to go into all the details, but we'll guide you with some simple questions so we can quickly tell you if we can take on your case.

Allocating a Solicitor

If you choose us, we'll allocate you a specialist Abuse Solicitor who will thoroughly investigate what's happened and gather all the evidence they can to support your claim. We'll often arrange for you to see an independent medical expert who will assess the impact of the abuse on your life. They'll prepare a report outlining the harm you have suffered.

Starting the Legal Process

Once we have the evidence, this will help us understand exactly how much compensation you can claim. We'll approach the church or religious institution with details of your claim to start the legal process for making a civil claim.

Settling the Claim

Most abuse claims settle out of Court, but don't worry, we'll be there to support you even if your claim does go to Court.
FAQs about Religious Abuse Claims
Many religious organisations must follow set procedures when an allegation of abuse is made, but it's rare for them to offer compensation to the victim. That's why it's so important to speak to an expert in this area of law, such as an Abuse Claims Solicitor.
It can help your claim if you have reported the abuser to the police. The police will investigate your claim to see if they can bring criminal proceedings against your abuser. Criminal action may be taken against your abuser, but it may not. Making a civil or criminal injuries claim may be your only way to access the justice you deserve, so even if you're not sure about making a claim, it's worth talking to an Abuse Solicitor. You can read our reporting guide here or give us a call and we'll be happy to talk you through the process.
Our expert Abuse Claims Solicitors have many years of experience with helping survivors of abuse get justice and compensation. When you're ready to talk, we're ready to listen and will be happy to explain how we could help you.
The amount of compensation you receive will depend on your individual circumstances, but will be decided by looking at:
How the abuse has affected your life
Whether you've suffered financially because of the abuse
What type of extra support and treatment you may need in the future
Our Abuse Claims Solicitors will make sure any compensation settlement genuinely reflects the seriousness of what's happened to you in line with current law and guidelines that apply to your case.
We often offer a No Win, No Fee agreement on religious abuse claims. You could be eligible for Legal Aid, depending on your financial circumstances. If you have a Legal Expenses Insurance policy, you could use this to pay for your legal costs. This is usually an add-on policy to a home or motor insurance policy. Your final option is to pay your legal costs yourself. We'll discuss the best option for you during the assessment of your case.
You could also consider making a Criminal Injuries Compensation Scheme claim.
Get in touch, today!
Fill in the form below to get in touch with one of our dedicated team members, or call our team today on: 0808 239 1287