Sports Abuse
For free legal advice call our Abuse Claims Solicitors and we will help you. Ask us about Legal Aid or if we can deal with your claim on a No Win, No Fee basis

We're rated
'Excellent'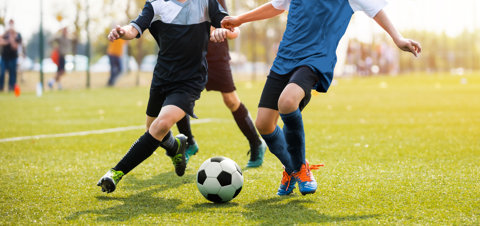 Helping people abused in a sports club or facility
If you or your child has been abused by someone working in a sports club or facility, our compassionate and supportive Abuse Claims Solicitors are here to listen and help you.
Our expert team are specialists in cases involving Physical and Sexual Abuse and offer a free case assessment, so we can talk to you about getting you the closure, justice, support and compensation you deserve. Sometimes, criminal prosecution may not be possible, so making civil or criminal injuries claims can be another way to access the justice you need so you can start to get some closure.
We understand that speaking about what's happened before making a claim can feel very daunting, but we're committed to making the claims process as stress-free as possible, and giving you the support you need every step of the way.
Contact us for free, confidential advice. We'll talk about your experiences and whether we can help you get the justice you deserve. Ask us about Legal Aid or if we can deal with your claim on a No Win, No Fee basis.
Can I Claim Compensation for Sports Abuse?
Taking part in sport can be an enriching, life-enhancing experience for children. But sadly, abuse at sports clubs can be common, especially if the club hasn't carried out extensive background checks on coaches and other staff.
It's the duty of the sports club to make sure that children are safe and protected, so if abuse happens, anyone who's been affected has the right to look for justice and claim compensation.
A civil claim or criminal injuries claim could be your only option to get justice and some closure. While no amount of money can repair the damage caused by abuse, making a civil claim and getting compensation can help you to get the vital care and support you may need, along with a sense of closure. We can also assist and advise you on how to report the abuse you've suffered to the police if you've not yet taken this step.
Bringing a claim against a sports club, could also lead them to bring in tougher measures to stop other young people being harmed in the future.
Why Choose Simpson Millar?
At Simpson Millar we want to help you. We are proud of our track record and the comments from our clients which is at the end of the day why we do the work we do.
Abuse in Gymnastics and Dance
Sports such as gymnastics and dance can involve tough training regimes, which unfortunately means that signs of abuse can go unnoticed. You can read more about the signs of abuse in sport and some recent news stories we've highlighted.
It's important that there is a change to this culture, so we can protect anyone who is suffering from abuse. We've seen an increase in cases as many athletes who were abused at a young age have started to recognise this and speak out. Our lawyers have the expertise to help you talk about your experiences, guide you towards resources and help you get the justice you deserve.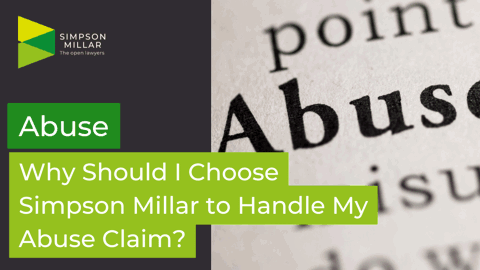 See why you should choose the team at Simpson Millar to help you.
Bringing a claim of this kind can be stressful and psychologically challenging, but we can connect you with the best available support networks in your area. Talking about your past experiences can help you come to terms with what's happened and understand the effect it's had on your life, so it can be a vital step for you. We can provide you with details of support organisations and survivors groups who are specialists in providing support to abuse survivors.
What's the Abuse Claims Process?
Free Assessment of Your Enquiry

Our specialist Solicitors offer free confidential advice. We'll listen to you and look at any information you're happy to give us. If we think you have a strong case, one of our Abuse Solicitors will be assigned to you. They'll be your main point of contact throughout your claim.

Investigating Your Claim

Your Solicitor will carry out a thorough investigation of what's happened to you, gathering evidence to support your claim. You may need to see an independent medical expert so we can better understand how your experience has affected your life. This will help us identify how you've been impacted, what care and support you need, and how much compensation you can claim.

Settling Your Claim

Your Solicitor will most likely approach the sports club or facility responsible with the details of our claim based on the information and the instructions you give us. All claims are different and can proceed in a number of different ways, but we will advise and support you throughout whilst doing everything we can to resolve your claim out of Court. If there's any reason why your case can't go ahead, we'll give you a detailed explanation as soon as possible.
How to Claim Compensation for Sports Abuse
When you first contact Simpson Millar, our dedicated enquiries team will discuss the initial details of your claim. You'll then be allocated a specialist Abuse Claims Solicitor and we will send you a questionnaire to complete with details about your claim. We can help you complete the questionnaire if you would prefer assistance.
One of our specialist advisors will then meet with you to take further details about what has happened and put the details into a statement. We can also provide you with advice about how to report the abuse to the police.
We can help you claim compensation from the sports organisation or individual responsible for the abuse. We'll also be able to advise you whether you're eligible to make a Criminal Injuries Compensation Claim.
For free legal advice contact our Abuse Claims Solicitors. Ask about Legal Aid or if we can deal with your claim on a No Win, No Fee basis.
FAQs about Sports Abuse Claims
People working at sports clubs can use their position to manipulate and abuse children. They could make promises to young people, groom them and exert psychological control over them.
Abuse victims, meanwhile, may feel like they don't have a voice and can't speak out against their abuser. It's only once abuse survivors break this pattern and reach out for support that they can begin to process their experience and look for the closure they need to start to rebuild their life.
Your legal costs for making a sports abuse claim can be paid for by:
Legal Aid
A No Win, No Fee arrangement
Legal Expenses Insurance, usually attached to a house or car insurance policy
We'll talk through all the options to pay your legal costs with you before any work starts.
We'll assess whether you're eligible for Legal Aid, which depends on your financial circumstances. If you don't qualify for Legal Aid, we may be able to deal with your case on a No Win, No Fee basis.
The disclosure of abuse by former footballers has highlighted the failures of sports clubs with a duty of care to children. Our Child Abuse Solicitors have helped many survivors who were abused while taking part in a number of different sports, including swimming, karate, athletics and rugby.
We can help you claim compensation from the organisation or individual responsible for the abuse, and advise you on whether you're eligible to make a CICA claim. However, there are strict time limits for making a claim, so it's worth seeking legal advice as soon as possible.
It's the duty of the owner/manager of the sports club to ensure that the staff they employ are suitable to work with children. When a person has used their position to abuse children, a sports abuse claim may be brought against the organisation that employed that individual.
A claim may also be brought against the individual who abused you and we will consider whether this is possible in your case. We'll send a letter to the organisation and/or individual setting out the details of your claim. They will then investigate your claim and let us know whether they accept responsibility. We will also advise you regarding your eligibility for Criminal Injuries Compensation.
Your Abuse Claims Solicitor will need to instruct an expert to prepare a report detailing the injuries you've suffered as a result of the abuse. In the majority of cases, your Solicitor will need to obtain a report either from a clinical psychologist or psychiatrist to establish the psychological effects of the abuse.
The expert will need to consider all of your records, including information from medical organisations, Local Authorities, schools and the police. The expert will consider your records and meet with you to discuss what happened and how the abuse affected you. They'll then prepare a report detailing their opinion.
Once we've obtained medical evidence in your case, your Abuse Claims Solicitor may instruct a Barrister who will advise on your case. They'll consider the value of your case and whether it is likely to be successful.
Most abuse cases are settled without the need to go to Court. If agreement cannot be reached, your case may have to be decided in Court by a Judge. We will guide you through your case at every step.
There are many organisations that can provide support to survivors of abuse.  We can provide details of organisations/people who can help you.
Get in touch, today!
Fill in the form below to get in touch with one of our dedicated team members, or call our team today on: 0808 239 1287