Amputation Accident Claims
For Free legal advice call our Personal Injury Solicitors and we will help you. Ask if we can deal with your claim on a No Win, No Fee basis.

We're rated
'Excellent'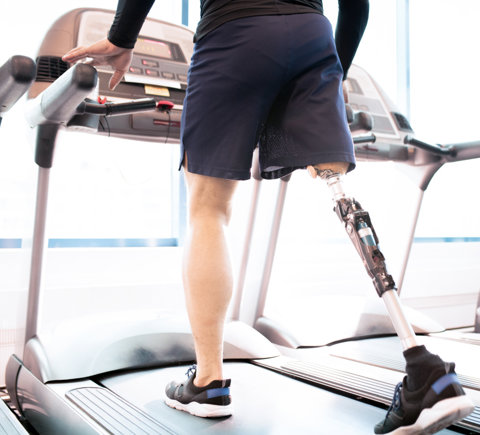 Helping people with Amputation Accident Claims
If you've suffered an injury that led to an amputation, the physical and mental effects can be huge.
We have a dedicated major trauma service with some of the UK's leading Personal Injury Solicitors, and we're here to help you claim compensation, so you can get the best and most innovative medical care, support and rehabilitation, to help you live your life to its fullest.
Get in touch with us for a free claims assessment, so we can discuss what's happened to you and how our dedicated major trauma team can work on your behalf and get you the justice and compensation you need.
We can usually deal with your claim on a No Win, No Fee basis, so call us today.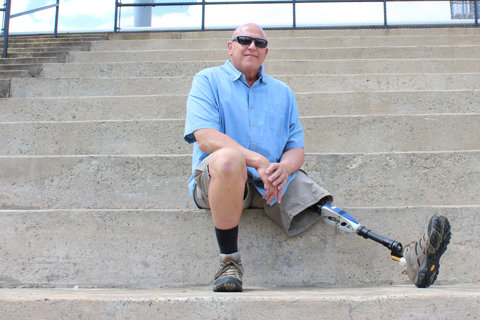 Helping people with serious injuries
We've helped countless people who've had suffered the loss of a limb, finger or toe resulting from various situations, such as:
Limbs or digits being injured from being trapped in machinery
Diggers overturning
Farming accidents
Unsafe working conditions
Dangerous, defective or unsafe products
We understand that claiming compensation can be daunting, especially after going through a life-changing experience, but our expert Solicitors are hugely experienced in this field and aim to make the process as stress-free for you as possible.
Why Choose Simpson Millar?
At Simpson Millar we want to help you. We are proud of our track record and the comments from our clients which is at the end of the day why we do the work we do.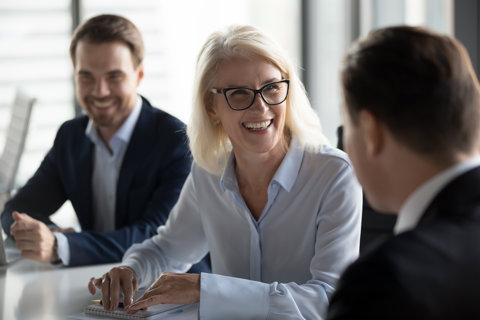 Major Trauma Unit - Your Lawyers For Life
Our Major Trauma Unit is here for anyone who has suffered serious, life changing injuries.
A specialist, experienced lawyer will help and support you every step of the way from the beginning of your claim, right through to the end.
Because we have a wide range of expertise in the firm, we can help you to deal with any legal issues that arise because of your injury such as making sure you have a personal injury trust in place, any employment law issues or making or reviewing a Will.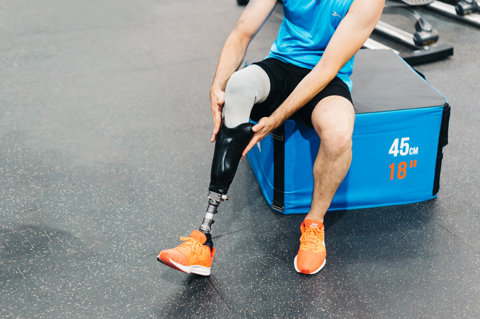 What Rehabilitation and Support Can We Help You Access and Fund?
Rehabilitation support can make sure you're as mobile and pain-free as possible. So, we'll consider how much this costs when we're valuing your compensation claim.
You could be treated by any one or more of the following professionals:
Prosthetic rehabilitation Specialist- Prosthetics can help people return to the same activities and hobbies they enjoyed before they were injured. We work with prosthetic specialists at the cutting edge of technology to make sure you receive the best possible results.
Physiotherapist- To help you if you're suffering physical problems such as restrictive movement, balance, weakness, stiffness or poor coordination.
Occupational Therapist (OT)- An OT can help you make changes to your home where necessary and help you if you're planning to return to work.
Psychological Therapist- The emotional impact of an amputation can be just as significant as the physical effects, so we want to make sure get the psychological treatment you may need, such as cognitive behavioural therapy.
Accommodation Expert – an accommodation expert can help give advice on suitable alternative accommodation, if needed.
A case manager to be brought in to arrange all this for you, finding the right specialists, booking appointments and buying specialist equipment on your behalf.
Getting Your Prosthesis
When we negotiate your compensation claim, we know that your needs will develop throughout your lifetime and you will almost certainly need to change or update your prosthetic.
We will work with you to understand exactly what your social and occupational needs are and we'll talk through any hobbies you have which may need specialist prosthetics.
Once we understand your lifestyle, we can get specialist advice on the types of prosthetics that will fit your lifestyle and also understand the costs involved.
This is often one of the biggest costs involved after an amputation, so it's very important to get all the information right so that all the costs can be factored in.
Elective Amputations and Compensation
Even if you decided to have an elective amputation because of pain levels or infection, you could still claim compensation if your injury was caused in an accident that wasn't your fault. 
Traumatic Amputation
This type of amputation happens at the point of the accident. The word 'traumatic' refers to the sudden and often violent nature of an unexpected event that has caused the loss of a person's limb.
If there's no possibility of re-attaching the limb, you'll go through surgery in case there is a need to:
Re-shape the bone on remaining limb
Clean and close the wound
Skin graft
Surgical Amputation
The most common reason for needing a surgical amputation is through complications with the blood vessels or infections. If the blood supply to a limb has been lost, then the limb begins to die (necrosis) and this can't be reversed.
There are also times when an injury that warrants an amputation in order to save the person's life. This could be due to severe damage to bones, skin or tissue. In this case, a surgeon will do everything in their power to save the limb and use amputation as a last resort.
A limb can be replanted (re-attached) if it's been preserved correctly, but this kind of surgery isn't always successful. The limb and its functionality will be monitored and if it doesn't demonstrate its full and useful function, the decision may be made to amputate. This could happen years after the initial injury.
Areas of Amputation
An amputation can happen to any part of the body's limbs and extremities (fingers and toes) and they are categorised by the part of the body that is removed.
In all cases, surgeons will attempt to save as much of the injured limb as possible.
Shoulder disarticulation - the removal of the entire arm at the shoulder joint.
Forequarter - the removal of the entire arm and the shoulder including part of the shoulder blade and the collarbone.
Trans-humeral - the removal of the arm between the shoulder and elbow. The amputee will maintain the use of their shoulder.
Elbow disarticulation - the removal of the forearm through the elbow joint.
Transradial amputation - the amputation of part of the arm through the forearm. This could be anywhere between the elbow and hand.
Wrist disarticulation - the removal of the hand through the wrist joint.
Metacarpal - the amputation of the hand, but leaves the wrist intact.
Digit - the amputation of one (or more) of the fingers or the thumb. This term is used for any part of or the entire finger/thumb.
Hip disarticulation - the removal of the entire leg through the hip joint.
Transfemoral - the removal of the leg above the knee joint. The amputee will maintain full use of the hip.
Knee disarticulation - the amputation of the leg through the knee joint.
Transtibial - this amputation takes place between the knee and the foot. The amputee will maintain use of the knee joint.
Ankle disarticulation - this amputation occurs through the ankle joint, removing the foot.
Partial foot - an amputation where part of the foot is removed.
Digit - the amputation of one (or more) toes. This term is used for any part of or the entire toe.
FAQs about Amputation Accident Claims
Phantom limb pain can happen just a few days after surgery, or at a later stage. The pain appears to happen in the missing limb or show as severe pain in their stump.
When pain seems to happen in the missing limb, this can be confusing and distressing, but it's normal and happens to about 80% of amputees.
The pain can present itself in various different ways, including:
Burning sensation
Crushing feeling
Stabbing pain
Shooting pain
Doctors still aren't sure why it happens, but they do know that the pain comes from damaged nerve endings. This means that the source of the pain is in the brain and because of this, it can be quite difficult to treat.
Speak with your doctor about any phantom limb pains so that they can help you as the pain is a lot more difficult to treat once a year has passed after it was first felt.
Phantom limb pain is commonly treated with opioids strong painkillers, anti-depressants, which are effective in treating pain as well as depression, anti-convulsant's used to treat pain caused by excessive nerve signal firing and injecting anaesthetic around the stump nerve endings can block the pain signals being sent to the brain.
Understandably, losing a limb can have a considerable emotional effect. Survivors of an amputation often say that the sadness they feel after surgery can like a bereavement, or the death of a loved one.
There's a huge amount to process when you've undergone an amputation. Besides the obvious changes to your mobility, you also have to come to terms with a new sense of body image and accept that other people's perception of your body image may well change as well.
It's common to have negative thoughts after an amputation and understandable too. These kinds of negative thoughts can resonate in the form of:
Anxiety
Depression
Denial
Grief
Feeling suicidal
It's important to remember that whilst life may be very different after an amputation, you can still live a very full life.
Help is available for amputees who are having trouble with coming to terms with their new futures. A doctor may prescribe anti-depressants or counselling. There are also support groups organised by the Limbless Association, where support and advice can be given.
As a result of the sensitive nature of stumps after surgery, it's possible for the skin to break and wounds to be left open. This can lead to infection, which can often lead to further surgical procedures to make sure the infection doesn't spread. Report any potential infections to your doctor, as they can stop you using your prosthesis.
People who have had an amputation are also at a higher risk of deep vein thrombosis (DVT). DVT is the development of a blood blot in a vein. It can cause pain and swelling and lead to further complications such as a pulmonary embolism.
Anticoagulants are used to treat DVT – they will reduce the body's ability to clot and stop any existing clots getting bigger.
Get in touch, today!
Fill in the form below to get in touch with one of our dedicated team members, or call our team today on: 0808 239 3227