TUI Holiday Accident and Sickness Claims
For free legal advice call our Holiday Claims Solicitors and we will help you. Ask if we can deal with your claim on a No Win, No Fee basis.

We're rated
'Excellent'

If you've booked a holiday through the tour operator TUI, and you were injured in an accident or got sick on holiday, you might be entitled to claim compensation from TUI.
Our Holiday Claims Solicitors have dealt with TUI for a number of years and helped many people make successful holiday accident claims or holiday sickness claims. So if you've had an accident or suffered from illness on a holiday you booked through TUI, get in touch today to see if you can claim compensation.
No Win, No Fee Compensation
If you suffered a holiday illness or were injured in an accident abroad, contact a member of our travel law team. We can provide you with a free consultation where we can assess your situation and advise you if making a No Win, No Fee claim is the right option for you.
How Simpson Millar Can Help You?
Our Holiday Claims Solicitors have years of experience working in the travel industry, so they're very familiar with how tour operators work. With this expertise on your side, you've got a much stronger chance of making a successful claim

Travel law can get a little complicated, so we do advise getting the help and expertise of a specialist Holiday Claims Solicitor. We'll handle the entire process for you and explain everything to you in straightforward terms, so there's never any confusion

With a Conditional Fee Agreement, you don't have to pay us anything if your claim isn't successful – so there is no financial risk to you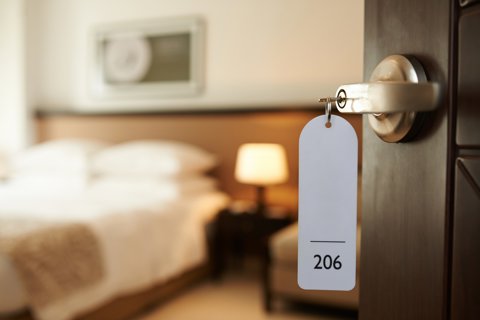 Holiday Claims and the Law
If you booked a package holiday through TUI, then you're automatically protected by the Package Travel and Linked Travel Arrangements Regulations 2018. This legislation makes the tour operator responsible for your safety when you've booked a package holiday at a hotel or resort, or a package cruise ship holiday.
If TUI fail in their duty to keep you safe and you suffer an accident or illness that could have been avoided, then this is seen as being a breach of contract, and you may be entitled to compensation.
What is the Claims Process?
Get In Touch

On your return to the UK, get in touch with our Holiday Claims Solicitors.

Getting Started

We'll go through the details with you and advise you on the next steps. If we're confident that you've got a potential claim, we'll start the claims process right away.

Checking Medical Records

If you've got any medical records or evidence of your accident or illness, share these with your Holiday Claims Solicitor.

Securing Compensation

We'll deal with TUI on your behalf to secure a compensation settlement that fairly reflects your suffering and covers your financial losses.
FAQs about TUI Accident Claims
Some of the things you could claim compensation from TUI for include:
Injury caused by an accident due to poor quality or incomplete maintenance work
An accident caused by local safety standards not being followed
Food poisoning from inadequately cooked meals g. chicken that's still pink in the middle
Becoming sick from consuming contaminated food or drink
Suffering illness because of inadequate hygiene processes
If you've been injured, you should first get medical treatment. Make sure you get a diagnosis from a medical professional so you know the full extent of your injuries.
You should then tell a TUI representative what's happened. Try to gather as much evidence as you can about what caused your accident and write a record of exactly what happened.
If there were any witnesses the accident, then it's worth asking them for contact details in case you need their testimony later.
When you return to the UK, it's best to contact a Holiday Claims Solicitor who can advise you on your next steps. If your injuries are quite severe, you should continue to get medical treatment and rehabilitation as
Inform your tour operator right away. Make sure that you ask them to keep a written record of your complaint both at the point when you inform them and following any medical treatment. This prevents a tour operator claiming at a later stage that they don't have a written record even though they do. If you can, take a photo of the complaint that is reported.
You should also see a medical professional as soon as possible for treatment and a diagnosis. Remember, the sooner you get medical aid, the sooner you're likely to recover.
If you think you got food poisoning on holiday, see a medical professional and get a stool sample test to determine what caused your illness. This also means you'll get the most appropriate treatment.
Again, gather any evidence you can of possible causes of your illness. For example, photos or videos of unhygienic food serving conditions or undercooked meat. If any other hotel guests are having similar illnesses, get their contact information so they can confirm what happened.
If you've had an accident or become ill, we always recommend speaking to a Holiday Claims Solicitor rather than going to TUI directly. But if you want to make a complaint about something else, such as a flight delay, facilities being unavailable or you feel your holiday was mis-sold to you, then we suggest contacting TUI.
Get in touch, today!
Fill in the form below to get in touch with one of our dedicated team members, or call our team today on: 0808 239 7911