Knee Injury Claims
For free legal advice call our leading Personal Injury lawyers. We could deal with your claim on a No Win, No Fee basis.

We're rated
'Excellent'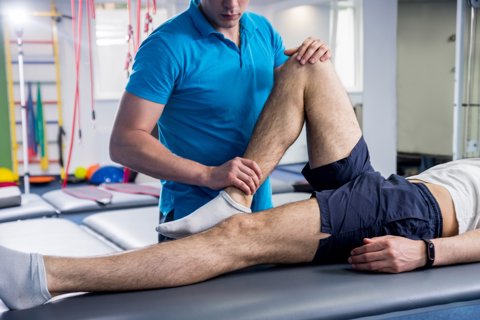 Our knee is a vital joint in our leg and plays a huge role in movement and mobility, so a knee injury can be not only extremely painful but also very inconvenient. Knee injuries can impact your quality of life, causing pain, discomfort and even the need for surgery. If you have sustained a knee injury in the workplace, in a road traffic accident, while out in a public place or while playing sport, you may be entitled to claim compensation if it was at least partly someone else's fault.
Serious knee injuries can also cause long-term medical complications which may sadly limit your mobility for the rest of your life. Your knee injury may stop you from being able to go to work, causing financial problems, but compensation can help you to urgently recover lost earnings and will account for any income you may lose in the future too.
Your knee injury might require specialist rehabilitation which compensation can help you access, so that you can focus on your recovery. If you have a long-term knee condition, flare-ups and pain throughout your life may also mean you need further care and support in the future. You can trust in our Personal Injury solicitors to take all these factors into account when valuing your claim.
If someone else was responsible for your knee injury, or could have taken action to prevent it, our expert Personal Injury lawyers could help you claim compensation. Your workplace has a legal duty of care to keep you safe from getting into accidents at work, and this duty of care also applies to other road users, councils and business owners. Even if you might have been somewhat responsible for the accident that caused your knee injury, it's worth you getting in touch with our specialist team as we could still help you achieve compensation.
Call our Personal Injury Solicitors today, who will offer you a Free Case Assessment. Our team will find out how your knee injury happened and how you're coping now, and we'll let you know how we can help.
Which Types of Knee Injury Could I Claim Compensation For?
Whether you have missed out on earnings from taking a few months off work or you are living with long-term complications or a disability, we can help you secure the compensation you're entitled to. We have a track record helping people make claims for knee injuries such as:
Damage to cartilage, ligaments or tendons e.g anterior cruciate, collateral or posterior cruciate ligament injuries;
Crush injuries;
Soft tissue knee injuries;
Serious wounds or lacerations;
Injuries leading to Iliotibial band syndrome, Complex Regional Pain Syndrome or chronic pain;
Amputations – whether this is above or below the knee;
Torn meniscus;
Dislocations;
Osteoarthritis;
Our Personal Injury team have years of experience helping people with a wide range of knee injuries and conditions so they will put you first in your case to secure compensation that can help you get the exact care and support you need.
How Much Compensation Could I Receive for a Knee Injury?
The exact compensation you could receive will depend on your exact situation, but over the years our expert Personal Injury lawyers have achieved thousands of pounds for those suffering with knee injuries.
Compensation is split up into two categories – general damages and special damages:
General damages will take into account the pain, suffering and loss of amenity you have suffered as part of your hand injury.
Special damages will account for the largest part of your compensation, because they will take your unique circumstances into account. This will include any financial impact caused by your injuries, such as loss of income, medical costs, travel or the costs any care and support you may need in the future.
Here are some guidelines for average figure of general damages that have been awarded for knee injuries – you will notice these averages are set in ranges, so your exact amount will depend on how severe your injury is. It's important to note these are just a guide and that you would receive special damages in addition to the figure below.
| | |
| --- | --- |
| Injury | Guidelines for general damages |
| Severe knee inury e.g. development of osteoarthritis, serious ligament damage, lengthy treatment, considerable pain and loss of function | £69,730 to £96,210 |
| Leg fracture extending into the knee joint – causing constant, permanent pain which limits your movement | £52,120 to £69,730 |
| Less severe injuries than those above, but with continuing symptoms, pain and discomfort | £26,190 to £43,460 |
| Dislocation, torn cartilage or meniscus | £14,840 to £26,190 |
| Lacerations, twisting or bruising injuries | Up to £13,740 |
Why Choose Simpson Millar?
How Does the Knee Injury Claims Process Work?
Here's what to expect from the process once you get in touch with our specialist team for a Free Case Assessment.
We'll contact the other party

We'll ask the other side to accept liability for the accident that caused your knee injury. If they do, we can ask them to make early interim payments of your compensation if you need medical care or financial support urgently.

We'll gather evidence

Our team will gather the evidence we need to help support your case. This might include CCTV footage, photos, eyewitnesses, medical reports and equipment maintenance logbooks if the accident happened in your workplace. You can help us by keeping as much evidence as you can on your side, but don't worry about having everything to hand when you get in touch.

You'll receive a medical assessment

We will send you to an independent medical expert who will create a report, detailing the impact your knee injury is having on your life, as well as any care and support you might need in the future.

We'll work out the compensation amount

Based on your medical assessment and evidence we have collected, we will work out how much compensation you should get.

We'll settle your claim

We'll negotiate the compensation settlement that you deserve. Most Personal Injury claims are settled without the need to go to Court, but if this does happen, our lawyers will be able to support and represent you throughout to get the best outcome for you.
FAQs about Knee Injury Claims
Our team may be able to handle your claim on a No Win, No Fees basis. This means if we don't win your case, you don't pay us any money.
Get in touch today for a Free Case Assessment and we can talk you through your options.
You usually have three years to make a knee injury accident claim from the date it happened.
If you're claiming compensation on behalf of a child, you can make a claim at any point until they turn 18. Once they turn 18, they'll have until their 21st birthday to start a claim themselves.
You can claim on behalf of a child under 18 at any point. Once they turn 18, they can make the claim for themselves up until their 21st birthday. Our team can talk you through the process around setting up a trust fund.
You could also make a claim on behalf of your spouse or family member who does not have the mental capacity to do so themselves – there is no time limit for this. It might be a family member with a disability or neurological condition - our Court of Protection team can help if you're struggling to assess whether the person is capable to make decisions for themselves.
You may be entitled to compensation if your injury is the result of one of the following:
The person or company who pays for your compensation will depend on who was responsible for your accident. For example:
If your knee injury happened at work, your employer should be covered by insurance – so you wouldn't be making a claim 'directly' against your employer;
If you suffered your knee injury in public, the council may be held responsible, in which case they would pay your compensation – an example of this would be tripping on a loose paving stone that the council should have taken action to fix, or your child being injured by faulty equipment in a park.
If you sustained a knee injury while falling in a shop, restaurant or other business, the company in charge will usually be covered by their own insurance, which would pay your compensation.
If a Road Traffic Accident caused your knee injury, this will usually be covered by the other road user's motor insurance. If the responsible road user was uninsured or we cannot trace them, you may be able to claim compensation from the Motor Insurers' Bureau (MIB).
As Personal Injury experts we have a track record of making successful claims for people so we would never take on your case if we did not think there was a chance of you being able to achieve compensation, even if you were somewhat responsible for your injury.
We will do everything in our power to collect evidence and negotiate the best possible settlement for you. However, if the other party deny responsibility, we may have to issue court proceedings. This does not happen in the large majority of Personal Injury cases, but if it does, our experts will support you throughout and represent you throughout.
Knee injuries can vary widely in terms of how long they affect people for and how severe they are. For example, you might have multiple injuries from an accident as well as your knee injury, or be dealing with psychological effects such as depression or even Post Traumatic Stress Disorder. We will assess the overall impact of all your injuries so that you can achieve the compensation you deserve.
Knee injuries can affect many aspects of your life, and compensation can help you access aids, adaptations and therapies to help you live the best quality of life possible with your injury. For example:
An automatic car so you do not have to use the clutch when driving;
Therapy such as counselling or Cognitive Behavioural Therapy (CBT) to help you cope with the changes and emotional challenges that have been brought about as a result of your knee injury/accident;
Adaptations to your home or different handles and aids to use around the house to help with your mobility;
The cost of training to change career if you can no longer work at your old job due to a permanent disability, particularly if your old industry involved you being on your feet a lot.
Any extra support or care you need around the house e.g. with cleaning and chores;
Travel costs you've incurred e.g. for appointments, scans and surgeries;
Support and rehabilitation you might need – both now and in the future.
To see if you'd be eligible to make a claim and access these many different types of care and support, get in touch with our specialist team today or request a callback.
Whilst your personal injury lawyer is settling your compensation claim, we can apply for interim payments of compensation if the other party accept responsibility. These payments can cover urgent costs such as:
Loss of earnings;
Daily household expenses;
Necessary equipment such as home adaptions or wheelchairs;
Private medical treatment, rehabilitation, physiotherapy and care you may need.
Get in touch, today!
Fill in the form below to get in touch with one of our dedicated team members, or call our team today on: 0808 239 3227