Courier and Delivery Driver Accident Claims
For free legal advice call our Personal Injury Solicitors and we will help you. Ask if we can deal with your claim on a No Win, No Fee basis.

We're rated
'Excellent'

Being involved in a serious accident such as an Accident at Work or Road Traffic Accident can be life changing, both physically and psychologically. But with an increase in demand for fast delivery, we've unfortunately seen more accidents involving couriers.
Every year, around 70 people are killed and 2,000 are seriously injured in accidents involving vehicles in and around workplaces, a lot of these taking place during deliveries or collections.  
Unfortunately, accidents involving delivery drivers are often solely blamed on the individual and there's limited consideration of the employer's responsibility to put safety precautions in place for its drivers and riders.
If you've had an accident at work while working as a delivery driver, we could help you get compensation and support. Get in touch with our Personal Injury for a free claims assessment and we can let you know if we can handle your claim on a No Win, No Fee basis.
What are the Main Dangers for Couriers?
It wouldn't be an exaggeration to say that people have become used to getting what they want quickly in recent years. Whether it's a fast-food delivery that arrives at your door within the hour, or a parcel that gets to you the next day – or even the same day – these services are often taken for granted.
But there is a danger involved here.
Couriers are often expected to work long hours and will experience pressure to get deliveries out as quickly as possible. As well as this, a lot of couriers start the job with no experience and receive limited training. It's not surprising then that there's an increased risk for accidents in this area of work.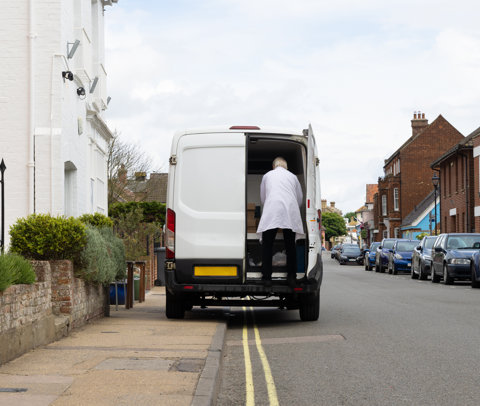 Some of the most common accidents include:
Falling from vehicles – especially if using a motorbike or bicycle.
Collisions with other vehicles.
Being hit by another car while unloading.
Manual handling injuries – usually when loading or unloading heavy items.
Being hit by falling parcels and loads which haven't been safely stacked or secured.
Being injured after carrying something that's too heavy for one person.
Tripping or slipping on any unsafe paving or driveways at the delivery location.
Becoming injured after carrying furniture deliveries up narrow staircases without the relevant equipment to help you.
If you've been affected by any of the above, you could be entitled to compensation and rehabilitation support. Our Personal Injury Lawyers will listen to your situation and let you know what we can do to help.
Why Choose Simpson Millar?
If you've been involved in an accident, you'll understandably be shaken and the prospect of starting legal proceedings can be daunting. Our Personal Injury Solicitors are not only experts, but they can also offer a friendly service tailored to you. Here are a few more reasons to get in touch:
Many of our Solicitors are accredited by the Association of Personal Injury Lawyers (APIL) and Motor Accident Solicitors Society (MASS). We're also authorised by the Solicitors Regulation Authority (SRA).

We will speak to you in plain English, not legal jargon, and keep you updated to make sure you know what is happening with your case.

We'll work to get the best outcome for you, and we'll make sure you're kept up to date at every stage of the claims process.
Give us a call or request a call back to see how we could support you with your claim.
What is the Claims Process?
Call us for a Free Claims Assessment

We'll discuss your accident and injuries with you and let you know if you have grounds to make a claim.

We'll contact your employer's insurance company

If we can take on your case, we'll get in touch with your employer's insurer and any compensation would be paid from this policy.

Requesting Interim Payment

If your employer admits responsibility, we can ask for an Interim Payment which will help you cover immediate medical costs before the case is settled.

We'll gather evidence

This will include photos and witness statements. We'll also arrange for you to be examined by one or more medical experts to help us get an idea of how serious

Medical treatment and rehabilitation

We can request that your employer's insurance liability company pays for any treatment you need as a result of the accident.

Representing you in Court

If your case goes to Court, we'll prepare for proceedings and represent you. But in our experience, most claims are settled out of Court.
FAQs about Courier and Delivery Driver Accident Claims
Employers have a legal duty to take measures that ensure the safety of their employees. Unfortunately, there is some overlap in responsibility when it comes to courier safety which can complicate the claims process.  
According to the Health and Safety Executive, there are three key 'duty holders'. These include:
the supplier;
the carrier (company or haulier carrying the goods);
the recipient (person receiving the goods).
There is often a lack of agreement between these three parties as to who is responsible for what when it comes to safety. Irresponsible employers may use this as an excuse for failing to do more to keep their employees safe.
But under the Health and Safety at Work Act, primary responsibility lies with the Employer  to do whatever they can to make sure their drivers and riders are safe. This should involve:
Carrying out of risk assessments to identify hazards and improvements needed.
Training couriers in safety procedures, especially when loading and unloading delivery vehicles.
Employing enough workers to handle the lifting of heavy objects.
Making sure any agencies providing drivers are complying with safety policies.
If your employer has failed to put reasonable safety precautions in place, they could be considered at fault. Our Personal Injury Lawyers can tell you more as part of an initial claims assessment.
It may also be necessary to bring a claim against the supplier. For example, if the load wasn't safely stacked or secured or if you tripped because of the dangerous state of the premises.
We deal with most claims of this nature on a No Win, No Fee agreement. This means you won't have to worry about paying us anything unless your claim is successful. Get in touch today to find out we can help you on a No Win, No Fee basis.
Get in touch, today!
Fill in the form below to get in touch with one of our dedicated team members, or call our team today on: 0808 258 0024