Taxi Accidents Claims
Our specialist Road Traffic Accidents team are here to give you legal advice and have years of experience achieving millions of pounds of compensation for people. Speak to us for a Free Claims Assessment, and ask if we can offer you a No Win, No Fee claim.

We're rated
'Excellent'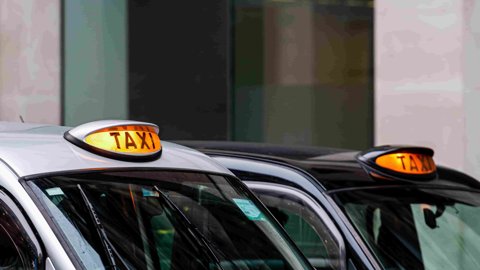 When you get in a taxi or minicab, you put your trust in the hands of the driver and expect to get to your destination safely. However, if you've been involved in a taxi accident, you may be suffering from injuries that were not your fault. Whether you were a pedestrian, passenger, driver, or cyclist during an accident that involved a taxi, you might be able to claim compensation.
Get in touch to let us know how the accident happened, and how your injuries have affected your life. We'll listen and advise you on whether you'd be eligible to make a Taxi Accident Compensation claim – we could even offer you a claim on a No Win, No Fee basis. Our expert Road Traffic Accidents lawyers are ranked as national leaders in their field and are members of the Motor Accidents Solicitors Society, which promotes the highest standards of legal services. We understand all injuries are different, so you can trust in us to tailor our services to your needs.
We've got a track record in gathering all the evidence we can to secure the best possible compensation for people. If your injuries were particularly serious, we could even get you access to specialist medical care and rehabilitation, so you can put your claim in the hands of our experts and focus on your recovery.
What Types of Injuries Could I Claim For?
You might be suffering from multiple injuries if you were involved in a taxi accident. We know these can have a devastating impact on your life, and you shouldn't have to suffer if they weren't your fault. We'll get an independent medical expert to assess your injuries and we'll get you access to any specialist help you might need. We're here to help you make a claim for injuries such as:
If you don't see your injury here, don't hesitate to get in touch with our team, as you still may be eligible for compensation.
Who can claim for taxi accidents?
Passengers
A taxi driver's actions or negligence could have caused you injury if you were a passenger in their taxi. Some examples of scenarios where you may be able to claim compensation if you were injured are:
The driver set off before you had properly got out of the car;
The driver suddenly changed direction while they were dropping you off;
You injured yourself exiting a minibus taxi and the driver had not provided a step;
The driver was concentrating too heavily on Sat Nav, rather than the road, leading to an accident;
The driver was texting, using their phone or was otherwise distracted, resulting in an accident.
Why Choose Simpson Millar?
How does the claims process work?
Free claims assessment

First, we'll speak to you and find out what happened. We'll give you a free claims assessment, and let you know if we can take your claim forward. We're specialists, but we want to make the law as straightforward as possible, so we'll make sure you understand what the process will be. We might be able to deal with your claim on a No Win, No Fee basis, so if we don't win the case, you don't pay anything.

We collate the evidence

If we take on your claim, we'll collect as much evidence as we can. This could include taxi receipts, photographs of your injuries or the scene, eyewitness statements and any other documentation.

We determine who is responsible

We'll carry out our own investigation to determine who was responsible for the taxi accident. In these types of claims, we'll need to decide whether liability lies with the taxi driver or someone else.

We arrange for your medical report

We'll arrange for an independent medical expert to assess the nature of your injuries. This will help us determine how much impact the injuries have had on your life.

We value your claim

We'll review all the information we've gathered, which will help us estimate how much compensation you could receive. We'll keep you up to date about this throughout the case.

We settle your claim

We'll aim to settle your claim without it going to Court. If the other side admits liability for your injuries, you can also apply for interim payments. These will help you pay any costs you've incurred as a result of your injuries, while we negotiate your final settlement.
Taxi Accident Compensation FAQs
You could get different types of compensation depending on your injuries and how the taxi accident has affected you. Compensation can account for any losses and injuries you've already suffered, as well as any support and rehabilitation you might need in the future.  The two types are general damages and special damages. General damages include compensation for:
Pain and suffering you've experienced;
Loss of amenity resulting from your injuries.
Special damages refer to any secondary out-of-pocket expenses you've had to pay. This could be:
Travel expenses;
Medical expenses;
Modifications to your home or mobility aids;
Loss of income if you've been off work.
The exact amount of compensation you could receive will depend on these factors, so they vary on a case-by-case basis. Our lawyers have recovered millions of pounds for people involved in Road Traffic Accidents over the years.
Our lawyers can take on many Taxi Accidents claims on a No Win, No Fee basis. This can take the financial stress out for you, because it means you won't pay a penny unless we win your case. We believe in transparency so when you get in touch, we'll find out about your situation and let you know whether we'd be able to take on your claim with this agreement.
Sometimes if the other party in your case admit liability for the accident and your injuries, we can ask them to make early interim payments. This means that you can focus on your recovery and get your life back on track as much as possible before your compensation claim is settled. We'll keep you updated about this throughout the process so you'll always be fully informed.
Depending on the circumstances and what happened during the accident, you could make a claim against whoever was responsible or partially responsible for your injuries. This could include:
The taxi driver or their firm;
Another driver on the road (through their insurance company, as all drivers are legally required to have insurance);
A local authority or council, for example if the roads were not made safe enough in wet weather, or due to potholes;
A manufacturer, if the vehicle itself was faulty and not maintained/repaired to a safe standard;
Fortunately hit-and-runs are uncommon, but you could claim compensation from the Motor Insurers Bureau if the driver responsible left the scene and can't be traced.
Get in touch with our Road Traffic Accident experts today for free legal advice, we'll advise you on your legal rights and guide you through the next steps.
It's important that we can prove you weren't at fault, or were at least partially not at fault, for the taxi accident. We'll help investigate and gather all the evidence we can. However, we'd advise you to take the following steps:
Get photo evidence. Photos of the scene or your injuries could help show who was at fault.
Get witness details. We can contact anyone who witnessed the accident to provide statement to back up your claim.
Get the taxi driver's details, including their personal details and their firm.
Keep any relevant financial or medical documentation. These can prove any costs or losses you've incurred because of your injuries, to use as part of your claim.
If you weren't wearing a seatbelt at the time of the taxi accident, you may have to accept a smaller amount of compensation, but it doesn't completely disqualify you from making a claim.
As a passenger, some people may not be aware but you are legally required to wear a seatbelt in a taxi, in both the front and the back seats. Anyone over the age of 14 must wear a seat belt to avoid committing a criminal offence.
If the driver doesn't provide the correct child car seat, children can travel without one in a taxi - but only if they travel on a rear seat and wear an adult seat belt if they're 3 or older.
Because of these laws, a driver might argue that you were not obeying the law when the accident happened. However, you could still have a chance at claiming compensation for your injuries and the effect they've had on your life, so get in touch with our experts today.
You have three years from the date of the accident to make a claim. You can claim on behalf of a someone under the age of 18. They can also make a claim once they turn 18 if you've not claimed for them.
Meet some of our Road Traffic Accident Claims Team
Get in touch, today!
Fill in the form below to get in touch with one of our dedicated team members, or call our team today on: 0808 239 6443