Child Injury Claims Solicitors
For free legal advice call our Personal Injury Solicitors and we will help you. We will deal with your claim on a No Win, No Fee basis. 

We're rated
'Excellent'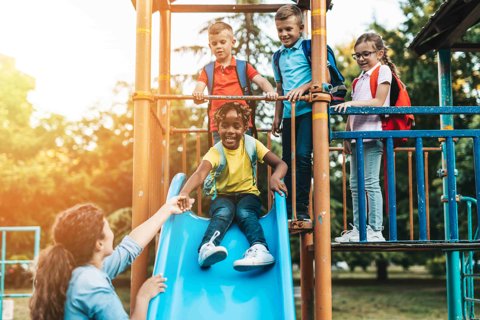 Children get into stumbles and have minor accidents all the time. But if your child had a serious injury, and someone else was responsible or negligent, you could be entitled to compensation.
We're frequently asked if you can make a claim for compensation for a child if someone is at fault. In short, the answer is yes. Children under 18 must however be represented by a suitable adult, called a Litigation Friend, but we can talk you through this.
Our expert team specialise in dealing with personal injury claims on behalf of children. Our lawyers have recovered millions of pounds as a result of children getting injured. You may even be eligible for compensation if the child was partially responsible, but we can let you know as part of a Free Case Assessment.
There are lots of ways in which children can experience an injury - here are some examples of situations we have been able to help clients with:
Injuries from a playground or play centre, e.g. trampolining parks;
Injuries from defective toys or other play equipment;
Collapsing walls/objects falling onto children;
Accidents on holiday, e.g. caravan/UK holiday parks, or hotels abroad;
Dog bites/accidents involving animals;
Slips/falls on a pavement/in public buildings;
At school, nursery, or a breakfast/after school club;
As a passenger in a road traffic accident, or as a pedestrian hit by a car;
Sports injuries;
Accidents at home or in public due to dangerous conditions, e.g. shops, restaurants and private and rented accommodation;
Illnesses from food allergies on foods which have not been appropriately marked;
Due to medical negligence or a birth injury.
Get in touch with us so we can listen and understand the impact the injury has had on yours and your child's life. Our solicitors may also be able to deal with your claim on a No Win, No Fee basis.
Specialists in Serious Injuries
If your child has suffered a serious injury, we know this can have a devastating impact on your family's life. Injuries can have many knock-on effects that you can claim compensation for. We try to get the child access to rehabilitation and support early in the claim if they need it.
We're partnered with many charities such as the Child Brain Injury Trust (CBIT) so we know how to help those who are trying to cope with life-changing injuries. We are specialists in dealing with injuries such as:
Why Choose Simpson Millar?
Here are some of the reasons why you should choose Simpson Millar to help with your child injury claim.
How the Claim Process Works for Child Injuries
You get in touch with us

You get in touch with our expert Child Injury solicitors for a free claims assessment. We'll get as much information we can about the accident and injuries and let you know if you have a claim.

We'll contact the other party

We'll contact the organisation or person who you believe was responsible for yours or your child's injuries. We'll ask them to admit liability for the accident.

This could be the local authority if your child was injured in public, e.g. in a school, shop or playground. It might be a healthcare trust if it was medical negligence, a driver from a road traffic accident, or a manufacturer if it was due to faulty equipment at home.

We could get you early payments for rehabilitation

If the injuries are serious, we know it's important to start recovery as soon as possible. We could ask the person responsible to make interim payments for this, before we settle your claim. This could cover private healthcare and rehabilitation, to give you support for the impact the injury has had on yours or your child's life.

Gather evidence

We'll gather evidence to maximise the amount of compensation you could get. This might include CCTV footage of the accident, photographs, witness statements or an independent medical expert's assessment.

We'll settle your claim

Most claims are settled out of Court. If the other party does not accept liability, then the claim may have to go to Court. We'll keep you informed and provide expert advice throughout the whole process.
FAQs about Child Accident Compensation
The exact amount of compensation you could get will vary, but we've secured millions of pounds for our clients over the years for child injuries. We'll take into account how severe the injury has been, and any long-term impact it might have. Sometimes, child injuries can affect development and growth, so we'll consider any support or aids they might need now and in the future.
If you're a parent, you could get compensation for loss of earnings from time you've had to take off from work, and any travel expenses you incurred because of your child's accident.
You'll also want to ensure your child's education doesn't suffer, so their return to education will be a major focus of any rehabilitation plan – our expert Education Law team are on hand to advise on this. Compensation could pay for a home tutor if your child took a lot of time off school. You could also get private medical care, rehabilitation or adaptations to your home if needed.
You may need help setting up a Personal Injury trust for your child if they are under 18 – we can help with this.
If you're making a claim on behalf of a child, you usually have until their 18th birthday. We advise you get in touch with us as soon as you can, because we may be able to get them early rehabilitation to get them on the road to recovery.
If you're aged between 18-21, you can make a claim for an accident you were involved in before you turned 18. You have until your 21st birthday to do this.
We might be able to deal with your claim on a No Win No Fee basis. That means you won't pay anything unless we win your case, taking any financial stress out for you.
We'll ask the person or company responsible to make early, interim payments for you if you need quick rehabilitation or support. The Rehabilitation Code encourages all parties to work together in this way. This means that you can focus on your recovery, even if your claim hasn't been settled yet.
If your child is injured whilst trespassing, i.e. they've unlawfully entered a premises, the owner of the premises may in some circumstances still be responsible for their safety. It's accepted in the law that some parts of premises (trampolines, climbing frames, low buildings, sheds) might be an allurement to children. In those circumstances, the occupier of the premises may have a responsibility and duty of care even if the child unlawfully trespassed. Any dangerous parts of premises (eg fragile rooves, unsafe play equipment) should be cordoned off and have warning signs displayed.
Get in touch with our lawyers, who can give you expert advice on whether you could be eligible to compensation.
When you contact us about making a claim, we'll always ask you if you did everything you could to prevent your child from getting into harm.
As experts in their field, our specialist Child Injury lawyers will gather all the evidence they can. We'll get an independent medical expert to assess yours or your child's injuries and any knock-on effects they've had. This will give you the best chance at getting the maximum compensation.
Even if the other party – a local authority, school or road user for example – was partially responsible, you could still be entitled to compensation, so get in touch with us today.
Most personal injury claims are settled outside of court, but if you do end up having to go to Court, we'll support you and give our expert advice all the way through.
How We've Helped Others Get Compensation For Child Injuries
Here are a few examples of how we've helped children, young people and parents get compensation for child injuries.
Get in touch, today!
Fill in the form below to get in touch with one of our dedicated team members, or call our team today on: 0808 239 3227