Defective Equipment and Tools Claims
For free legal advice call our Personal Injury Solicitors and we will help you. Ask if we can deal with your claim on a No Win, No Fee basis.

We're rated
'Excellent'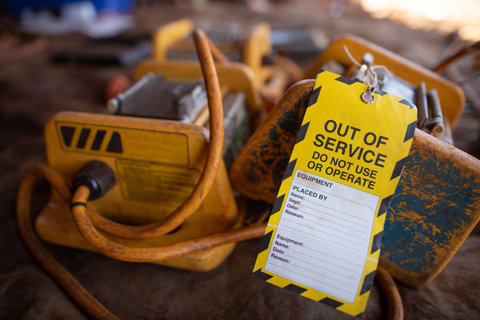 What is a Defective Equipment Claim?
Your employer is responsible for your health, safety and wellbeing whilst you're at work.
Regardless of the industry you work in, if the equipment or tools you're using malfunction or are broken, faulty or unsafe to use and you sustain an injury as a result, you could be entitled to make a claim against your employer for negligence.
If you're using defective equipment or tools, it might be because your employer has not:  
carried out regular equipment maintenance;
disposed of or replaced faulty equipment and tools;
carried out a PAT test to check the electrical safety;
implemented proper health and safety protocols;
conducted frequent equipment inspections;
organised regular risk assessment of all tools and machinery;
provided adequate training
displayed any warning signs on the faulty equipment
supplied adequate protective clothing or equipment.
Why Should I Make a Defective Equipment Claim?
Injuries suffered whilst using defective equipment or tools at work can often be life-changing and permanent.
In some cases, your injury might be so severe that you might not be able to work or find work in the future. These sorts of injuries can also affect your mental health and are likely to have a knock-on effect on your personal life.
If you were using equipment or tools that were faulty, then it's likely that the injury you sustained was not your fault. Your employer is responsible. They owe you the compensation you need to pay for medical treatment, fund any rehabilitation you might need and help you to rebuild your life.
In cases where there is a major trauma we have a dedicated unit of solicitors who will be able to look after all the legal requirements to make sure you are supported and in the best possible position. They include our senior personal injury solicitors, our employment lawyers as well as teams who can guide you on your personal affairs.
Why Choose Simpson Millar?
At Simpson Millar we want to help you. We are proud of our track record and the comments from our clients which is at the end of the day why we do the work we do.
The 5 Step Process for Defective Equipment Claims
Get in Touch

Contact our team of specialist Accident at Work Claims Solicitors for a free, no-obligation assessment of your case.

We'll contact your employer

If we believe that you have a strong chance of securing compensation for your injury, we'll get in touch with your employer and their insurance provider.

We Will Gather Evidence

We'll start to collect evidence to prove that your injury was caused by the use of defective equipment or tools. Evidence could include things like CCTV footage, photos, witness statements and equipment maintenance logbooks.

Get a medical assessment

We'll send you to an independent medical specialist who will examine your injury and determine how it's affected your life.

We'll work out the compensation amount

Based on the medical assessment, we'll work out how much compensation you're owed and take this to your employer.
FAQs about Defective Equipment Claims
If your employer fails to provide you with safe, working equipment or tools whilst you're at work, you're at risk of becoming seriously injured.

Some examples of the injuries you might suffer as a result of defective equipment or tools could include:
fracture injuries - broken bones that could be sustained from falling off defective ladders or scaffolding
eye injuries and loss of vision - that could be caused by using faulty nail guns or chemical splashes in the eye using sub-standard eye protection
amputation injuries – finger and hand amputations from that could be from using machines that don't have proper guards in place from the cutting blades from equipment such as angle grinders, chain saws, bench saws, jig saws, circular saws; crush injuries from your finger or hand getting dragged into equipment where the stop button is not accessible or is not working ; loss of a leg or arm from an overturning digger or excavator with faulty loading
electric shock injuries - electrocutions, burns or electric shocks that could be caused by using damaged electrical equipment
paralysis that could stem from being crushed by a crane that has a faulty component or a crush injury from an overturning digger , excavator or forklift truck due to faulty loading
brain and head injuries – serious head injuries can result from falling from faulty scaffolding or ladders or from the collapse of ceilings or shelving on you; head injuries following a road traffic collision from a mechanical failure due to faulty breaks or worn tyres on your company vehicle
finger and hand injuries –injuries from high pressure injection tools such as spray guns, paint guns, grease guns and pressure washers can result in wounds, chemical burns, infection and amputation
If you've suffered an injury after using a defective tool or piece of equipment, you could be entitled to compensation.
If you can prove that the equipment or tools you were using at work were defective and have caused you a serious injury, then you could claim against your employer.
Your employer should be covered under their Employer Liability insurance policy and will be able to pay you the compensation you're owed through this.
If your employer accepts full or partial liability for your injury, then we can ask for an Interim Payment. This could help you to pay for any immediate medical treatment, rehabilitation or even help you pay for bills if you're struggling to make ends meet because of your injury.
If they don't accept responsibility for your injury, then we may have to take the claim to Court.
Although this might feel distressing, don't worry. We'll be by your side every step of the way and will work hard to secure you the compensation you need to get your life back on track.
You have up to three years after the accident to make your Defective Equipment Claim. But we suggest you get in touch with a Personal Injury Solicitor as soon as you possibly can whilst the incident is still fresh in your mind.
The severity of your injury, the cost of medical treatment and the impact your injury has had on your life will determine how much compensation you're likely to get.
We will handle your claim on a No Win, No Fee basis. This means that you won't pay us anything unless we win your case.
We work in an open and transparent way, so if we do win your case and you have to pay us legal fees, there will be no nasty surprises when the bill comes. You'll know exactly what to expect throughout the entire process.
Get in touch, today!
Fill in the form below to get in touch with one of our dedicated team members, or call our team today on: 0808 258 0024