Accident at Work Claims
For free legal advice call our Personal Injury Solicitors and we will help you. Ask if we can deal with your claim on a No Win, No Fee basis.

We're rated
'Excellent'
If you've had an accident at work and you were injured, our specialist Personal Injury Solicitors can help you.
We offer a free claims assessment with one of our Personal Injury Solicitors who can give you specialist legal advice and help you understand if you have a claim. 
Our expert Solicitors have helped many people who have suffered an accident at work, such as:
Falls from height
Slip and trip accidents
Why Choose Simpson Millar for Your Work Accident Claim?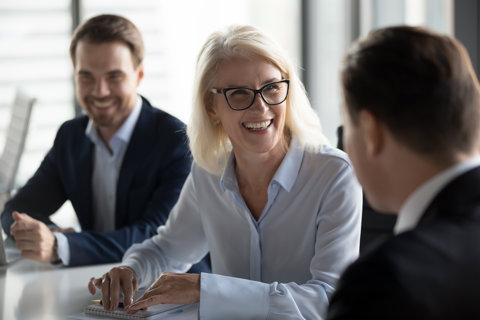 Our Major Trauma Team
If you or a loved one has suffered a life-changing injury, we can help you get the right support and advice. With Simpson Millar, you'll have a whole team on your side. We have some of the best personal injury solicitors in England and Wales and other specialist legal teams to meet all your needs. This should reassure you that you've come to the right place.
You're probably facing many day-to-day challenges after your injury, so we want to make dealing with any legal issues as seamless and stress-free as possible. Then you can focus on your recovery and living a fulfilling, independent life.
Our dedicated team have the experience and knowledge to guide you through every step. We know choosing someone to help you can be an difficult decision, but hopefully we can prove that you've made the best choice.
Types of Accidents at Work
How to Make a Work Accident Claim
You Contact Us For a Free Claims Assessment

Call us and we'll give you a free claims assessment. We'll talk with you about your accident and your injuries and let you know whether you have a claim and how we can help you.

We Contact Your Employer's Insurance Company

If we take on your case, we'll contact your employer's insurance company. Your employer must have employers liability insurance cover in place, and any compensation awarded would be paid from this policy.

We Request an Early Interim Payment

If your employer admits partial or full liability (fault) for your accident, we could request an early Interim Payment of compensation before the case is settled. This could help you if you have immediate medical needs or need to pay for your home to be adapted or mobility aids.

We Gather Evidence to Support Your Case

We'll gather the evidence we need to support your case, such as photos and witness statements. We'll arrange an independent medical assessment for you with one or more specialist medical experts. They'll provide a report outlining your injuries and their impact on your life. This medical report helps us to understand how serious your injuries are, and will be used to help determine how much compensation you should be awarded.

We Help You Get Medical Therapy or Rehabilitation

If you need medical treatment or rehabilitation to help you recover, we can ask your employers insurance liability company to pay for treatment, such as surgery, counselling or physiotherapy.

We Support You If You Go To Court

If your case should go to Court, we'll fully support you, but most personal injury claims are settled out of Court.
FAQs about Accident at Work Claims
When it can be proven that your employer was negligent or didn't do enough to keep you safe in the workplace, you can claim compensation for pain, suffering and the impact of your injury on your quality of life. These are called General Damages.
Your compensation settlement will also cover any financial losses you've suffered because of your accident at work, such as:
Care costs
Cost of medical treatment
Damaged clothes and belongings
Loss of earnings
Travel expenses
These are called Special Damages.
Most accident at work claims can be funded through a No Win, No Fee agreement, also known as a Conditional Fee Agreement. Please ask us for details.
It depends on how complicated your claim is - whether your employer has accepted liability, how serious your injuries are and whether you can still work after the accident.
In England and Wales, you normally have three years from the date of the accident to make a claim, but there are some exceptions to this, such as if you were working abroad.
You should get specialist legal advice as soon as possible, because the earlier a claim is made, the better. If you act quickly, evidence is easier to find, the impact of your injuries is easier to establish, and the details of your workplace accident will be fresher in people's minds. 
Unless your injuries are serious, if you're injured in a workplace accident and you haven't already, you should:
Fill in an accident at work report accurately and as soon as you can
Take photographs of the accident scene and your injuries if possible
Get names and contact details of witnesses
If you're a trade union member, tell your union rep what's happened
This is all important evidence for your claim. If your injuries are serious and you're off work as a result, your employer should report your accident to the Health and Safety Executive (HSE).
An employer has a legal duty to take reasonable care of your health and safety when you're at work.
They must provide:
A safe system of work
A safe work environment
Adequate training
Competent staff
Adequate work equipment
If you think your employer hasn't met their legal responsibilities and you were injured as a result, you could make a claim for compensation.
If you're self-employed and providing services to a third party and you have an accident at work, the company you're contracted to could be held responsible.
Some employers will do this, but you could still make a claim, depending on the allegations they make against you. Your employer could argue that you were partly to blame for the accident, but it's their responsibility to prove this.
Not in England or Wales. Most employers understand that workplace accidents can happen and that's why they have insurance in place to cover claims, so they shouldn't treat you any differently.
But if your working life becomes unbearable because you've made a claim, you may feel you've got no option but to leave.
If that happens, you may have a strong claim for constructive dismissal. 
Get in touch, today!
Fill in the form below to get in touch with one of our dedicated team members, or call our team today on: 0808 258 0024