Back Injury Compensation Claims
If you have a back injury or condition that was caused by an accident that wasn't your fault, call our No Win, No Fee Personal Injury solicitors.

We're rated
'Excellent'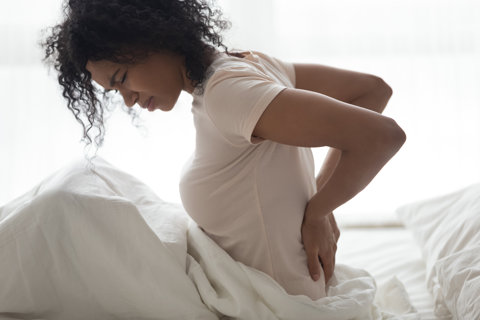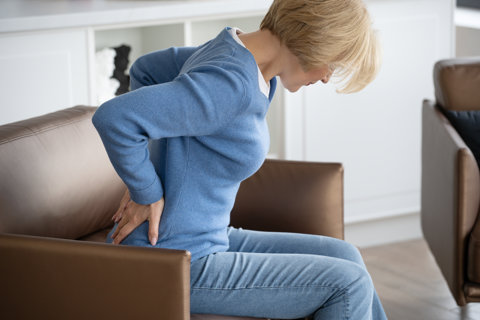 Back injuries can be severe and can seriously impact everything from simple everyday tasks, to your ability to perform at work. Some back injuries, even sprains or strains, can be permanent and extremely debilitating, meaning you can't sit or stand for long, or return to the job you had previously.
We could help you make a claim for compensation if you suffered your back injury as a result of:
We have years of experience achieving millions of pounds for people with back injuries and conditions such as:
Spinal cord injuries which can result in paralysis;
Spinal fractures;
Sprains or strains;
Slipped disc/vertebra;
Lower back injuries;
Sciatica (sometimes known as 'lumbar radiculopathy');
Muscle damage to the semispinalis, multifidus or rotatores;
Damage to internal organs because of a back injury;
Incontinence;
Cauda equina;
Aggravation of a pre-existing condition;
Arthritic changes;
Spinal stenosis;
Ankylosing spondylitis or spondylolisthesis.
If you're suffering with a back injury from an accident that wasn't your fault, our Personal Injury lawyers could help you secure compensation on a No Win, No Fee basis.
You shouldn't have to suffer with the pain and financial loss a back injury can bring, which is why our Personal Injury lawyers are here to help you claim compensation. Get in touch with us for a Free Claims Assessment so you can tell us what happened and how your injury is affecting you now, and we'll let you know if you could be eligible to make a claim.
How Much Compensation Could I Receive for a Back Injury?
The amount of compensation you could receive will depend on a number of factors such as:
Who was responsible for your back injury;
How severe your injuries are now;
The care and support you may need in the future;
Any loss of earnings you've had.
Here are some average amounts of compensation that people suffering with back injuries have received – these are set out by the Judicial College Guidelines and are reviewed annually:
Judicial College Guidelines
16th Edition for back injuries

Scale

Severe - Type (i)

£91,090 to £160,980

Severe – Type (ii)

£74,160 to £88,430

Severe – Type (iii)

£38,780 to £69,730

Moderate – Type (i)

£27,760 to £38,780

Moderate – Type (ii)

£12,510 to £27,760

Minor – Type (i)

£7,890 to £12,510

Minor – Type (ii) (old)

 

Minor – Type (ii) (new)

£4,350 to £7,890

Minor – Type (iii) (new)

£2,450 to £4,350

Minor – Type (iii)

Up to £2,300

Minor – Type (iv) (new)

Up to £2,450
It's important to note that the figures above are guidelines and the exact amount will depend on your personal circumstances – we'll negotiate the exact figure that is right for you.
Even if you might have been partially responsible for your injury, our Personal Injury Solicitors could still help you to get a life-changing amount of compensation. We have relationships with expert physiotherapists and doctors, and we will help you access rehabilitation if you need it, by asking the responsible party for early interim payments if they admit liability.
Who Could I Claim Back Injury Compensation Against?
Your Workplace, for an Accident at Work
Our Personal Injury lawyers have an excellent track record helping people who have sustained back injuries from an accident at work, including people who were injured as part of working in the military.
Back injuries are extremely common in the workplace, and can be caused by factors such as lifting heavy loads, falling from heights, being crushed, or operating faulty machinery. In serious cases, these can cause debilitating spinal cord injuries, which we can help you claim compensation for.
You can make your back injury worse by continuing to work or carrying out repetitive actions, so you may have had to take time off work. Claiming compensation can help you recover any loss of earnings you've suffered, whether this was a short amount of time or a long period.
You could be eligible to make a compensation claim even if the accident was partly your responsibility. You have a responsibility to follow Health and Safety guidelines, but your employer also has a legal duty of care to ensure you have the correct equipment, clothing and training to help prevent accidents at work.  They must monitor the environment and the tasks you're carrying out to make sure you're not at risk of injury.
If you believe your employer could've failed in their duty of care, get in touch with us for advice today.
Most employers must have insurance for these types of claims, so any compensation you claim will not come directly from your workplace.
If we take on your claim, an independent medical expert will produce a report on how your back injury or condition was caused and how it is affecting your life now and any support or rehabilitation you might need in the future.
If you believe this happened to you, our expert Medical Negligence team can advise you on whether you could make a claim.
Why Choose Simpson Millar?
Here are some of the reasons why you should choose Simpson Millar to help with your injury claim.
How the claim process works
You get in touch with us

Contact our team of specialist Personal Injury Lawyers. We'll listen and find out about your injuries and circumstances with our no-obligation Free Claims Assessment.

We'll contact the other party

If we think you've got a chance of securing compensation, we'll get in touch with the other party, to see if they will admit liability for your accident and back injury. This could be your workplace or another firm or supplier. It might be a local authority or business if your accident happened in a public place, or the other party in a road accident.

We'll gather evidence

We'll start to collect evidence to prove that your injury was caused by someone else's negligence. Evidence could include things like CCTV footage, x-rays, photos or witness statements from colleagues at work or other drivers. Try and have as much detail as you can when you get in touch with us, to help us strengthen your case.

You'll get a medical assessment

We'll send you to an independent medical expert, who will examine your injury and assess how it has affected your life. We intervene early if we think you would benefit from rehabilitation – this can be particularly vital for serious conditions such as spinal cord injuries. This relieves stress for you, getting you on the road to recovery quickly, while we deal with the legal side of things.

We'll work out the compensation amount

Based on your medical assessment, we'll work out how much compensation you're owed and take this to the other party.

We'll settle your claim

Most claims are settled out of Court. If the other party does not accept liability, then the claim may have to go to Court. We'll keep you informed and provide expert advice throughout the whole process.
FAQs about Back Injury claims
We could handle your claim on a No Win, No Fee basis – just ask us for details. This means that if we don't win your case, you won't need to pay us a penny. We believe in open communication and complete transparency when it comes to billing our clients, so you will always be aware of what the final bill could be at the end of the process.
The exact amount of compensation you might get will vary based on a number of factors, and we'll keep you updated about this throughout the process. It will depend on how severe your injuries are, and to what extent they've impacted your life.
We'll also take into account any income you have lost, travel costs you've incurred or specialist care or rehabilitation you might need now and in the future when we consider the overall value of your claim.
If the other person or organisation accepts responsibility for your back injury, we could ask them to make early interim payments, before your case has settled.
These can help you if you are struggling financially because you've had to take time off work due to your back injury. We know rehabilitation is very important for back injuries, so early payments can help you get on the road to recovery sooner. Early interim payments can help you purchase a wheelchair, home adaptations or walking aids – in the meantime, we will work hard to settle your claim.
Our expert Personal Injury lawyers will be able to use their experience to fully investigate your situation and assess how your injuries are affecting you now. We will work towards the best compensation for you.
You can help us make your claim as strong as it can be by:
Reporting the incident – depending on your situation, you could make a complaint to the council, the NHS, report the matter to the police or ensure the accident is logged in your workplace's logbook;
Collect witness names and addresses;
Take photos or videos of the scene of the accident;
Go to your doctor or the hospital;
Record any financial losses you've had as a result of your back injury.
Our Personal Injury solicitors have successfully secured compensation for people who injured their back in a wide range of scenarios. This means we have expertise on exactly what compensation you could be entitled to, and how it can help you live the best quality of life possible.
We could help you access private healthcare, over and above what the NHS can provide. This could include specialist back and spine physiotherapy, chiropractors and walking aids. If you require surgery, such as a lumbar discectomy or a spinal fusion, you may be able to claim the costs to have the surgery carried out privately, which can help you access the treatment much sooner if you are on a lengthy NHS waiting list. 
Whether you are suffering from a back sprain or you are a wheelchair user after your back injury, you may not realise the support, aids and adaptations that you could access to help make your day to day life easier. For example, you could access:
Extra help with hygiene routines, cleaning or childcare;
Adaptations to your home e.g. to make it more accessible for wheelchair use or a move to specially adapted accommodation;
An electric/automatic car to make driving easier for you;
Exercise or yoga classes to help with your mobility;
Physiotherapy;
Psychotherapy;
Adapted footwear;
Wheelchairs, transfer benches, a stairlift or walking stick if you need one;
Back supports, e.g. braces;
Hooks, handles and reachers to help you dress and do household tasks, if you're struggling to grip;
Retraining if you need to start work again in a new industry;
An educational support plan or home tutor if your child was injured and has to take time off school.
An independent medical expert will assess your situation to make sure that we can account for anything you might need in the future. Our lawyers will also take into account any money you've already spent as a result of your back injury, to ease any financial stress, for example:
Travel costs from travelling to appointments, surgery or scans;
Aids and equipment you've already purchased to help you recover from your back injury;
Loss of earnings if you've taken time off work.
Even if the accident that caused your back injury was partly your fault, or you already had a pre-existing back condition which made you vulnerable to getting your injury, it can still be possible to secure compensation.
Employers, medical professionals, councils and road users still have a duty of care to keep others safe, so they can be held legally responsible for your injury. You may have to accept a slightly smaller amount of compensation if you were partly at fault, but we would still recommend that you get in touch with our Personal Injury lawyers to see how we could help.
Yes, it is possible to make a claim on behalf of someone else. There are a few situations where you might do this:
If the accident where the person suffered a back injury was sadly fatal, it's possible to make a claim for compensation on behalf of your spouse or loved one who has passed away. We know this is already an extremely difficult time and we don't want your claim to be an additional stress, which is why we make things as straightforward as we can for you. We know that no amount of money can reverse what happened to your loved one, but when you're ready, we are here to listen and help you.
You can make a claim on behalf of your child who is under the age of 18 – read more about how this works or get in touch with us for free initial advice.
If the person who was injured as a form of mental impairment, such as a brain injury or learning disability, and is unable to make decisions for themselves, you could make a claim on behalf of them. Our Court of Protection lawyers are here to help if you need to assess whether that person lacks the capacity to make legal decisions.
You have 3 years from the day you were injured to make a claim from the date you were injured.
This works differently if the injured person is a child. If they're under 18, they cannot make a claim themselves. An adult can claim on behalf of them until they're 18, at which point the claimant has 3 years (until their 21st birthday) to make a claim.
You can also claim on behalf of someone who does not have the mental capacity to make decisions for themselves – there is no time limit for this. For example, you may have a child with learning disabilities or a family member with Alzheimer's who has been injured.
Our Personal Injury lawyers are experts in their field, so we would only take on your claim if we think there is a good chance that you would be able to secure compensation. We'll keep in touch throughout the process so you're always kept updated on the progress of your claim.
The other party in your claim (e.g. your workplace or a business) claim that you were partially responsible. We have still achieved compensation for many people who were found to be partly at fault for their back injury (e.g. they were not following the correct safety precautions at work and fell from height, but they were still working with unsafe equipment that their employer did not fix).
It's important to note that you may receive a smaller amount of compensation if you were partly responsible, but this should not put you off getting in touch with us to see if you could make a claim.
You can help us strengthen your claim by getting in touch as soon as possible, and keeping evidence such as photos, witness details, and medical records. Our committed team will do everything in their power to secure you the compensation you deserve.
Get in touch, today!
Fill in the form below to get in touch with one of our dedicated team members, or call our team today on: 0808 239 3227