Foot Injury Claims
For free legal advice call our Personal Injury Solicitors and we will help you. Ask if we can deal with your claim on a No Win, No Fee basis.

We're rated
'Excellent'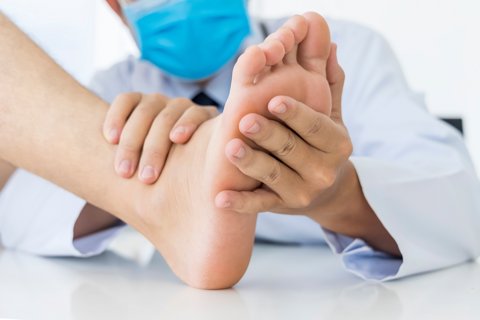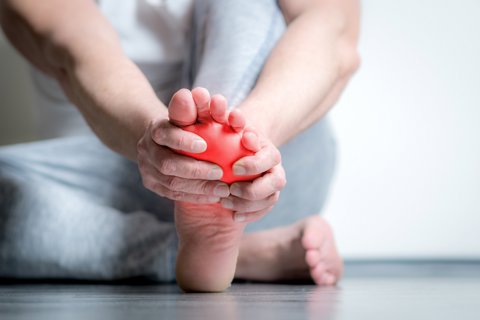 Foot injuries can have a significant impact on your life, especially because your feet hold your body weight and play a huge role in balance. If you suffered a foot injury in an accident at work, on the road, or in a public place, our Personal Injury lawyers could help you make a No Win, No Fee claim for compensation.
If you've suffered a serious foot injury, you may be unable to go to work, drive, exercise, or even walk – but you shouldn't have to suffer from these consequences if someone else was responsible for the injury. Compensation can help you access the support and rehabilitation you need to help you get back to  the quality of life you had before your injury. Get in touch with our expert Personal Injury team for a Free Case Assessment, where we'll listen to your situation and let you know if we think you have a claim.
We have a track record in securing compensation for people with foot injuries including:
Broken or fractured bones g. metatarsal or heel fractures;
Toe or ankle injuries;
Strains or sprains;
Bursitis or gout;
Serious wounds and lacerations, which may become infected;
Soft tissue injuries e.g. torn ligaments/tendons eg Achilles tendons;
The loss of a foot or both feet in a tragic accident;
Injuries or conditions that sadly resulted in you needing an amputation – whether this was your whole foot or toe(s). Amputations can not only be emotionally devastating but can also cause phantom pain.
A non-freezing cold injury (NFCI) – sometimes known as 'trench foot' in the past, which developed because of exposure to cold and wet conditions in the military;
Diabetes foot conditions – people with diabetes are at risk of developing foot issues, but if these were overlooked by a medical professional and became worse, causing you further pain and suffering or even an amputation, or Medical Negligence lawyers could help you.
Sports injuries e.g. in football due to poor pitch conditions;
Injuries that lead to arthritis, Chronic Pain or Complex Regional Pain Syndrome.
Our specialist Personal Injury lawyers will collect all the evidence we need to help prove that someone else was responsible for your injury, and then approach the person/organisation at fault and ask them to admit responsibility for the incident.  You can read more about how the foot injury claim process works.
How Much Compensation Could I Get For a Foot Injury?
The amount of compensation you could receive will depend on your situation, but we have secured thousands of pounds over the years for people suffering with foot injuries.
We know that early intervention and rehabilitation can be very important with foot injuries, so that you can get your life back on track as soon as possible. If the other party admit responsibility for your injuries, we can ask them to pay you part of your compensation early in installments (interim payments) before your claim has even settled.
Compensation is split up into two types:
General damages – which cover the pain, suffering and loss of amenity your finger injury has caused;
Special damages – any financial impact caused by your injuries, such as medical costs, loss of income or travel.
Your special damages will make up the largest part of your compensation, because they'll take into account your specific circumstances. For example:
How severe your injury is;
Whether you lost income from time off work, or whether you may need a career change;
Any your ability to socialise, engage in hobbies or your day-to-day activities.
Any costs you've already incurred e.g. travel to appointments;
Any care, aids or adaptations you may need in the future.
Below are some guidelines on the general damages you can expect to receive depending on your type of injury – it's important to remember these ranges are just a guide and a baseline –to get a better idea of what you could be entitled to, get in touch with us.
| | |
| --- | --- |
| Injury | Guideline of general damages |
| Amputation of Both Feet | £169,400 to £201,490    |
| Amputation of One Foot | £83,960 to £109,650 |
| Very severe foot injuries, permanent and severe pain or very serious permanent disability | £83,960 to £109,650 |
| Severe foot injuries, including fractures of both heels/feet, severe degloving or the need for extensive surgery | £41,970 to £70,030 |
| Serious foot injuries, which are less severe than the above but may lead to arthritis, the need for surgery etc | £24,990 to £39,200 |
| Metatarsal fractures or ruptured ligaments with continuing symptoms | £7,010 to £13,740 |
| Less serious foot injuries e.g. fractures or lacerations, where complete or near complete recovery is made | Up to £7,010 |
Could I Make a Foot Injury Claim for Compensation?
Road users, employers, businesses, councils and medical professionals all have a duty of care to keep you safe, so you may be entitled to compensation if your foot injury was at least partly someone else's responsibility and we would look to make a claim through their insurance. Our Personal Injury experts could help you if you injured your foot in:
Why Choose Simpson Millar?
Here are some of the reasons why you should choose Simpson Millar to help with your injury claim.
We have a track record of working with medical experts to secure millions of pounds of compensation for people with foot injuries.

We're proud members of the Association of Personal Injury Lawyers (APIL) - the most respected, committed and highly trained professionals in our field.

For us, the law isn't just our job. We're here to make a difference in your life after your injury and help you through tough times.
How the Foot Injury Claim process works
You contact us

Get in touch with Personal Injury Lawyers for a Free Claims Assessment. We'll find out how your foot injury has affected your life and tell you about the next steps.

We'll contact the other party

If we think you've got a chance of getting compensation, we'll get in touch with the other party, to ask them to admit liability for your accident and foot injury. This might be your workplace, a local authority or business, or another party from a road accident.

We'll gather evidence

We'll use our expertise to collect evidence to strengthen your care prove that your foot injury happened because of someone else's actions or negligence. This might include CCTV footage, photos, witness statements or accident logbooks.

You'll get a medical assessment

We'll send you to an independent medical expert, who will assess your injury and find out about how it has affected your life. We try to intervene early if we think you'd benefit from rehabilitation. Sometimes the other party can send you early interim payments, before the claim is settled.

We'll work out the compensation amount

Based on your medical assessment, we'll work out how much compensation you're owed and take this to the other party. We'll be open about this with you throughout so you'll always stay informed.

We'll settle your claim

If the other party does not accept liability, then the claim may have to go to Court. Luckily, this doesn't happen with most personal injury claims. If it does, we'll support you and provide expert advice throughout the whole process.
How We've Helped People Claim Compensation for Foot Injuries
Over the years, we've achieved six-figure sums for people suffering from foot injuries that were not their fault, to help them get their lives back on track. Here are just a few examples.
FAQs about Foot Injury Claims
You have 3 years from the day you were injured to make a claim for compensation. If you developed a condition as a result of your foot injury which you are claiming for, the time limit to start a claim will be 3 years after you were diagnosed with this.
Yes, it's possible to make a claim on behalf of your child if they injured their foot due to someone else's negligence. Even if your child may have been partly responsible, get in touch with our Personal Injury lawyers and we'll tell you if we think you could make a claim.
You can make a claim for them at any point if they are under 18. Once they are 18, they can make a claim themselves and will have until their 21st birthday to do this.
If you're a parent, you could get compensation for loss of earnings from time you've had to take off from work, and any travel expenses you incurred because of your child's accident.
You'll also want to ensure your child's education doesn't suffer, so their return to education will be a major focus of any rehabilitation plan – our expert Education Law team are on hand to advise on this. Compensation could pay for a home tutor if your child took a lot of time off school. You could also get private medical care, rehabilitation or adaptations to your home if needed.
You may need help setting up a Personal Injury trust for your child if they are under 18 – we can help with this.
You could also make a claim on behalf of someone who does not have the mental capacity to do so themselves – there is no time limit for this. It might be your child with a disability, or an elderly family member with Alzheimers - our Court of Protection team can help if you're struggling to assess whether the person is capable to make decisions for themselves.
We could handle your claim on a No Win, No Fee basis. This means that if we don't win your case, you won't need to pay us a penny. However, we believe in open communication and complete transparency when it comes to billing our clients, so you will always be aware of what the final bill could be at the end of the process.
If the other party admit liability, we could ask them to make early interim payments if you need urgent support and rehabilitation. This means that part of your compensation could be paid to you in installments before your claim is settled, helping you to recover quicker.
Yes, you might have multiple injuries from an accident, or be dealing with psychological effects such as Post Traumatic Stress Disorder. Our Personal Injury lawyers will assess the overall impact of all your injuries so that you can achieve the maximum compensation.
Foot injuries can also lead to other conditions such as arthritis or chronic pain, which you sadly may have to live with for your whole life. We will take this into account as part of your compensation claim, so we can make sure that your final compensation allows you to live the best quality of life possible.
We know that foot injuries can have a huge impact on other areas of your life. You can claim for any travel costs you've incurred, or for any ongoing support and rehabilitation you might need. This could include physiotherapy or adaptations to your home or car.
There are many ways in which compensation can help you live the best quality of life after your foot injury. You might need a cast, an air boot, ankle support, surgery or an external fixator from a serious fracture. If it's very severe, your foot or leg may even require amputation. Compensation could cover financial losses you have already incurred and can help you get a sense of justice for the way in which your injury has affected your life.
There are many types of aids and adaptations, as well as different types of support you can get if you've suffered a foot injury. Compensation can help you with:
Personal hygiene/care e.g. getting to bathroom, getting in and out of bath/shower – special adaptations may be required if your injury is permanent;
Your house may require adjustment if your injury is permanent e.g. ramp access or adjustments to living accommodation;
Cooking – adjustments for knee-height worktops or cooking appliances;
Cleaning and domestic chores – care and assistance and special adaptations;
Driving – if your injury affects your ability to drive, you may be entitled to claim for a driving assessment, special adaptions to your vehicle, or for the additional cost of buying an automatic car if this is recommended to you;
Mobility adjustments and aids e.g. a mobility scooter, wheelchair or walking stick;
Workplace adjustments/adaptations;
Footwear adjustments e.g. specially made shoes or orthotic devices, for life if necessary;
Different clothing to adapt to or accommodate a plaster cast or air boot;                       
Treatment charges or painkillers;
Compensation for reduced or complete loss of earnings.
Our Personal Injury solicitors are experts on all the different types of support compensation could get you, and are highly trained on the impact that these injuries can have on your life, so get in touch today to see if you'd be eligible for a claim.
If you believe someone else was at least partially responsible for the accident that led to your foot injury, whether this was due to their direct actions, or lack of action (negligence), it's still important to get in touch and speak to one of our specialist lawyers. With our Free Claims Assessment and years of experience, we'll be able to tell you fairly quickly whether we think you have grounds for a claim.
If you were partly at fault for your injury, e.g. because of your actions on the road, or your failure to wear the footwear you were provided at work, this might reduce the amount of compensation you'll be entitled to. We'll find out everything we can about your circumstances and keep you up to date throughout.
If the other party do not accept responsibility, we may need to start court proceedings. We always try and negotiate a settlement for you without the case needing to go to Court – most Personal Injury claims are settled before they make it to this point.
We have a strong track record in gathering evidence and taking all factors into account to prove your case and work towards the maximum compensation for you.
Get in touch, today!
Fill in the form below to get in touch with one of our dedicated team members, or call our team today on: 0808 239 3227