Carpal Tunnel Syndrome Claims
For a Free Case Assessment call our leading Personal Injury Solicitors and we will help you. We could deal with your claim on a No Win, No Fee basis.

We're rated
'Excellent'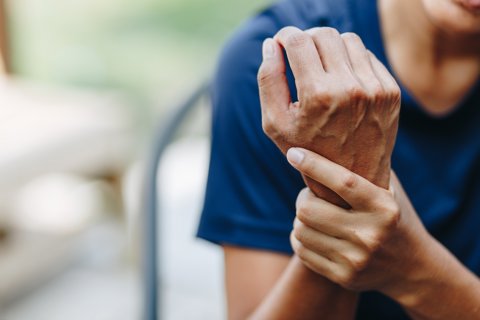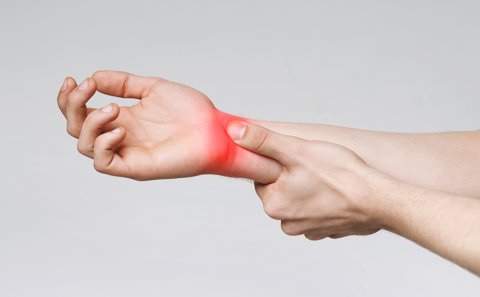 Carpal Tunnel Syndrome (CTS) is caused by nerve damage to your wrist, which can develop from an injury or exposure to vibrating tools at work. It can be an extremely painful and persistent condition, causing sleepless nights and weakness in your hands.
You shouldn't have to suffer if someone else was responsible for you developing CTS, so our expert Personal Injury lawyers are here to help you achieve compensation, so you can access the treatment and support you deserve. Get in touch with us for a Free Case Assessment – we often deal with claims on a No Win, No Fee basis.
Carpal Tunnel Syndrome can happen when the carpal tunnel, a narrow passageway in your wrist, is bent or squashed, putting pressure on your nerves. Women are more likely to develop CTS – this is thought to be because of fluid retention caused by hormones, and the fact that women generally have narrower wrists than men. Those who work in some industrial jobs are also at higher risk of CTS, because of their exposure to vibrating tools.
You may also develop CTS from an injury to your hand, wrist or arm – whether this is at work, in a public place or in a road traffic accident. Your employer, councils/businesses, and other drivers on the road have a legal duty of care to keep you safe, so if someone else is responsible for you developing CTS, we could help you claim compensation.
The lower arms, hands and wrists have many bones, nerves and tendons, which can make you vulnerable to developing CTS from injuries such as:
A fracture/dislocation – we often react to a fall by stretching out our hands, which can cause an injury that leads to CTS;
A burn injury;
A soft tissue injury (e.g. sprains/strains) which caused bruising.
How Much Compensation Could I Claim for Carpal Tunnel Syndrome?
The exact amount of compensation you could receive will depend on how severe your condition is, how it's affecting you now, and any support you may need in the future. We will need to make sure that we can prove this resulted from your job and it was not something which naturally occurred.
Compensation is split up into two types:
General damages – which cover the pain, suffering and loss of amenity your Carpal Tunnel Syndrome has caused;
Special damages – any financial impact caused by your injuries, such as medical costs, loss of income or travel.
The largest part of your compensation will be special damages, as they depend on your specific situation. You may have had to take time off work because of your CTS, so compensation can account for loss of earnings. If your job was manual or you work with tools which produce vibration, you may even need a career change, so compensation can also pay for any training needs.
Some guidelines for general damages are set out below – but it's important to note these are just a guide and a baseline – your special damages will be added on top of these.
| | |
| --- | --- |
| Example scenario (based on Judicial College Guidelines 16th Edition) | Scale |
| Disability affecting both arms with the need for surgery and loss of employment | £21,910 to £23,130 |
| Continuing but fluctuating symptoms, affecting one arm | £14,900 to £16,340 |
| Symptoms that are resolved within 3 years | £8,640 to £10,750 |
| Carpal Tunnel Syndrome that recovered within a few weeks/months | £2,200 to £3,530 |
Could I Make a Carpal Tunnel Syndrome Claim?
To claim compensation for Carpal Tunnel Syndrome, we must be able to prove that someone else was at least partly responsible for your injury or exposure to vibrating tools, which caused your CTS to develop but also that this was not naturally occurring and resulted from your work. This is where our Industrial Disease lawyers or Personal Injury team can help.
Our specialist Industrial Disease team could help you make a claim against your workplace for Carpal Tunnel Syndrome that was caused by, or linked to, exposure to vibrating tools.
Your employer should take steps to protect you from the harmful effects of vibrating tools, such as minimising how long you're working with the tools, and giving you the proper training and protective equipment to use. If you work in construction, the railway, a warehouse, or similar industries, you're at risk of developing CTS from vibrating tools such as:
Concrete breakers and pokers;
Hammer drills;
Sanders, grinders, disc cutters;
Chipping hammers;
Chainsaws, brush cutters or hedge trimmers,
Powered mowers;
Scabblers or needle guns.
You could make a claim for compensation if your employer was negligent in their duty of care, as there are specific lawful regulations they must follow, such as the Control of Vibration at Work Regulations. For example, your employer must:
Provide low-vibration tools where possible;
Rotate your role so you're not working with vibrating tools for prolonged periods;
Provide a warm environment for rest breaks, as the cold can make CTS worse.
Sometimes, CTS can be misdiagnosed as Hand Arm Vibration Syndrome, or Vibration White Finger. See your doctor if you think vibration at work caused your CTS, or is linked to it, as having a diagnosis can help to strengthen your claim.
To see if you'd be eligible for a claim, get in touch with our expert Industrial Disease team.
Accidents at Work
If you had an accident at work that caused your injury was not your fault, or was at least partly someone else's responsibility, you could be eligible to make a claim. For example, you may have developed CTS from:
Slips/trips at work where you fell on an outstretched hand;
Falls from heigh at work e.g. ladders, a roof or scaffolding;
Crush injuries to the hand e.g. from machinery or a door;
Faulty work equipment e.g. a paint spray gun or high pressure hose failing.
Your employer has a legal duty of care to ensure you have the correct equipment, clothing and training to help prevent accidents at work. You have a responsibility to follow Health and Safety guidelines when it comes to operating machinery or carrying heavy equipment, but if you believe your employer failed in their duty of care, get in touch with us for advice today.
Our Personal Injury lawyers have helped thousands of people who have sustained hand, wrist, finger, arm and elbow injuries in an accident at work, which then developed into Carpal Tunnel Syndrome. We could also help if you developed CTS from an injury you suffered in the military.
Road Traffic Accidents
You may have Carpal Tunnel Syndrome as a result of an injury you suffered in a road accident – for example, your arm may have been crushed in a collision. We have a track record in securing millions of pounds for people involved in road accidents involving:
Driving involves a lot of repetitive action, such as steering and changing gears, so compensation could cover the cost of a new car/vehicle or any aids and adaptations that are recommended to you as a result of your CTS. This could help you whether you drive regularly, or you drive regularly as part of your job e.g. a taxi or delivery driver.
Accidents in a Public Place
If you suffered an injury in a public place, such as a pavement, shop, restaurant or other business, the organisation in charge should have taken steps to make sure the environment was as safe as possible. If you developed CTS as a result of your injury, see if we could help you make a claim for compensation against whoever was responsible. For example, you may have broken, fractured or dislocated your wrist or hand and then developed CTS after:
Slipping on an icy pavement that the council should have gritted;
Falling on a wet floor, or tripping on a raised carpet, inside a business;
Unsafe shelving or equipment fell on you in a shop;
Falling off a horse in a horse riding accident.
Although it's rarer for children to develop CTS, you can even make a claim on behalf of your child if they were injured and developed CTS because of faulty equipment or unsafe surfaces in a park or activity centre.
You may be suffering from Carpal Tunnel Syndrome because of a surgical error, or it may have been caused or worsened because of a medical professional's actions or negligence. For example:
Tumours or growths can press onto your nerve and make your carpal tunnel narrower, so if these were not detected early enough or operated on, you may have developed CTS;
Steroids were injected right into the nerve, causing you further unnecessary pain;
The nerve was not decompressed enough by the surgery.
If you believe this happened to you, our expert Medical Negligence team can advise you on whether you could make a claim.
Carpal Tunnel Syndrome is a common symptom of pregnancy which occurs naturally because of hormonal changes and fluid retention. However, there are some examples of medical negligence during pregnancy, so if you believe your CTS was caused or made worse because of negligent care, our Medical Negligence lawyers are here to help you.
Why Choose Simpson Millar?
How the Carpal Tunnel Syndrome claim process works
Here is what you can expect from the claims process, once you get in touch with us.
We'll contact the other party

If we think you've got a chance of getting compensation, we'll get in touch with the other party, to ask them to admit liability for your Carpal Tunnel Syndrome. This might be your workplace or another firm or supplier if the CTS is vibration-related. If you suffered your injury in a public place, it might be a local authority or business.

We'll gather evidence

We'll start to collect evidence to prove that your injury happened because of someone else's actions or negligence. This might include CCTV footage, photos, logbooks if it happened in public or your workplace. It might be witness statements from other people you worked with who were also exposed to vibrating tools,

You'll get a medical assessment

We'll send you to an independent medical expert, who will assess your Carpal Tunnel Syndrome, when it first started, and how it has affected your life. We try to intervene early if we think you'd benefit from rehabilitation, which is often very important for CTS. Sometimes the other party can send you early interim payments, if they admit responsibility before the claim is settled.

We'll work out the compensation amount

Based on your medical assessment, we'll work out how much compensation you're owed and take this to the other party.

We'll settle your claim

If the other party does not accept responsibility, then the claim may have to go to Court. Fortunately, this doesn't happen with most Personal Injury or Industrial Disease claims. If it does, we'll keep you informed and provide expert advice throughout the whole process.
FAQs about Carpal Tunnel Syndrome Claims
The symptoms of Carpal Tunnel Syndrome can be hugely disruptive to your life, and can include:
Pain or restricted movement your wrist, arm, fingers or elbow;
Numbness, tingling or even a burning sensation in fingers or the whole hand;
Aching and weakness in the fingers, hands or arms;
Sleeplessness due to worsened symptoms at night;
Difficulty gripping and pulling;
Impaired ability to work, drive and do everyday tasks.
We'll take these factors into account to value your claim. If your dominant hand/arm has been impacted, the consequences can be much more significant, so our lawyers will take this into account.
Usually for Personal Injuries, you have 3 years from the day you were injured to make a claim for compensation. However, with Carpal Tunnel Syndrome, the deadline to start your claim will be three years from the date your condition was diagnosed by a doctor.
We could handle your claim on a No Win, No Fee basis. This means that if we don't win your case, you won't need to pay us, so it can take away financial stress for you. We believe in openness and complete transparency when it comes to billing our clients, so you will always be aware of what the final bill could be at the end of the process.
Another one of your concerns might be how much money you've already lost, or spent, because of your Carpal Tunnel Syndrome. If the other party in your claim admit responsibility, we could ask them to make early interim payments to help you pay for urgent support and rehabilitation before we even reach a settlement.
Compensation can help you in a variety of ways with your condition - Carpal Tunnel Syndrome can have a huge impact on other areas of your life, and you might not have considered this fully, which is why it's important to get one of our specialist lawyers on your side.
To help get you the compensation you need, we'll make sure all bases are covered when making our assessment and investigations, including:
Rehabilitation and physiotherapy needs;
Aids and adaptations you might need to your home or car;
Any mental health impact your condition/injury has had;
Loss of income from time off work, or any training you might need to have a career change if you can no longer work in your previous industry;
The cost of surgery or medical care, both now and in the future;
The impact your CTS may have had on your social life, hobbies and ability to exercise;
The impact your CTS has had on smaller tasks in your life, which can build up and turn into huge disruptions. For example, cooking, cleaning, hygiene or playing with your children.
You might have had to undergo surgery for your CTS if you're still suffering from pain after a long time and other treatments have not worked. Surgery usually cures CTS, but it can take about a month to get back to work and your normal activities. Compensation can help you return to the best quality of life possible, by helping you claim back income you have lost and helping you to buy aids and adaptations to help you with jobs around the house.
Wrist splints and steroid injections can also help with CTS, but can stop you from being able to perform simple tasks. When you make a claim with us, we will take into account any of these knock-on effects, to secure the compensation you deserve.
You can get many types of rehabilitation and support for Carpal Tunnel Syndrome, some of which you may have already had or paid for. If your condition was complicated and got worse despite treatment, compensation can account for care you might need in the long-term including:
Exercise classes (e.g. yoga/Pilates) or a gym membership;
Physiotherapy, to teach you special hand/arm/wrist exercises;
Psychotherapy, if you are suffering mentally after an accident or because of the way the CTS has affected your life;
Pain medication and other aids such as wrist sprints to wear at night;
Aids and adaptations for the workplace, such as hand rests, mouses, or digital dictation;
The cost of an automatic car, so you don't have to change gears when driving;
Surgery;
Steroid injections;
Light weights, resistance bands or hand squeeze balls.
Some people are more at risk of developing Carpal Tunnel Syndrome. For example, you could be more at risk if you:
Have previously injured your wrist;
Are overweight;
Are pregnant;
Have a job or hobbies that mean you repeatedly bend your wrist or grip hard, such as using vibrating tools;
Have another illness, e.g. arthritis or diabetes;
Have CTS in the family.
However, if we can prove that the condition was made worse or even partly linked to exposure to vibration at your workplace, or an injury that wasn't your fault, you could be eligible to claim compensation, so we'd advise you to get in touch today.
Get in touch, today!
Fill in the form below to get in touch with one of our dedicated team members, or call our team today on: 0808 239 3227