The Divorce, Dissolution and Separation Bill, known as the No Fault Divorce Bill, was backed by MPs last night after its second reading in Parliament, and is on the way to becoming law, with royal assent due later this week.
At the moment, if you want to get a divorce you have to show that your husband or wife has committed adultery, acted unreasonably or has deserted you. Once the No Fault Divorce Bill is passed, you'll only need to say that your relationship has broken down and is irretrievable.
The Bill also takes away the right for your husband or wife to refuse to give their consent for a divorce. At the moment, if they don't give consent, you have to live apart from them for 5 years before you can divorce.
Finally, the Bill says that you can now jointly apply for a divorce, if you both agree that separation is the right thing for you both.
The language used in a divorce has also been updated by the Bill. It's replaced Decree Nisi with Conditional Order and Decree Absolute with Final Order. You can read about the difference between a Decree Nisi and Decree Absolute here.
As a Divorce Solicitor, I welcome these changes as I know it will make a huge difference to many of the people I work with. 
At the moment, when it comes to the difficult but sometimes inevitable decision to separate, couples often find the law difficult to understand and it acts as a barrier to them separating "amicably" and sorting out their financial arrangements immediately. 
Making the decision to separate after a long marriage is probably one of the most difficult and emotional things that can happen in someone's life, especially with memories of the good times and the shared responsibility of raising of a family together.
But when the decision is made, perhaps mutually, that they want to move on, the prospect of "blaming" the other for the breakdown of their marriage is not an attractive one. This is particularly true because current divorce law says they have to allege unreasonable behaviour or adultery to start the divorce process immediately.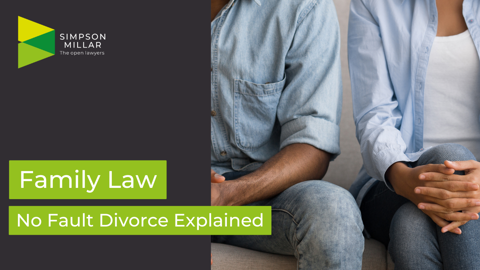 No Fault Divorce - What You Need to Know
Expert Divorce Solicitor, Lorraine Harvey, tells everything you need to know about no fault divorce in UK law.
If you want a no blame divorce, you have to wait for 2 years, even though blame doesn't usually change the financial outcome. This wait causes uncertainty and means financial settlements cannot be made final.
Get in touch, today!
Fill in the form below to get in touch with one of our dedicated team members, or call our team today on: 0808 239 3465