Pothole Accident Claims
For initial advice call our Road Traffic Accident Solicitors and we will help you.

We're rated
'Excellent'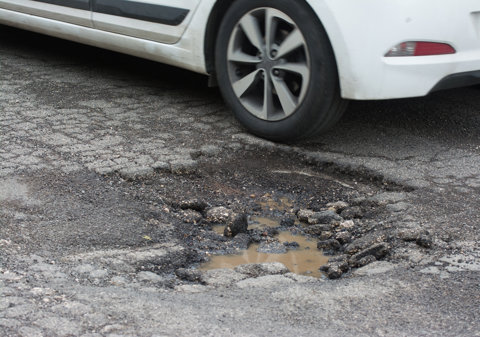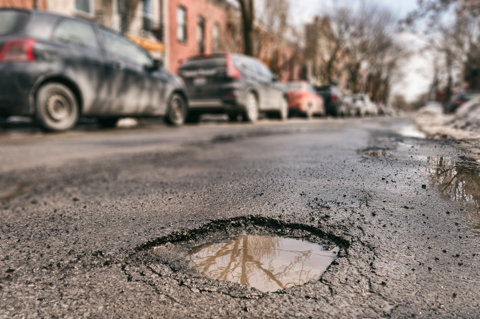 If you've been injured after an accident involving a pothole on the road, pavement or footpath, you could be entitled to compensation.
Potholes on public roads, pavements and footpaths can cause serious injuries to pedestrians and cyclists and considerable damage to motorbikes and vehicles.
Your Local Authority will usually be responsible for maintaining the roads and pavements in your area. It's their job to repair and fill potholes quickly so that they remain safe for drivers and pedestrians.
If you've been injured after tripping or falling into a pothole, or your car gets damaged after driving over one, you could be entitled to compensation.
Get in touch with our team of Personal injury Solicitors for a free no-obligation consultation.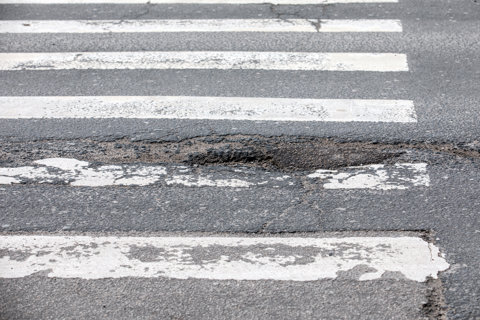 When Could I Make a Pothole Accident Claim?  
An expanding population brings with it more pedestrians and a higher volume of cars. This means our roads, pavements and footpaths are being subjected to increased levels of wear and tear and need frequent maintenance and repair.
According to Section 58 of the Highways Act 1980, all Local Authorities are required by law to carry out this maintenance and make these repairs. They must have adequate processes in place to monitor and repair roads, pavements and footpaths in their area. If they don't, it leaves pedestrians and cars exposed to dangerous hazards, such as potholes.
If you slip, trip or fall down a pothole, or you damage your car or bike driving over one, if we can prove that the pothole was unsafe and that the Local Authority didn't have a proper system in place to monitor and repair that pothole, there's a strong chance you could be eligible for compensation.
People Who can be Injured as a result of Potholes
Certain users of the roads and pavements can be more vulnerable and susceptible to injuries involving potholes and sadly some of the most common types of pothole accidents which result in people being injured include: -
Accidents to runners and joggers tripping on potholes
Accidents with pushchair and pram wheels getting caught in potholes
Accidents with scooters getting caught in potholes
Accidents to children riding their bikes and trikes on the pavement
Accidents to cyclists
Accidents to elderly pedestrians and road users who are particularly vulnerable to serious injury if they are unable to balance or steady themselves as quickly after losing their footing in a pothole.  The elderly can be particularly susceptible to hip and pelvis fractures depending how they land and fall if they have thinning bones.
Why Choose Simpson Millar?
Claiming for accidents involving potholes can be difficult because it must be proven that the Local Authority has failed to implement a system or process for monitoring and maintaining the roads in your area and that it was the pothole that caused your accident.
This is why it's best to instruct a Personal Injury Lawyer team to help you with your case.
Meet some of our Road Traffic Accident Claims Team
Injuries and Damages Caused by Pothole Accidents
Pothole accidents can leave people with debilitating long-term serious injuries and expensive damage to their vehicles.
For example, common injuries sustained after slipping, tripping or falling down a pothole include:
sprained or broken ankles or wrists, broken toes and metatarsal fractures and Achilles tendon injuries;
leg fractures 

including: - 

knee injuries – including ligament injuries, sprains and tears and fractures to the patella; Hip fractures; Pelvis fractures; Fracture to the tibia; Fracture to the fibia; Fracture to the femur
severe bruising or deep cuts.
whiplash.
soft-tissue injuries to your neck or back.
Damage caused by pothole accidents to cars and motorbikes can include:
tire punctures;
excess wear on suspension;
damage to alloy wheels;
damage to components underneath the vehicle
What is the Claims Process?
Free Claims Assessment

First, get in touch for a free consultation. We'll talk through the accident and establish if we think you have a strong enough case.

Gather Evidence

If we think you have a valid claim, we'll then start to gather together the evidence to support your claim.

Medical Evaluation of Injuries

If you've been injured, we might send you to an independent medical examiner who will assess the severity of your injuries and establish what impact they've had on your work and personal life.

This will help us to establish how much compensation we think you're owed by the Local Authority.

Secure an Interim Payment

If the Local Authority accepts liability, we might be able to secure you an interim payment to help you pay for any medical treatment or repairs to your car or motorbike. If you've been unable to work due to your injuries, this payment could also help you to cover any bills or loss of earnings you've suffered.

Going to Court

If the Local Authority don't accept liability, then we might have to go to Court. If this happens, don't worry. We'll support you throughout the whole process.
FAQs about Pothole Accident Claims
An unsafe pothole is considered to have a depth of more than 22mm on a footpath or 40mm on a road.
But roads, pavements, or footpaths that have a significantly higher footfall or are used by vulnerable pedestrians (such as children or the elderly) should get a higher level of maintenance. If you have an accident involving a pothole in one of these areas, you could be entitled to compensation, regardless of those measurements.
Get a free consultation with our team of Personal Injury Lawyers to see if you might be eligible for compensation.
To claim compensation for a pothole accident, you'll need to prove that the injuries or damages you sustained were due to your Local Authority's negligence.
Although you can claim three years after your pothole accident, we'd suggest you make your claim as soon as you can. If the Local Authority repairs the pothole before you've made your claim, it's likely to affect your evidence and impact your case.
We'd also recommend that you do the following after your pothole accident:
measure the depth and width of the pothole;
take photographs or videos of the pothole and where the accident took place. Try and include objects like a coin or a matchbox to show the size of the pothole;
if there were any witnesses, take down their names and contact details so that they can provide witness statements to support your case;
talk to local businesses in the vicinity to see if they have any CCTV footage or know of any similar incidents that have happened in the same place;
if you've been injured, get a medical examination and ask for a copy of the medical report to establish what injuries you've sustained;
if your car has been damaged take it to a garage and ask them for a copy of their damage assessment.
Get in touch with an experienced team of Personal Injury Solicitors now, so they can help you with your claim.
Get in touch, today!
Fill in the form below to get in touch with one of our dedicated team members, or call our team today on: 0808 239 6443