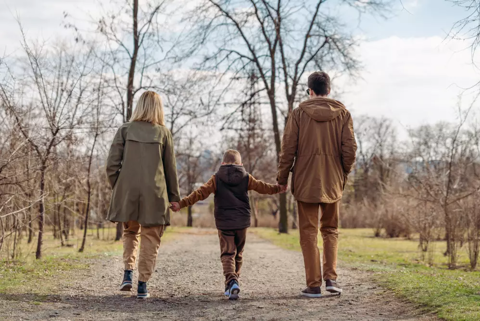 Statistics show that around 42% of marriages end in divorce and the lockdowns we've all endured over the last two years may well have triggered an even bigger percentage of people calling it a day. We'll know more once the statistics become available. We do know that the latest available figures, from 2019, show that divorce cases are the highest they've been since 2014.
Getting divorced comes with a range of challenges: Not only do you have to deal with the grief that comes with ending your marriage and the loss of the future you might once have dreamed of, but you also have to sort out the practicalities, such as where you will live, what will happen to your children, if you have any, and divide your financial assets.
At an especially stressful and emotional time, if all you want to do is sort things out amicably, the last thing many of you will need is to be caught in a battle between your lawyer and your ex-partner's lawyer, which can often happen with divorce cases.
Even if you've split up amicably, the traditional legal process can often trigger arguments and create tension because letters and emails written by someone else can be misunderstood, delay can lead to unexpected changes, such as the loss of a job or the introduction of a new partner, and ongoing costs will inevitably place the entire family under financial strain.
But what if there was a way for you and your partner to divorce where you set the agenda, you control the conversation and the costs are fixed? Better still, what if you could do it in weeks, rather than months or years, and increase the likelihood of remaining on good terms?
Simpson Millar offers a unique divorce service called Separating Together, which gives separating couples the option of using the same solicitor. By doing so, the couple gets to decide together the timescales, the rules, the terms of any settlement and how the costs will be shared (which are significantly less than opting for the traditional route). It's seen as the ideal solution for so many, especially those who want to keep things fair and amicable.
Contact our expert team of Divorce Lawyers to see how you can Separate Together.
Our clients rate us as
'Excellent'

4.5 out of 5 based off 2452 reviews
What Are the Benefits of Using the Same Solicitor for a Divorce?
Simpson Millar is one of only two regulated Law Firms in England & Wales that offers to support both parties during a divorce.
Most law firms take the traditional approach and will only act for one of you, not both. This means the lawyers tend to do the talking while the parties take a back seat. That can be frustrating because even though it's your future, you can often feel like a passenger, rather than being in the driving seat.
Hear what one of our clients say about the same solicitor divorce service
"When we realised that our marriage had reached the end of the road, our main priority was separating peacefully and painlessly […] Using Separating Together meant that we kept control, we set the timetable, we had a voice and we heard each other […] We'd recommend using the same solicitor to any couples who want to sort out their finances sensibly."

Debbie and Tommy

Simpson Millar Clients
Using the same Solicitor to Divorce can cost you a lot less money
Generally, the costs of taking your former partner to Court to settle your financial claims will cost you both around £10,000 - £15,000 each on top of which there will be Court Fees, potential Barristers' Fees and other costs, such as valuations and taxes.
Most solicitors work on an hourly rate, too. That means whilst they will (or should) give you an estimate of costs, they'll rarely be able to let you have an exact figure until it's time to raise their bill, at which point you've often got very little choice but to pay it.
If you use the same solicitor for your divorce, then it makes sense that as you're only paying one person to do the job, and all conversations are joint rather than relayed through letters and emails, the costs will come down considerably. You'll only pay for one set of legal fees, not two. And, if you use a service like Simpson Millar's Separating Together, that one set of legal fees will be fixed, giving you certainty from the outset.
There'll be no escalating or hidden costs if you Separate Together. You know exactly what to budget for, which makes making decisions about the other financial issues the focus, not how you're going to pay for your lawyer.
How to Separate Together with Simpson Millar
Checking that this is the right process for you

As using the same solicitor during divorce isn't right for everyone, we'll meet with you both and carry out separate initial assessments. This will help us to gather some key information and make sure that Separating Together is a process that will work for you both.

Gathering information and working out settlement options

Once we've confirmed that Separating Together is right for you, we'll set up a joint meeting with both of you to set out expectations and timescales. This will help everyone to understand what needs to be done, by when. And our expert team of divorce solicitors will then start helping you to gather together the required financial information and documents and pull together some settlement options.

Analysing the different settlement options

We'll then set up a second meeting where we'll check everyone is happy with the financial picture and start to review all your settlement options and talk through what the best option might be for you both. At this stage, we know there might be a lot to think about and consider.

So, you can take as much time as you need to weigh up and decide what you both want to do.

Reaching an agreement

Once you've considered all your available options we'll meet again, reach an agreement and start drawing up the settlement contract.

Getting the Courts approval

Once the contract has been completed and signed off by you both, we'll send all the paperwork to the Court to be approved. Then, you and your former partner can move forward with confidence, and security. You'll be able to look back on the process as a means to an end, without it tainting your future and whatever relationship you want to continue to have with one another, be that as co-parents or even just as friends.
Would you like to speak to one of the team about how to separate amicably?
Fill out your details and one of our team can call you back