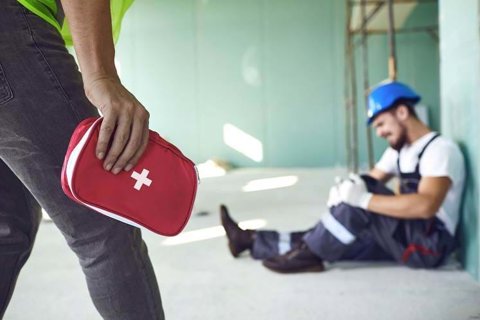 How Much Compensation Can I Claim for an Accident at Work?
Posted on: 4 mins read

This article was updated on 23 August 2022.
As with any Personal Injury claim, the amount of compensation you receive after suffering an accident at work will depend on your individual circumstances.
If your claim is successful, your compensation will take into account the severity and duration of your injuries, pain, suffering and loss of amenity as well as any psychological injury – this is known as General Damages.
For example, the Judicial College guidelines award compensation up to £403,990 for very severe brain injury, whereas a minor hand injury may be limited to £4,750.
You can also claim for financial losses which are caused by the workplace injury, these are known as Special Damages. These may include, but aren't limited to:
Medical expenses
Loss of earnings
Care and assistance
Travel expenses to appointments
Damages to your belongings
Loss of pension
In this article, we've answered some of the most commonly asked questions on compensation following a workplace accident. Alternatively, you can get in touch with our expert Accident at Work Solicitors for advice that is tailored to your situation.
We deal with most of our claims on a No Win, No Fee basis – just ask us for details.
Why do Accidents Happen in the Workplace?
Under the Health and Safety at Work Act 1974, employers have a duty to provide a safe working environment for their employees. But accidents do still happen, some of the most common causes of workplace injury include:
Lack of training – it is vital that staff members are given regular safety training, especially when they are undertaking manual labour and lifting heavy items on a daily basis. Failure to provide this training can lead to employees inadvertently hurting themselves or their colleagues.
Failure to complete risk assessments – risk assessments allow employers to identify where employees could be at risk and take actions to prevent accidents from happening. If you suffer an injury at work and your employer failed to complete regular risk assessments, they could be considered as acting negligently.
Faulty machinery – in work environments where machinery is used, it is extremely important that equipment is tested to make sure it is working properly and is safe for employees to use.
No PPE – if you're working in an industry like construction, you should be provided with sufficient PPE to keep you safe from debris including dust and wood chippings that could be thrown up into your face and eyes.
How Much Compensation Could I Get for an Accident at Work?
Valuing compensation isn't straightforward and requires all evidence to be gathered beforehand. So it's important to tell your Personal Injury Solicitor all the facts as accurately and in as much detail as possible. Please also keep in mind that exaggerating any aspect of the claim can have severe repercussions.
Once we know all the details surrounding your accident and have obtained an expert medical report, our Personal Injury Solicitors will use the Judicial College Guidelines to estimate how much compensation you should receive in General Damages based on the type and severity of your injury:
Complex Regional Pain Syndrome (CRPS)
For severe CRPS – £52,500 to £84,010
For moderate CRPS - £28,030 to £52,500
Other Pain Disorders
Severe - £42,130 to £62,990
Moderate - £21,070 to £38,490
Back Injuries
For very severe back injury (involving damage to spinal cord) - £91,080 to £160,980
For minor back injury (where a full recovery is made within three months) – up to £2,450
It's important to note that these are only guidelines and your Solicitor will use a level of discretion when valuing your claim.
We understand that the impact of your accident will go further than the physical consequences. Your financial losses and the potential loss of future opportunities and employment will also be considered when we're looking at how much compensation we think you should receive.
Can I Claim Compensation?
As an employee, your employer has a duty to take reasonable care of your health and safety, and should take all steps and precautions to mitigate any effects of injury. Most accidents in the workplace can be prevented if employers put the right safety procedures in place, and by law, they're required to follow the procedures outlined in The Occupiers Liability Act 1957. This states that employers must:
Have in place an adequate system of maintenance and inspection
Warn you of hazards
Cordon off any hazardous areas
Maintain the area in a reasonable state of repair
Take adequate precautions for the safety of employees
Warn you of any risks of damage/injury they knew or ought to have known about
If you know your employer has failed to put the correct safety procedures in place, and you suffer an injury, you may be entitled to receive compensation for their negligence. Our expert Accident at Work Solicitors can let you know whether or not you have a strong claim as part of a free claims assessment. Get in touch with us today to find out more.
Further FAQs
We understand that you'll likely be in shock after suffering an accident at work. But if you're not seriously injured, and you're able to, we would encourage you to do the following:
Complete an accident at work report as soon as possible
Take names and contact details of anyone who witnessed the accident
Take photos of where the accident happened as well as your injuries
If you're a member of a trade union, we would also recommend getting in touch with your union rep to tell them what happened.
Taking these actions will help you further down the line if you decide to make a claim. If you have to take time off work as a result of your injuries, your employer should also report what happened to the Health and Safety Executive (HSE).
We know that the idea of going back to work after making a workplace injury claim can feel daunting. But it's important to remember that employers have insurance in place for when things like this happen.
You might have concerns that your employer could treat you differently, or even dismiss you, when you return to work. But you shouldn't let this deter you from pursuing the compensation you're entitled to.
In England and Wales, employers are not allowed to treat you unfavourably or end your contract as a result of you making a claim against them.
Generally, the limit on when you can make an accident at work claim is three years from the date the accident took place. There are some exceptions to this, including if you were working abroad at the time of your accident.
It's important that you seek legal advice as soon as possible after suffering a workplace injury.
If you decide to go forward and pursue a claim, acting early will ensure that evidence can be easily found, and the details of the accident will still be fresh in people's minds. You'll also have the peace of mind that an experienced lawyer is by your side, making sure all the relevant deadlines are met.
Get in touch, today!
Fill in the form below to get in touch with one of our dedicated team members, or call our team today on: 0808 239 3227