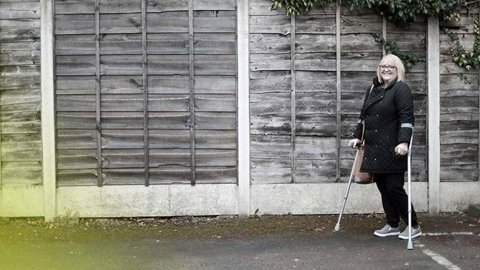 Can I Claim for a Knee Injury at Work?
Posted on: 2 mins read

If you've had problems with your knees after working in the same job for years, you may be able to claim compensation. Anyone can suffer a knee injury, but certain working conditions can increase the risk. These include:
Kneeling for long periods of time
Being in a manual job without being given proper breaks
Using tools such as a knee kicker without proper supports
Any knee pads and supports provided aren't fit for purpose
While kneeling may be an unavoidable part of many jobs, your employer is obliged to ensure good occupational health and safety. So even if you've been provided with the proper equipment, you may still be able to make a knee injury claim if this only happened recently and you spent a long time working without it.
For free legal advice get in touch with our Personal Injury Solicitors. We may be able to deal with your claim on a No Win, No Fee basis – ask us for details.
Common Work Related Knee Injuries include:
Beat Knee (Prepatellar Bursitis, also known as Housemaid's Knee)
Osteoarthritis
Joint injury
Knee damage
What Causes Workplace Knee Injuries?
Excessive bending of the knees or kneeling for extended periods can wreak havoc on your joints in the future. At the time, you may not be considering the risk, but your employer should be. Illnesses and injuries due to your occupation can be avoided if your employer is conducting their business in accordance with the law.
There are a number of people who are at risk of future knee problems such as prepatellar bursitis, commonly referred to as beat knee. Telecoms engineers, for instance, spend a lot of time on their knees, working at manholes, in underground areas and by cabinets in the street. The nature of their job means they'll spend time kneeling to complete their task, so their employer should be taking steps to protect them.
Carpet layers are also at great risk of knee injuries. To do the job properly, there may be certain tools that they'll need to use, but to use them correctly, their employer should provide them with training.
Carpet layers will also have to use a carpet kicker. Use of a carpet kicker can lead to significant knee damage if used without knee pads, or if the knee pads they have are in bad condition. If there is an alternative to using a carpet kicker and a person has existing knee problems, they should speak to their employer to prevent further damage.
Roofers are also at relatively high risk of sustaining knee damage at work. They spend their days going up ladders with heavy equipment, putting strain on the knees usually for several hours at a time.
In a lot of these cases, kneeling is unavoidable. In fact, it's necessary to get the job done. But that doesn't mean their employer shouldn't be considering the wellbeing of their staff.
So if you have a work-related knee injury and you believe your employer hasn't adhered to health and safety regulations, and therefore put you at risk, or if you are already losing work due to your occupational injuries, you should consider making a claim for compensation.
Get in touch, today!
Fill in the form below to get in touch with one of our dedicated team members, or call our team today on: 0808 239 3227