What can you Include in a Prenuptial Agreement?
Posted on: 3 mins read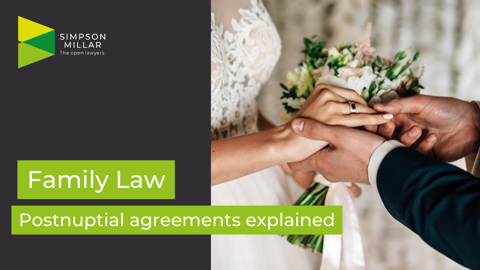 Kanye West rapped 'we want prenups!' but for those of us that aren't concerned about gold diggers and vast estates, why do we want prenups, and what exactly is meant to go in them?
What is a Prenuptial Agreement?
A Prenuptial Agreement also referred to as a Prenup, is an agreement made between couples who are engaged to be wed. They can also be made after a couple has married, and these are called Postnuptial Agreements. Post and Prenuptial Agreements set out how assets will be divided in the event of a divorce. Although it seems they are for those who are feeling pessimistic about their marriage, nuptial agreements are in fact a very helpful planning tool and are necessary for anyone who has assets that they would like to protect.
They provide people with the peace of mind that their properties and finances are protected if things don't quite go to plan, as opposed to it being determined by a court. If you are considering a Prenuptial Agreement, it is important that you understand what should be included.
What can be Included in a Prenuptial Agreement?
Each Prenuptial Agreement can be personalised to each couple's needs. However, if you aren't entirely sure of what to include, here are some common and important examples:
Stocks and shares – a Prenuptial Agreement can allow you and your partner to keep both of your stocks and shares separate. Or, if you have stocks/ shares but your partner doesn't, placing these in your agreement will allow you to keep them in the event you divorce.
Finances – you must include any bank accounts you own so that they can be protected. You should also include liquid assets – these are any assets you own which can be easily and quickly converted into cash. You can also use a Prenuptial Agreement to determine how a joint account's finances can be distributed, which can help prevent any disputes about money that is rightfully yours.
Premarital assets – anything you owned before your marriage could become a matrimonial asset after you are wed, if it becomes 'intermingled' in to the marital finances. If you include any of these in your prenuptial agreements, you can agree that they will remain in your possession if the marriage breaks down.
Your inheritance – A Prenuptial Agreement can 'ring-fence' any inheritance so that the full sum is protected for you.
Properties – If you own any properties before your marriage, and include them in your Prenuptial Agreement, then they can remain your 'separate property', rather than being subject to the scrutiny of the court in a divorce settlement.
Owned Businesses – If you currently own any businesses, then a Prenuptial Agreement can detail what happens to that business. By including a business in your Prenuptial Agreement, you are protecting not only what is yours, but potentially the other business owners and it may even be a non – negotiable by the Company that a Prenuptial Agreement must be in place before marriage.
Debt – if you are concerned about any previous debts incurred by your partner, it is important to include this in your Prenuptial Agreement. If you don't want the responsibility of settling someone else's debt, then it is highly recommended that this is included – debts such as student loans, credit card debt and mortgages can also be detailed in the Agreement.
If you are considering a Prenuptial or a Postnuptial Agreement, but still feel uncertain as to what you would like to include, get in touch with a member of our expert Family Law team, to see how we can assist you today.
Want to speak to one of our Family Law team?
Fill in your details and one of our team will call you back