Handling Overseas Assets in Divorce – How a Family Lawyer Can Help
Posted on: 3 mins read

There's no denying that divorce proceedings are emotionally difficult, and they can be made even more complicated when overseas assets are involved.
If you have foreign assets to divide between you and your ex-spouse, you might be feeling unsure about where to start – especially if you're unable to agree between yourselves about how the assets should be split.
In this article, we've outlined how overseas assets are typically handled in a divorce, the importance of having a Financial Order and how a Family Lawyer can help you if your ex-spouse is not complying with the terms of your Court Order.
Read on to find out more or speak to our specialist Family and Divorce Lawyers for initial advice.
How are Overseas Assets Distributed in a Divorce?
If you're getting divorced in England or Wales and you or your ex-spouse have overseas assets, these will be considered under the same legal principles that apply to the division of all your other assets. This means that once any foreign assets are valued, the value can be shared between you and your former spouse.
But it's important to note that there are factors that can shift the division of overseas assets in favour of one spouse. These will apply if you're unable to come to a decision yourselves as to how your assets should be divided and could include:
The length of the marriage – generally, the longer you've been married, the more likely it will be that a judge rules that your assets should be split equally. But if your marriage was short, and you haven't had any children, the Court might instead aim to restore you both to your previous financial positions and rule that you keep your respective assets.
When each asset was acquired – if you or your ex have assets abroad that were purchased before you got married, it is unlikely that these will be considered "matrimonial property", and they may be excluded from the proceedings. This could differ, however, if you own a property that was lived in as a family home.
The housing needs of each parent where children are involved – if you have children with your ex-partner, the Court will take this into consideration when deciding how assets will be divided. Their ultimate goal will be to reach an outcome that is in the children's best interest.
The earning potential of each person – it's not unusual where children are involved for one parent to take time away from their career, potentially affecting their future earning ability. The Court will take this into account when determining what an "equal" split of assets would look like in your individual circumstances.
The process of identifying and distributing foreign assets can be made more difficult when a consistent record of purchases hasn't been kept. This can prolong divorce proceedings and create additional stress for everyone involved.
We would recommend using the services of a forensic accountant who will help you locate all your foreign assets – ensuring that none are missed or hidden – and provide you with an accurate valuation before the process of distribution begins.  
Once it's been decided how your assets will be split, the Court will issue a Financial Order which will make the division of your assets legally binding.
We would encourage applying for a Financial Order even if you and your partner have agreed between yourselves how your assets should be distributed. This is the only way you can separate yourself financially from your ex-spouse and protect against future financial claims.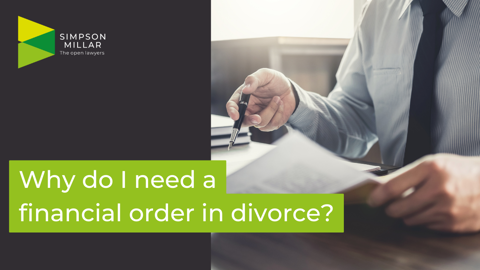 Why You Should Consider Getting a Financial Order
Divorce doesn't deal with your matrimonial finances, but a Financial Order can make your agreement on dividing your assets legally binding.
Get in touch, today!
Fill in the form below to get in touch with one of our dedicated team members, or call our team today on: 0808 239 3465