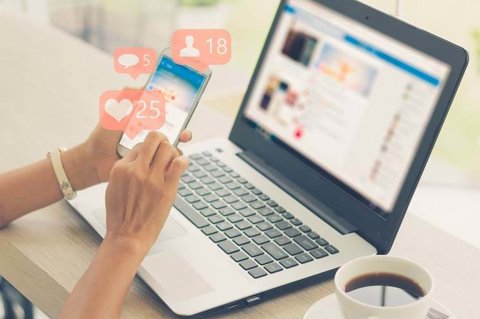 Social Media and Divorce | Could my Posts be Used Against me?
Posted on: 2 mins read

In the UK, 84.3 percent of the population are active social media users. So it's perhaps not surprising that social media has become more prevalent in divorce cases.
One example of this in the news is the divorce of actors Alice Evans and Ioan Grufford. The couple announced that they would be splitting up in January 2021 and since then Alice has used multiple social media platforms to make allegations against her ex.
Most of Alice's posts centre around accusations of Ioan being a bad parent to their two daughters. She has also allegedly gone as far as to share screenshots of text conversations between Ioan and his eldest child.
As Divorce Solicitors, we understand that divorce can be extremely difficult and emotionally draining. But posting the wrong thing online could result in irreversible damage. In this article, we've gone into further detail about how your social media presence could be used by your former spouse, and how this might affect your case.
For advice that is tailored to your situation, contact our experienced Family and Divorce Lawyers.
Can Social Media Posts be Used as Evidence?
Many people are unaware that social media posts are effectively public documents, meaning they are admissible in Court and could potentially be used against you.
Even if you've removed your former spouse from your friends or followers lists and blocked them, it's likely that you will still have mutual friends who will continue to have sight of anything you post.
In some cases, aggrieved exes may go to the lengths of creating a new account to monitor their former partner's behaviour following the break-up. They will often use what they find as evidence, and even use it for blackmail.
We know that in divorce proceedings relationships can become hostile and you might be tempted to share your frustrations on social media. But we would urge you to post with caution as the consequences could do significant harm to your case during separation proceedings.
Get in touch, today!
Fill in the form below to get in touch with one of our dedicated team members, or call our team today on: 0808 239 3465