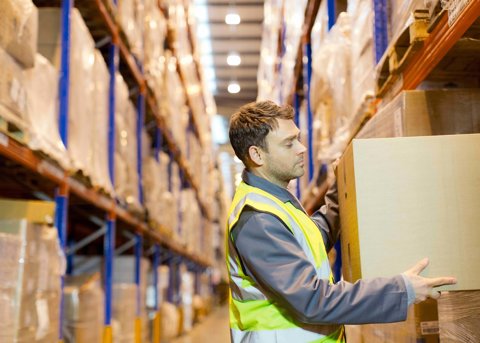 Manual Handling Injuries | Safety Checklist
Posted on: 2 mins read

Manual handling is the second most common cause of non-fatal injuries in the workplace according to the Health and Safety Executive (HSE).
It refers to the lifting, carrying, lowering and pulling of items in the workplace. If done incorrectly, all of these activities could result in severe injuries such as sprains, crush injuries or muscle strains. To avoid this, the HSE advises against manual handling wherever possible. But for times where it is necessary, there are measures you can take to keep yourself safe.
In this article, we've outlined some of the steps you can take to ensure your safety when manually handling items or loads at work as well as what your employer should be doing to protect you and your colleagues.
If you've recently suffered an injury because of a manual handling accident at work, you could be entitled to make a claim. Read on to find out more or get in touch with our expert Accident at Work Solicitors for advice that is tailored to you.
How Can I Keep Myself Safe When Handling Items Manually?
Think about where the load will be placed back down and clear any obstacles that could get in the way. If you'll be walking a longer distance with the load, consider where you could rest midway with it on a table or bench.
Once you've thought about the lift, you should get into a stable position with your feet apart and one leg slightly forward and get a good hold of the item or load. You should try to hold it as a close to your body as you can rather than just holding it with your hands.
It's important that you start any lift with a good posture, slightly bending your back as well as your hips and knees before handling the items or load.
You should try and keep any load close to your waist for as long as possible while lifting, keeping the heaviest side next to your body. You should also avoid looking down if possible and keep your head looking up and forward.
Try to move smoothly while carrying loads and avoid any sudden movements that could increase the risk of injury. If you're struggling to do this, the load is probably too heavy for one person and you should ask for help.
When placing items back down, bend your back, knees and hips only slightly and slowly put the load on the ground. If the load needs to be put in a precise area, put it down first and then adjust its positioning.
What Should my Employer be Doing to Keep me Safe?
Under the Manual Handling Operations Regulations 1992, your employer has a duty to reduce the possibility of you sustaining a manual handling injury in the workplace. In the first instance, this means they should prevent you from having to manually handle items wherever possible. But where it is necessary, they should:
Make a suitable and sufficient assessment of manual handling operations – employers must look at the risks of each manual handling task, considering the capability of individuals as well as the nature of each load and the wider working environment.
Take steps to reduce the risk of injury to employees carrying out manual handling jobs – this could include providing adequate training for all employees or rearranging storage areas to minimise the distances that items need to be carried.
Provide employees with information – where it's considered reasonably practical to do so, employees should be given precise information on the weight of the items or loads they're handling as well where the centre of gravity is likely to be if this is not positioned centrally.
If you think your employer has failed to put the above safety measures in place and you've suffered a manual handling accident as a result, you could be entitled to compensation and rehabilitation support.
I've Been Injured at Work – Can I Make a Claim? 
We understand that the circumstances surrounding an accident at work aren't always "black and white" and you might be unsure about whether you're eligible to make a claim for compensation.   
When you first contact us, our experienced Personal Injury Solicitors will offer you a free claims assessment where we'll listen to the details of your accident and let you know if we think you have a strong claim.
If we're able to take on your case, we'll begin our investigation into what caused your accident and how your injuries have affected your life. We'll carry out the latter with help from independent medical experts.
It might be the case that you need to take an extended period of time off work to recover from your injuries and this can bring its own set of financial worries. If your employer admits liability, we'll work to secure you interim payments, so you won't need to worry about paying any immediate costs while you recuperate.
It's important to remember that it's ultimately your right to claim compensation for an injury in the workplace, and your employer should have insurance in place to cover this. To find out more, get in touch with our friendly and approachable Personal Injury Solicitors.
Get in touch, today!
Fill in the form below to get in touch with one of our dedicated team members, or call our team today on: 0808 239 3227