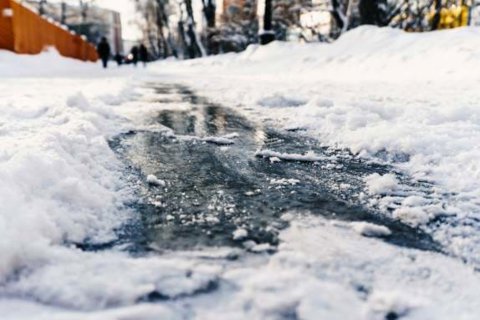 Claiming Compensation for Slipping on the Ice
Posted on: 5 mins read

This article was updated in January 2023.
If you slip on icy or snowy pavements, floors, steps or other surfaces, our Serious Injury Solicitors can let you know if you have a good chance of claiming compensation for your injuries.
The Met Office have issued more yellow warnings over the past few weeks, with snow and ice hitting the UK, as the cold snap continues for Britain. At the end of 2022, temperatures as cold as -10°C also led to many dangerous icy stretches. The warnings show that the dangers of injury from slipping and failing on snow and ice have not stopped.
If you've slipped or fallen on snow and ice, and believe it wasn't your fault, you might be able to make a claim against your workplace, a business, council or other organisation.
Ice and snow are natural hazards at this time of year with sub-zero temperatures, so you can't automatically hold an organisation responsible for it. Many people who are out and about in icy weather will be well aware of the risk of slipping from the moment they step outside, and will probably take measures to stay safe. However, while proving that an organisation was responsible for your accident can be tricky, that doesn't mean it's impossible if an organisation was negligent.
Taking extra care in the ice and snow
At this time of year, the fracture clinics in hospitals are extremely busy helping to treat people who has suffered fractures as a result of falls on ice and snow. Slips and falls on can be particularly nasty because of the high energy impact of the slip and fall when you land, which can often result in fractures. 
Older people are particularly vulnerable and at risk of sustaining more serious injuries. This is due to thinner bones and other health complications, such as osteoporosis or osteopenia.
We urge you to take extra care and avoid going out when its slippery if you can. Wear footwear with a firm grip such as walking boots, and avoid shoes like trainers or crocs. 
What injuries could you claim for?
Our Serious Injury solicitors frequently see people suffering serious injuries from slips on ice on surfaces including:
Pavements
Roads
Driveways, paths or steps at privately owned properties
Car parks at supermarkets, shopping centres and at work
School playgrounds
Hospital grounds and car parks
Work premises
Decking and other wooden surfaces.
Our clients rate us as
'Excellent'

4.5 out of 5 based off 2455 reviews
What are the responsibilities of workplaces, councils and organisations?
Local authorities/councils
Local authorities/councils must do what is reasonably practical to grit the pavements and roads to make them safe for the public during severe weather. Local councils have their own winter weather and gritting policies ,and will have categorised the roads and pavements in your area according to the footfall and location. 
So if it's a busy area in the town centre with a high footfall, for example, it will be designated as a priority area and be subject to a gritting policy. But if it's a minor side road, it will not. 
The government has an online tool so you can find out which roads and pavements your council grits in icy or snowy weather. So, if you have an accident in one of the locations listed here, it's possible you may have a claim.
Public places and venues
Many public places and premises also have a duty to keep you safe and grit the area as far as is reasonably practical. They should carry out their own risk assessments and regular checks to ensure the area is safe.
This includes shops, hotels, restaurants, entertainment venues and football grounds. Hospitals and schools count as public places too, so they also have the same duties.
Workplaces
Employers have a duty to keep employees safe in the workplace. They must grit areas employees walk through and carry out risk assessments to keep staff safe. If you're visiting another firm's premises, or the private property of a customer, a different company/organisation could be responsible for your accident, for example in care work or delivery services.
If you believe you slipped on the ice because another party was negligent, it's very important to speak to a specialist in this area of law.
Our Serious Injury Solicitors are experts in this field and will be happy to speak to you if you have any questions about making a compensation claim. Contact us for a Free Claims Assessment so we can discuss your situation and how we can help you.
How do I know who's at fault for the accident?
A business, local authority or any other organisation that manages a site that is frequently accessed by the public or employees must take reasonable steps to keep people safe.
But the word "reasonable" is crucial in determining whether or not you have grounds to claim compensation. For example, it's not reasonable to expect a council to grit every single road or pavement in their borough, which is why they list priority locations.
Also, the ice may have just formed at the time of your accident, and the organisation may not have had a chance to take preventative measures, clear the site of ice or put up warning signs.
Our role is to determine whether the organisation, business or employer were negligent in their efforts to make the environment safe in ice and snow, and whether they were liable for your accident.
That's why we'd strongly urge you to contact our Serious Injury Solicitors if you believe negligence led to your accident. We can discuss what happened with you and use our expertise to let you know if you have a claim, as well as a good chance of success.
How To Make a Claim for Compensation 
If you're unlucky enough to have an accident, always make sure you report the accident as soon as you can when it happens, to the company/organisation you believe is responsible. There is a time limit for you to make your claim. In most cases, you have three years from the date of the accident to begin your claim.
Try and take photographs of the area you fell. Also try to keep a weather report for your area that day, get the details of your accident and any witnesses.
If we can take on your case, we'll arrange for you to be assessed by an independent medical expert. They'll prepare a report detailing all your injuries and how they've affected you.
We'll also do a detailed investigation into how the accident happened and how the party you hold responsible was at fault. With this evidence, we can approach the other side with details of our claim and ask them to accept liability.
We have years of experience of helping people who've suffered injuries, such as broken bones and back injuries, get the compensation they deserve. We've recovered thousands of pounds for people, and also helped them access specialist care, equipment and rehabilitation. We might be able to offer you a No Win, No Fee claim, depending on your situation.

If you've slipped on ice and believe another party was negligent and responsible, get in touch with us for a free, no-obligation claims assessment.
Get in touch, today!
Fill in the form below to get in touch with one of our dedicated team members, or call our team today on: 0808 239 3227