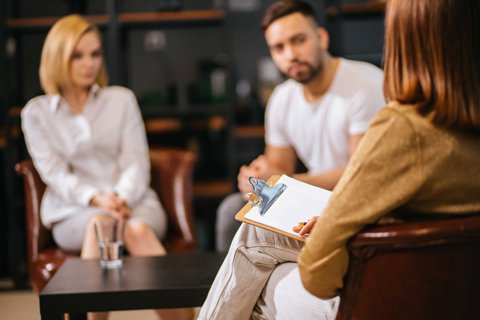 The concept of custody doesn't exist in the law of England and Wales anymore. Instead, the law looks at who has parental responsibility for the children. That means the people who have the right and responsibility to make important decisions about a child's life, including where they will live and who will provide their childcare.
A child's birth mother will always have parental responsibility. A father will also automatically have parental responsibility if he was married to the mother. The rules are different when parents are not married, so it is worth seeking specialist advice if this does not apply to you.
Because of this, it is up to divorcing parents to decide between themselves how their children will be looked after. There are no rules that one parent will automatically have childcare rights over and above the other. It all depends on what is in the children's best interests.
Some people find it helpful to set the childcare arrangements out as part of what's called a Parenting Plan. A Parenting Plan isn't legally binding, but it will set the intention for how children will be cared for after a divorce. It can also consider other issues, such as:
where the child or children go to school;
who takes care of them;
where they live;
how you'll support your children financially;
how any health issues will be managed.
Deciding how each parent will look after a child or children in a divorce can become more complicated if the parents can't agree. If this applies to you, our Family and Divorce Lawyers can help you explore your options going forward.
Will we Have to go to Court?
There's a common misconception that all divorcing parents will have to go to Court to decide how care of their child will be set out, regardless of the situation.
If you can agree on your child or children's arrangements, you won't need to do any official paperwork, other than setting out your Parenting Plan if that is something you would find helpful, but it is not compulsory.
The Court operates on a "no order" principle. This means the starting point is that it will not make any orders that bind parents to certain arrangements unless it is in the child's best interests to do so. Usually, there is no need for this. The Court would much rather leave parents to work out their childcare arrangements privately between them. They will only intervene when necessary. That is usually when parents cannot agree the arrangements between them.
What if we Don't Agree?
If you can't come to a decision on how your children should be cared for, you can ask a specialist family solicitor for advice. If it is appropriate, a family solicitor can try and help you resolve the dispute in writing.
The next step worth considering is usually mediation. Mediation is used to try and resolve disputes quickly to lessen the stress on both the parents and the children involved.
Mediation won't be the same for everyone. It will be carried out with your individual situation in mind. Sometimes parents will be seen separately and then brought together to make a decision. Other times, parents are together throughout the mediation, with a Solicitor or representative in the room. Sometimes, mediation will not be appropriate, for example, if there has been a history of domestic abuse.
If mediation fails, or is not appropriate in your case, the next option will be applying to the Court for a Child Arrangements Order. It's important to note that, except in certain limited circumstances, you can only apply to the Court if you've at least consulted a mediator to discuss whether mediation is suitable for you.
What is a Child Arrangements Order?
A Child Arrangements Order will set out the arrangements for a child or children. It can determine where and with whom a child shall live, and also the time that they shall spend with the other parent. If parents can't agree, these decisions will be made by the Court and you will likely need to attend a Court Hearing.
To get a Child Arrangements Order, you'll first need to make an application to the Court. Anyone with parental responsibility can do this. Our Divorce Solicitors can make the application on your behalf and represent you at the Court Hearing.
Would you like to speak with one our specialist Children family law team?
Fill in your details and one of the team will call you back