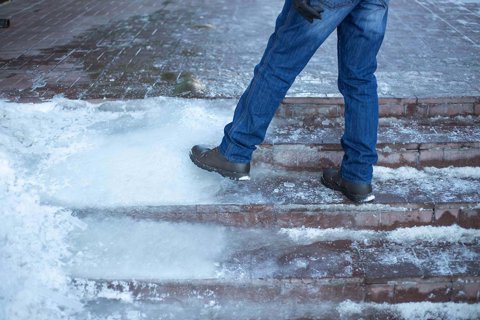 Garage Worker Receives £35,000 Compensation for Slipping on Ice at Work
Posted on: 5 mins read

Richard was working in a garage when he slipped on ice and fractured his hip. This has had a huge impact on his life and he'll need lifelong treatment and support for his injuries. We helped him get £35,000 in compensation to cover this, due to his employer's failure to keep him safe.
Richard was injured in an accident whilst he was working as a vehicle estimator for a car repair garage. 
He went into work on a particularly cold day in winter, when it was cold and frosty outside. Around midday, Richard had gone on to the forecourt in the premises outside the garage to inspect a car, when he suddenly slipped on a patch of black ice. Slips and falls on ice can be extremely dangerous, because of the way you can suddenly lose all footing and fall at speed, often impacting one area of your body severely.
He fell heavily on to his side and was taken to A&E. He had an X-ray and was told he had fractured his hip. He suffered a break to his bone at the neck of the femur. He also seriously injured his knee, and was diagnosed with a torn meniscus.
He had to be admitted to hospital and had an operation the next day. Sadly, he needed a total hip replacement. Unfortunately, whilst he was recovering from the surgery, Richard also suffered a blood clot in his leg, a deep vein thrombosis (DVT). He had to take blood thinning medication to treat this and break the clot up. 
Richard got in touch with our expert Personal Injury Solicitors and we gave him a free claims assessment. We listened to his story, and we felt he had a claim for compensation because it was likely that his employers had failed to make his workplace environment safe. His workplace had not checked the icy areas thoroughly or given Richard any warning, so we had strong grounds to help him make a claim. We agreed to take on his case on a No Win, No Fee basis. 
How His Employers Failed in their Duty of Care
First, we investigated what had caused him to slip at work. We researched the weather reports from the day of the accident, which did warn of the prevailing icy and freezing conditions. We also asked Richard if there was any CCTV of the area he fell. He was confident there was, and he requested this. Fortunately, the CCTV was saved. We used this to prove how he fell, and to prove the presence of the icy conditions he fell on.
We alleged that Richard's employers were responsible for the injuries and losses he suffered in the accident. They had failed to:
adhere to the weather warnings for that particular day;
check that all areas on their premises had been fully gritted, particularly the forecourt; outside which was exposed to the icy conditions
keep a continuing check on the area throughout the day and top up the gritting as required.
How Our Expert Personal Injury Solicitors Helped
We presented the claim to the Insurers of the garage, who were his employers at the time of the accident. Things became a little complicated because Richard had not pursued his claim straight away, because he wanted to focus on his recovery.
By the time he started a claim, the company he used to work for had gone into administration. However, we were still able to trace who the relevant Insurers were at the time of the accident and we presented a claim on his behalf.  Because the company he had worked for were no longer trading, they did specifically ask to see the CCTV. We were able to provide this as proof of his accident.
We argued that if they were not able to fully grit that area, they should've cordoned off that part of the premises, ensured it was not available for use by employees, and marked out a safe walkway area for them to use instead.
The Insurers Admitted Liability
Fortunately, the Insurance company admitted liability for the accident. They did however argue that Richard had caused or contributed to his injuries by not looking where he was going, and not wearing the right type of footwear.
We rejected the Insurance company's arguments that Richard was partly responsible for his accident. We argued that the area he fell was their direct responsibility. Because of where they'd positioned and parked other vehicles on the forecourt, the route and walkway he took was the only one available to him. He'd taken all precautions for his own safety by wearing the steel toe capped boots which his employer had supplied.
Richard was fortunate to be paid in full by his employer whilst he was absent from work during his period of recovery. However, he needed help and assistance from his family, which we were also able to claim for. Richard needed some continuing ongoing care with heavier tasks which involved bending or kneeling which we also claimed for.
We instructed an expert Orthopaedic Surgeon, who specialised in hip fractures, to examine Richard. The surgeon prepared a report detailing his injuries and provided an opinion on his level of recovery and whether he would be left with any permanent symptoms. He confirmed the injuries that the hospital had diagnosed, and he expressed the opinion that, whilst Richard had made a good recovery, he had been left with ongoing pain and discomfort. This would be permanent, and Richard would be restricted in doing certain jobs and tasks involving kneeling and bending in the future.
We Achieved Compensation for Richard
After negotiations with the other side, taking into account litigation risks, we recovered £35,000 of compensation for Richard.
Our specialist lawyers achieved the most important outcome for him - he was able to recover compensation which would provide him with a pot of money to access further treatment and assistance in the future.
This case is important, because it highlights that even if a company is no longer trading, it is possible for us to search for who their Insurer was at the time and still be able to pursue a claim. You can read more about how we could help you could get compensation for similar accidents at work or slips on ice.
Our Personal Injury solicitors have years of experience recovering compensation for people and helping them access rehabilitation. Get in touch today for a free claims assessment.
Get in touch, today!
Fill in the form below to get in touch with one of our dedicated team members, or call our team today on: 0808 239 3227