Vibration White Finger Claims
For free legal advice call our Industrial Disease Solicitors and we will help you. Ask if we can deal with your claim on a No Win, No Fee basis.

We're rated
'Excellent'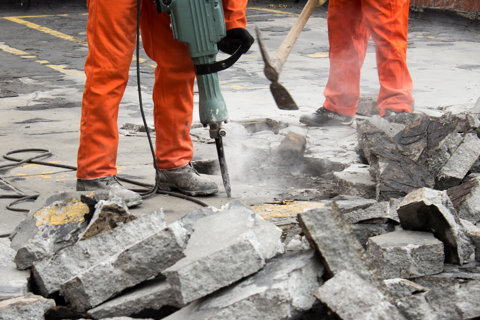 If you're suffering from Vibration White Finger (VWF), also known as Hand Arm Vibration Syndrome (HAVS), after using vibrating equipment at work, our expert Industrial Disease Solicitors are here to help you claim compensation.
Vibration White Finger (VWF), or Hand Arm Vibration Syndrome (HAVS), is very common and causes damage to the nerves, resulting in tingling and/or numbness. It can have a huge effect on your life, and the symptoms can be permanent and debilitating, causing pain, sleep disturbance and impaired ability to do everyday tasks because of grip strength.
If you've worked in an industry such as construction, engineering or mining, with equipment such as pneumatic drills, concrete breakers or grinding tools, you'll have been at risk of this because of your exposure to vibration. Vibration White Finger is also the most common occupational disease for rail workers.
Many people come to us years after they've left their job, as it can take a long time for symptoms to start to show. This is why it's important you get in touch as soon as you can with our specialist Industrial Disease Solicitors, to see if you could make a claim for compensation, even if your employer has gone out of business.
Our friendly, approachable team will give you a free, no obligation Claims Assessment, and can tell you quite quickly if you have a claim, which we can usually offer on a No Win No Fee basis. We can help prove that your employers breached their duty of care by exposing you to harmful levels of vibration. We're nationally recognised experts in Vibration White Finger claims, so we'll take all factors into consideration to get you the best possible compensation.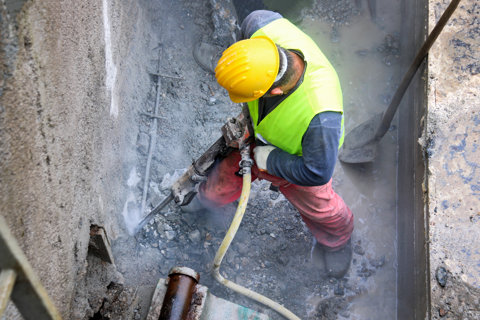 What should you employer have done to prevent you getting Vibration White Finger?
Your employer has a legal duty of care to protect you from coming into any harm or danger at work, which has been in place since the Health and Safety at Work Act 1974. The Control of Vibration at Work Regulations, which came to force in 2005, set out specific laws on what your employer should do to assess, reduce or eliminate risks from exposure to hand-arm vibration. For example, they must:
apply measures to reduce vibration exposure;
provide information, training and proper surveillance of exposure to vibration.
You deserve to be protected at work and you shouldn't have to suffer for the rest of your life because of the actions or negligence of your employer. Even if your employer is no longer trading, we have a huge database and can help track down their insurance company. Our Industrial Disease solicitors have a track record recovering thousands of pounds for people with Hand-Arm Vibration Syndrome, so get in touch with us today for free legal advice.
What is the Claims Process for Vibration White Finger?
We'll get the details we need so we can tell you if we think you have a successful Vibration White Finger/HAVS claim.
Who's Responsible?

We'll identify the employers and their insurers who didn't keep you safe at work and we'll submit your claim.

Your Work History

We'll need a statement from you about your work, the tools you used, the length of time you used them and the PPE you were given by your employer.

Evidence and Witnesses

We'll gather evidence and then take detailed statements from witnesses who can back up your case.

Expert Medical Report

We'll get a specialist medical report from a specialist in HAVS/VWF. They'll report on your condition, how it's affected your life and how it will impact your life in the future.

Settle or Trial?

Most HAVS/VWF claims don't go to Court, but if it does, we'll be there to support you.
How We've Achieved Compensation For People with Vibration White Finger
We have a track record in securing compensation for people with VWF. Here are a few examples of the difference we've made:
Vibration White Finger/Hand Arm Vibration Claims FAQs
HAVS claims are usually funded through a No Win, No Fee agreement - ask us for details. This means that there is no financial risk to you. 
Any claim for Hand Arm Vibration Syndrome must be made within three years of the date you knew or ought to have known that you were suffering with the condition. So, it's very important that you contact a specialist Industrial Disease Solicitor as soon as possible to get legal advice.
The amount of compensation you are awarded from a vibration White Finger claim will depend on the type and severity of your injury.
According to figures from the Judicial College:
A person with minor VWF, whose symptoms won't interfere as much with their lives day-to-day, could expect to receive compensation of between £2,390 and £6,890
A person with moderate VWF symptoms, who typically experiences the effects in colder weather, can often receive in the region of £6,890 to £13,360 compensation
If you have severe VWF and it seriously interferes with your daily life and ability to work, a typical compensation settlement could be between £13,360 and £25,220
A person with the most severe case of VWF, with injuries affecting both limbs that prevent them from working or carrying out everyday tasks, could be awarded anything from £25,220 to £30,630 compensation.
We should stress that these amounts of compensation are just a guide to the size of the settlement you may receive, and that each settlement will depend on the specifics of every individual case.
For free legal advice on claiming compensation for VWF/HAVS, get in touch with our Industrial Disease Solicitors – ask if we can deal with your claim a No Win, No Fee basis.
VWF/HAVS can be the result of repeatedly using handheld tools that vibrate, such as drills, grinders, needle guns and jackhammers. So if you're frequently using this type of equipment as part of your job, it's your employer's responsibility to ensure that it is well-maintained.
Furthermore, your employer should ensure every member of staff is aware of the dangers that come with using vibrating equipment, and give warnings about the potential health risks that come with using them for extended periods. Employers must also carry out a HAVS risk assessment, and make sure that any member of staff who uses vibrating equipment is monitored and allowed to take sufficient breaks.
If an employer hasn't taken any of these measures and you've developed symptoms of HAVS, you may be entitled to compensation. Get in touch with our expert team today – we've dealt with hundreds of Vibration White Finger claims, and we'll be able to advise you on the next steps.
Hand Arm Vibration Syndrome, or VWF, affects the nerves, so a person with this condition can experience a tingling sensation and numbness in one or more fingers. In many cases, the symptoms can be mild and only affect a person's fingertips, but in more severe cases, a person may feel numbness further down their fingers.
A person with severe Vibration White Finger may also have problems with their grip strength and dexterity, to the point where it can impact on their ability to carry out everyday tasks at work.
In addition, somebody with VWF may experience vascular symptoms, known as Raynaud's phenomenon, in which their fingers turn white in cold conditions. An attack can typically last anything from 5 minutes to an hour, and a person may feel some tingling and discomfort when their fingers are returning to normal.
It's highly unlikely your employer will dismiss you in relation to your claim, and they would have to justify the legal grounds for this anyway. It's a legal requirement for companies to have an insurer in place. It's also against the law for your company to dismiss you unfairly.
Our HAVS/VWF lawyers deal with claims sensitively and work collaboratively with all parties to negotiate the best settlement for you. If you make a claim against your current employer, your compensation would not come directly from them, but from their insurer instead.
If you're still worried, get in touch with us for free and we'll advise you on your rights and the next steps to take.
Don't worry if your old workplace is no longer in business, there is a chance we could still take on your claim, so get in touch with us to see if you could be eligible to compensation.
Because so many people choose us as their law firm for Hand Arm Vibration Syndrome and other Industrial Disease claims in England and Wales, we have an extensive database of companies and organisations that we have won claims against.
Since 1972, companies have been required by law to take out Employers' Liability Insurance, making sure they're covered for the illness or injury of any of their employees. If the employer has ceased trading, the insurer is then responsible for any settlement. As a nationally leading law firm, we use our experience, knowledge and resources to track down insurance firms to get the maximum compensation for people.
Why Choose Simpson Millar?
At Simpson Millar we want to help you. We are proud of our track record and the comments from our clients which is at the end of the day why we do the work we do.
Get in touch, today!
Fill in the form below to get in touch with one of our dedicated team members, or call our team today on: 0808 239 0144