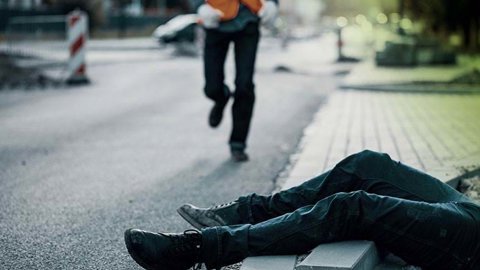 £4,000 Compensation for Trip and Fall on Pavement
Posted on: 2 mins read

A Personal Injury Claim Case Study – Client Situation
Jacqueline Wilde tripped on an uneven pavement outside a Co-op store and fell flat on to the floor. She hit her head and suffered multiple injuries, including lacerations to her face above the eye and concussion.
Jacqueline was very shocked and shaken by the accident, and found the symptoms of concussion particularly distressing.
She suffered from headaches, altered taste and smell, difficulty concentrating and dizziness. She also lost weight as a result of stress, and her pre-existing depression got worse.
Fortunately, the symptoms were short-lived and she made a full recovery from the concussion. However, she was left with a permanent scar above her left eyebrow.
How We Helped
Charlotte Rankin, one of our Serious Injury Solicitors took on Jacqueline's claim for compensation on a No Win, No Fee basis. Charlotte made a claim on her behalf against the owners of the Co-op store, who she said were responsible for maintaining the area of paving right outside their store.
Charlotte asked Jacqueline to take photographs of the defective pavement and to show with arrows the direction in which she was walking.
In presenting the case, Charlotte argued that the Co-op store didn't have a suitable system in place to inspect and maintain the pavement outside their shop. If they had, they would've been able to repair the defective area immediately, or cordon it off and warn visitors until it had been repaired.
Charlotte also asked to see the store's accident record book entry and inspection and maintenance records for the area of paving in question. But they didn't respond in time to our Letter of Claim, so Charlotte served a warning that we would apply to compel the Co-op store to disclose the information we had asked for. At this point, the owners of the Co-op store admitted liability (fault).
To help value the claim, Charlotte brought in a neurologist to examine Jacqueline, who confirmed her head injury and verified the symptoms of concussion she had suffered. 
Charlotte also assessed the financial impact of her accident, and included a claim for 3 weeks' loss of earnings, travel expenses and the care and assistance provided to her by her family.
Our clients rate us as
'Excellent'

4.5 out of 5 based off 2457 reviews
The Outcome
At first, the owners of the Co-op store offered to settle for £3,000 compensation but we felt this was far too low. On our advice, Jacqueline rejected the offer and we made a counter offer on her behalf. An increased final settlement figure of £4,000 compensation was agreed, which Jacqueline was delighted with.
A key feature of this case was the kindness and empathy which our Solicitor Charlotte Rankin showed to our client. Jacqueline was vulnerable and went through a particularly distressing time during the case, as her husband had to be admitted to have a lung and heart transplant. 
Her distress was added to by the defendants bringing up some past mental health issues, which caused her particular worry and upset. Jacqueline really appreciated the kindness and patience Charlotte demonstrated at all times, which she felt helped a great deal and made the claims process much smoother.
This case is a good example of how understanding the needs of a client and being aware of their mental health can make a big difference to them. Charlotte was mindful of this throughout the claim and aimed to be what Jacqueline described as "a very calming presence at a time of great stress".
Get in touch, today!
Fill in the form below to get in touch with one of our dedicated team members, or call our team today on: 0808 239 3227