We helped Mr and Mrs K pursue an amicable divorce through our Separating Together service.
Mr and Mrs K had been married for a long time. They have young children and they wanted to ensure that they could continue to co-parent them effectively, despite their marriage to each other coming to an end. They decided that Simpson Millar's innovative Separating Together, using the same solicitor, was the best way of achieving this.
Mr K works in financial services and has his own company. Mrs K works in the health sector but, due to her commitments to the children, had not worked full time for a number of years. They both have significantly higher than average earning capacities and the assets in the case were worth more than £1M.
What did our Solicitor do to help?
After meeting with the couple separately to assess whether Separating Together was a suitable option for them, they each agreed some core aims: they wanted each other to be housed adequately, they wanted each other to be able to have control over a monthly budget that enabled them to move forward without financial anxiety, and they wanted to make the most of their assets for the sake of their family.  
They made a commitment to each other, using a Participation Agreement, which made clear that they would each come to the table with their cards facing up, providing full disclosure, and at the same time remaining respectful of each other's views. All of this would be facilitated by a single Family Law expert and all communication would be open and transparent.
"Your non-confrontational and peaceful way of dealing with what has been a very difficult process has been much appreciated. Having a joint solicitor has enabled us to proceed with our divorce on our terms and at our pace. It has enabled us to have a voice and keep the best interests of our children at the heart of the all the decisions we have had to make. Thank for your expertise."

Mrs. K

Client
During a first joint meeting, Mr and Mrs K were told about the process, the law, the costs and the likely timescales. They were able to ask questions, share what they were most worried about and what was most important to them. Mrs K was nervous because interpreting financial information does not come as naturally to her as it does to Mr K.  We spent extra time ensuring Mrs K was comfortable and at ease. They were given a list of information and documents to gather, and a date for a second meeting was set. 
Prior to the second meeting, our team of experts provided a complete schedule of income, assets and liabilities, to give Mr and Mrs K some clarity. During that second meeting it was agreed that an expert should be instructed to provide a valuation of Mr K's business interests. A joint letter of instruction was agreed and dispatched to an agreed expert, who provided a detailed report. The family home was also valued by an agreed expert. Both valuations were significantly different to what the parties had expected, and both were relieved that they had obtained some expert opinion.
Once the valuations were complete, a third meeting was fixed to discuss the way forward and the parameters for settlement. We were able to set out for the parties what types of decisions a Judge might make and a range of settlement options, including the net effect of those options. By providing some illustrations of what the outcome could look like, it gave the parties a chance to think "would I be happy with that?", "can I live with that much money?" and "does that feel fair?"
Our Head of Family, David Lister, was then able to assist Mr and Mrs K in agreeing Terms for Settlement, which formed the basis of an agreed Court Order. Alongside this, their divorce was dealt with under the new "No Fault Divorce" system.
"Thanks again for all your help and thank you to my wife for working together with me on this in a constructive, non-confrontational manner - I really appreciate it. The process has surpassed my expectations and I really don't understand why anyone would choose to go down the Court route when there are better, faster and more cost-effective processes like this available. I will be recommending you to anyone that needs help in the future."

Mr. K

Client
How Separating Together Helped Mr and Mrs K
All fees relating to the financial resolution were shared equally and were as follows:
| | |
| --- | --- |
| Solicitor Fees: | £4,000 |
| Expert Fees: | £2,808 |
| VAT: | £1,361 |
| Court Fee: | £53 |
| TOTAL: | £8,222 |
| Cost per person: | £4,111 |
A survey carried out by Aviva in the last four years suggests that couples spend, on average, £14,561 on legal costs when they divorce, up 17% from a survey carried out four years prior. If the same rate was applied today, it equates to an average spend of £17,036. Using Separating Together means that Mr and Mrs K are likely to have paid over 50% less than the average couple
Mr and Mrs K instructed Simpson Millar at the end of November 2021. Their first joint meeting was held in January 2022 and their settlement was agreed in July 2022, a total of seven months. It would have concluded sooner, but they agreed to defer their third meeting to allow their children to complete their exams; an option unlikely to be available to anyone going through the Court process.
A Court commissioned report confirmed that the average length of financial remedy proceedings is 84 weeks. Mr and Mrs K were able to conclude their case in just 34 weeks; almost a full year (50 weeks) less than the average time it takes to go through the Courts.
Mr and Mrs K celebrated reaching the end of the process by taking their children on a day trip.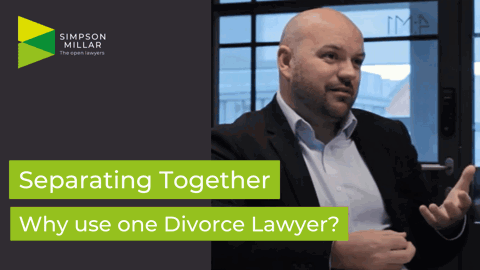 Separating Together - why use one Divorce Lawyer?
We're pleased we were able to help Mr and Mrs K achieve the harmonious divorce they were seeking and we wish them all the best in the future.
If you and your partner are committed to pursuing an amicable divorce, our same Separating Together service could help to take some of the stress out of the process as well as saving you money.
We are one of the only law firms in England and Wales to offer this service that allows both parties to use the same Solicitor throughout divorce proceedings.
Get in touch with our expert Family Solicitors to find out more.
Want to speak to one of our Family Law team?
Fill in your details and one of our team will call you back