What are the key Elements of a Surrogacy Arrangement?
In England and Wales, the key aspects of a surrogacy are as follows:
It will involve a third party – this will be the person carrying the child on behalf of a single person or a couple who will then raise the child. The surrogate can be a friend or relative, or someone who was previously unknown to you.
The surrogacy arrangement must be agreed on prior to conception – some people wrongly believe that it can be considered surrogacy if the surrogate becomes pregnant and there is then an agreement that she will give the baby to another person or couple to raise. In these situations, parenthood can only be obtained through adoption.
The conception must take place by artificial means – this can be a home insemination or via clinic, but the arrangement will not be classed as a surrogacy if there was intercourse to achieve conception.
The surrogate may or may not be biologically related to the baby – an arrangement where the surrogate's own eggs are used is called a "traditional" or "straight" surrogacy. An arrangement whereby the eggs of the intended mother or an egg donor are used (so there is no biological connection to the baby) is known as a "gestational" or "host" surrogacy. In either case, the surrogate will be identified as the legal mother when the child is born, this will remain the case until the Court makes a Parental Order.
There must be a biological connection to an Intended Parent - If the Intended Parent is single, they must be biologically related to the baby.  If the Intended Parents are a couple, at least one of them must be, but they do not both have to be.
Written or verbal surrogacy agreement – having a written surrogacy agreement in place is advisable, but it will not affect the legal status of the arrangement, or the legal status of the parties involved if an agreement is made verbally.
Legal implications – surrogacy arrangements and/or written agreements are not in themselves legally binding on any of the parties involved.
Covering reasonable expenses – payments in a surrogacy arrangement can only relate to what are known as "reasonable expenses" and cannot constitute an additional, commercial payment to the surrogate.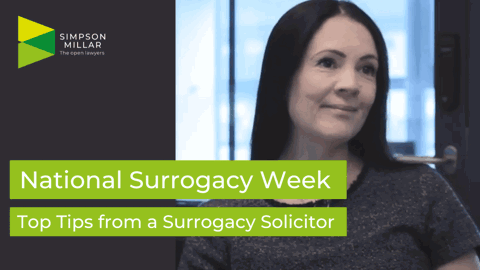 Do I Need to use a Solicitor?
It is always sensible to obtain legal advice before any conception takes place to ensure that what is proposed is all within the framework of what is allowed by law, and to minimise the chances of unexpected problems arising. 
In addition, once the surrogacy has taken place, the Court will need to make a parental order to transfer legal parenthood. It is therefore crucial to know, before the arrangement is started, that the Intended Parents will qualify for a parental order, so that legal parenthood can be transferred.
To find out more about domestic and international surrogacy, go to our Fertility and Surrogacy Solicitors service page. Alternatively, for advice that is tailored to your circumstances, get in touch with our Fertility and Surrogacy team directly. We can provide support at any stage of your surrogacy journey.
Want to speak to one of our Family Law team?
Fill in your details and one of our team will call you back