A Parental Order is an order that is unique to surrogacy, and which regulates legal parenthood.
In England and Wales, the surrogate will be classed as the legal mother when a baby is born. If she is married or in a civil partnership, her spouse or partner will usually be considered as the child's second parent. This will remain the case until a Parental Order is made by the Court that transfers legal parenthood to the intended parents or parent.
In this article, we've answered some of the most common questions we get about Parental Orders. Read on to find out more or get in touch with our experienced Fertility and Surrogacy Solicitors for advice that's tailored to your situation.
Do I Still Need a Parental Order if my Baby was Born Abroad?
A Parental Order will be needed whether your surrogacy arrangement took place in the UK, or internationally. 
This applies even if you have a Court order from the country where the arrangement took place that states you are the child's legal parents. This is because, unfortunately, there is still no reciprocal recognition of surrogacy orders and parenthood internationally.   
Our Fertility and Surrogacy Solicitors can help you make sure you can obtain legal parenthood on your return to England or Wales and work closely with your overseas Solicitor to make sure all the relevant documents are signed and translated.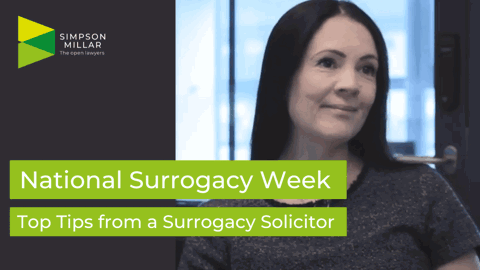 When can I Make a Parental Order?
As the law currently stands, a Parental Order can only be made after a baby is born. 
It is not yet possible to transfer legal parenthood pre-birth. This is still the case even if the surrogacy arrangement has taken place in a country where legal parenthood is transferred to the intended parents at the time of the birth or beforehand.
Who is Eligible for a Parental Order?
A Parental Order is like adoption in that it severs all legal ties between the surrogate and the baby and grants legal parenthood to the person or couple who will be raising the child. 
As the consequences of a Parental Order are so significant, it is always important to check before entering into a surrogacy arrangement that you are eligible as intended parents for a Parental Order.
Get in touch, today!
Fill in the form below to get in touch with one of our dedicated team members, or call our team today on: 0808 239 3465