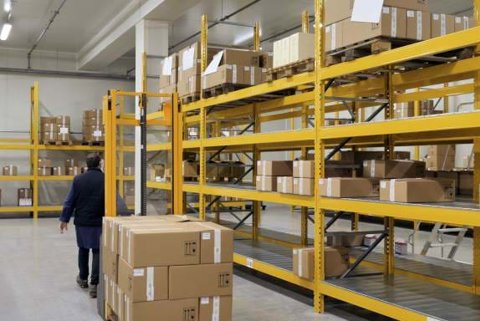 Preventing Forklift Truck Accidents at Work
Posted on: 4 mins read

This article was updated on 19 July 2022.
Many employees are under increasing pressure to work quickly as employers push to meet customer demand and deadlines. This can lead to workers becoming exhausted and safety standards being compromised.
As a result, the likelihood of an accident at work occurring is increased, especially if workers are operating heavy lifting equipment such as forklift trucks.
Forklift trucks and other heavy lifting equipment provide an effective method for lifting, transporting and stacking loads in places such as:
warehouses;
supermarkets;
building sites;
loading bays;
factories;
ports and airports.
When used safely, there's no denying that forklift trucks help reduce the risk presented by manual handling injuries, but they can still be dangerous if employers haven't taken basic preventative measures, such as putting a safe system of work in place and carrying out proper risk assessments.
Our expert Serious Injury Solicitors often speak to people who have been injured in this type of accident and have helped many get the compensation, care and support they desperately need.
If you've been injured in a forklift truck accident and want to discuss your options, get in touch with our team of specialists for a free claims assessment. We'll be happy to discuss your situation with you as well as how we can help. We could even help you on a No Win, No Fee basis.
How Common are Forklift Truck Accidents?
According to figures from the Health and Safety Executive, there are an average of 8,000 forklift truck accidents every year.
Forklift trucks are involved in roughly a quarter of all workplace transport accidents in the UK, and more than half of those killed or injured in forklift truck accidents are on foot.
More than 1,300 people are admitted to hospital with serious forklift truck injuries every year, and the numbers are rising.
What are the Most Common Causes of Forklift Truck Accidents?
Unfortunately, there are a number of reasons why forklift accidents can happen at work, some of the most common include:
user error – this could be failing to notice another person, object or vehicle nearby and colliding with them;
insufficient training and supervision;
lack of marked or designated traffic routes;
uneven surfaces;
overloaded pallets and unsecured loads;
poor maintenance of equipment.
This is by no means an exhaustive list, and regardless of the circumstances surrounding a forklift accident, the effects on a person's life can be devastating. Some of the most common injuries resulting from forklift accidents include:
crush injuries;
degloving injuries;
sprains, torn ligaments and whiplash;
Your employer has a duty of care to you and must take reasonable measures to prevent you or any of your colleagues from being injured in a workplace accident. If you suffer an injury at work as a result of your employer's negligence, you could be entitled to claim compensation.
Our clients rate us as
'Excellent'

4.5 out of 5 based off 2455 reviews
Who is Responsible for a Forklift Truck Accident?
Employers have a legal duty to provide and maintain a safe system of work.
In workplaces where there is heavy machinery present, like warehouses, the Provision and Use of Work Equipment Regulations 1998 and Lifting Equipment Regulations 1998 place duties on people and companies to operate, control, maintain and inspect equipment.
Employers can be prosecuted and fined if they're found to have breached any of these regulations and failed to keep their workers safe.
In some cases, there may be more than one business involved. For example, an accident may happen when one firm is accepting or unloading a delivery brought in by a supplier. If the supplier or courier failed to securely load each pallet and this resulted in an accident, it may be necessary to pursue a claim against several organisations. 
If you suffer such an injury, make sure to find out the details of the company that delivered the item, report the accident to your employer and make sure your employer reports the accident to the other firm.
What Safety Measures Should Employers Take?
There are multiple measures employers should take to reduce the chances of forklift truck accidents happening in the workplace. For example, they should:
maintain a clean, well-organised and tidy workplace;
carry out rigorous risk assessments and update them regularly to identify material risks;
provide adequate training to staff, so they're aware of risks and how to deal with them;
have adequate supervision of staff in place, along with a system of inspecting and maintaining machinery;
put up warning signs close to known hazards, such as uneven surfaces and dangerous machinery, and ensure safe walkways and routes in busy warehouses are clearly marked;
make sure forklift drivers wear a seatbelt, hard hat and hi-vis vest, take regular breaks and drive at appropriate speeds;
provide personal protective equipment, such as hard hats, goggles and gloves;
maintain safe loading and unloading processes, and use lifting equipment most appropriate for the task;
make sure all lifting equipment is clearly marked with the safe working load limit.
If an employer was negligent and failed to keep you safe at work and you're injured as a result, you could claim compensation for your injuries. Contact our Serious Injury Solicitors so we can discuss your situation with you.
Get in touch, today!
Fill in the form below to get in touch with one of our dedicated team members, or call our team today on: 0808 239 3227