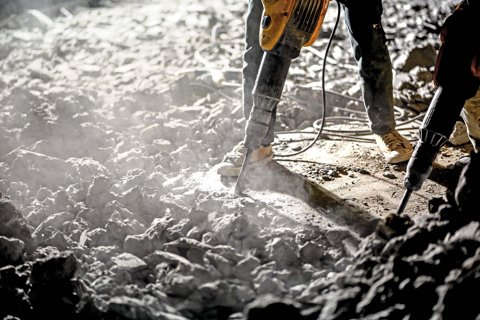 How Do I Claim for HAVS?
Posted on: 1 min read

This article was updated on 16 September 2022.
You can claim compensation for Hand Arm Vibration Syndrome (HAVS) if it can be proven that your employer regularly exposed you to a harmful level of vibration at work. This will often have been through the consistent use of equipment such as pneumatic drills, jackhammers and grinders.
HAVS can be debilitating and symptoms usually include:
Numbness and tingling sensations in the fingers
Fingertips going white in the cold and wet, followed by a painful recovery
Loss of strength in the hands
Reduced dexterity and grip
If you develop any of these symptoms, you should speak to your GP and let your employer know that you have concerns about working with vibrating tools or machinery. If you're diagnosed with HAVS after speaking to a GP, you could be entitled to make a claim for compensation.
Our Industrial Disease Solicitors are specialists in helping people who are suffering with HAVS get the compensation they're entitled to. Here's one example of someone we've helped.
For a free consultation and legal advice, get in touch with us and we'll be happy to discuss your situation.
Who is at Risk of Developing HAVS?
Anyone who uses handheld vibrating tools, such as railway workers and people working in construction, heavy engineering, highway maintenance, pallet making and foundries, are at risk of developing HAVS if employers fail to take the proper precautions.
If your employer hasn't put sufficient safety measures in place and you're subsequently diagnosed with HAVS, you have a right to claim compensation.  
I've Developed HAVS at Work – How do I Make a Claim?
The prospect of taking legal action can be daunting and it can help to know what the process will involve; we've broken it down into five key steps.
Free Claims Assessment

When you first get in touch with us we'll offer you a free claims assessment where we'll listen to the details of your situation and let you know if we think you have a strong claim.

Conducting investigations

If we can take on your HAVS claim, we'll carry out a full investigation to establish what kind of working conditions you've been exposed to. This may include obtaining your work records, collecting statements from colleagues, as they could be able to back up your account of events and may have similar injuries themselves.

Independent medical assessment

Our Industrial Disease Solicitors will obtain your medical records and arrange for you to have an independent medical assessment. The expert examining you will then compile a report detailing your condition and medical outlook.

Valuing your claim

Once we've collected all the relevant information, we'll be in a position to identify what care and rehabilitation you may need and we'll include the cost of this in our valuation of your claim, in addition to your pain and suffering and any loss of earnings.

Settling your claim

If your claim is successful, you will be paid compensation through your employer's insurance company. It's very rare that this type of claim will go to Trial, but if it does we'll be there to support you at every stage.
FAQs about HAVS Claims
Your employer should be aware of the risks posed by the excessive use of vibrating power tools and have taken steps to mitigate or eliminate them as much as possible, including:
Carrying out regular risk assessments
Providing employees with adequately maintained tools
Warning members of staff about potential health risks
Introducing safe working practices, such as rotating tasks, monitoring employees who use vibrating equipment and ensuring staff take sufficient breaks
There are strict time limits on making a compensation claim for HAVS. If you decide to take legal action, you should bring your claim within three years of the date you found out you were suffering with Hand Arm Vibration Syndrome
We deal with most HAVS claims on a No Win, No Fee basis – just ask our friendly team for details.
Get in touch, today!
Fill in the form below to get in touch with one of our dedicated team members, or call our team today on: 0808 239 0144